[et_pb_dcsbcm_divi_breadcrumbs_module hide_homebreadcrumb="off" homebreadcrumbtext="Home" separator="sep-raquo" hide_currentbreadcrumb="off" homebreadcrumborientation="left" _builder_version="3.8″ fontsbreadcrumbs_font="Lato||||||||" fontsbreadcrumbs_text_color="#000000″ fontsbreadcrumbs_font_size="15px" fontsbreadcrumbs_line_height="16px" fontsseperator_font="||||||||" fontsbreadcrumblinks_font="||||||||" fontsbreadcrumblinks_text_color="#2567cf" custom_margin="25px|||" custom_margin_phone="30px|||" custom_margin_last_edited="off|desktop" custom_css_main_element="font-family: Helvetica Regular;" disabled="on" global_module="3641″ saved_tabs="all"][/et_pb_dcsbcm_divi_breadcrumbs_module]
Iowa Hawkeyes vs. Wisconsin Badgers Pick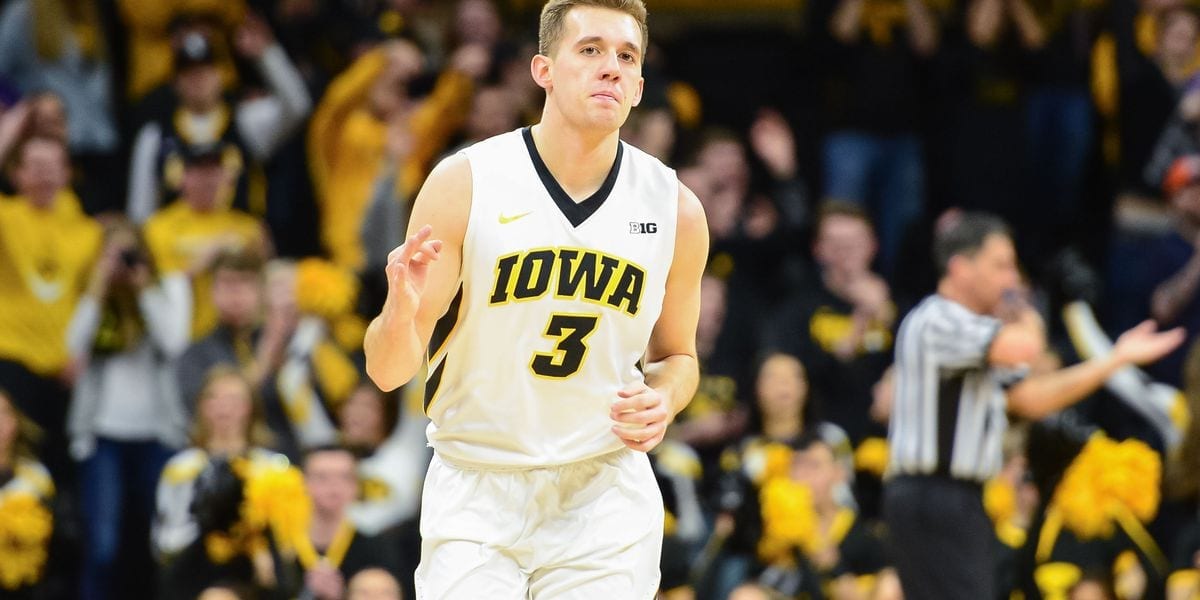 Iowa Hawkeyes (21-8 SU, 12-17 ATS) vs. Wisconsin Badgers (20-9 SU, 14-14-1 ATS)
When: Thursday, March 7, 2019 – 7 PM ET
Where: Kohl Center, Madison, Wis.
TV: ESPN
By: Dan Jamison, College Basketball Handicapper, Predictem.com
Point Spread: IOWA +7.5/WIS -7.5 (Bovada) 
Total: O/U 140.5
Last Time Out: Iowa lost 86-72 to Rutgers; Wisconsin beat Penn State 61-57.
Scouting the Hawkeyes:
Iowa was playing up the drama to a ridiculous extent, but the Hawkeyes were winning. Now they're not doing either one. Iowa has looked listless in its past two losses to Rutgers and Ohio State, and if not for an overtime surge against Indiana, the Hawkeyes would be riding a four-game losing streak. Against the Scarlet Knights and the Buckeyes, Iowa's offense disappeared for multiple stretches, and the Hawkeyes simply don't have a defense that's good enough to get the job done when they're not scoring. Iowa's strength is its powerful offense, and when it isn't clicking, it can be easily beaten.
Scouting the Badgers:
The final home game of Ethan Happ's collegiate career takes place, and it's been quite a four years for the Badgers' big man. Only four other players have accumulated 2,000 points, 1,000 rebounds and 400 assists in college (Oscar Robertson, Larry Bird, Danny Ferry and Stacey Augmon), and Happ will certainly be hoping his final memory at the Kohl Center is a better one than the Badgers' near-disaster against Penn State. The Nittany Lions are much improved and a four-point win over them isn't the worst thing in the world, but Happ will certainly be hoping for more than 14 points and six rebounds. The main area where he'll be looking to improve is fouls: Happ fouled out in a loss to Indiana and carried four fouls against Penn State. When he's not in the lineup, the Badgers simply aren't the same team.
PGA Predictions: Arnold Palmer Invitational Picks
X-Factor:
Fran McCaffery. The Iowa coach will sit out for the second of a two-game suspension following a tirade after the Hawkeyes' loss to Ohio State, and it's a major question mark as to how focused Iowa will be without its coach on the sidelines. Iowa looked disinterested against Rutgers despite it being the Hawkeyes' Senior Night, and there's no guarantee that won't happen again with McCaffery again out of the picture. The Hawkeyes have to find a way to come together and stay focused if they're going to have any chance to ruin the Badgers' Senior Night.
Iowa will Cover if:
The Hawkeyes get back to hitting their shots. Realistically, this is Iowa's only way back to what it was doing in January. The Hawkeyes aren't going to discover a defense out of nowhere, and they're not going to change their personnel to try to fix what's going on, because it's too late in the season for either of those things to happen. Iowa is what it is at this point: an offensive-minded team that has to make its shots to compete.
Wisconsin will Cover if:
The Badgers can play the game at their pace. Wisconsin plays at a slower tempo than anyone in a major conference not named Virginia, and that can often be frustrating for a squad like Iowa, which loves to play fast and maximize the number of chances it gets for its offense. With the Hawkeyes struggling, every possession will become even more critical than usual, and the Badgers can use that to their advantage by playing their game and forcing Iowa to get desperate.
Dan's Pick to Cover the Spread:
Given how these teams have been performing as of late, picking Wisconsin seems to be an easy call. It's actually harder than it looks, though, because the Badgers have also had their struggles in recent games. Along with surviving Penn State, Wisconsin also took a bad loss to a middling Indiana squad, going to double overtime before succumbing.
But the difference is that while less than stellar, both of those instances were easily explained by the fact that Happ missed time with foul trouble and Wisconsin either still won the game or nearly won anyway. Iowa, on the other hand, has now been blown out in consecutive games by Rutgers and Ohio State, neither of whom is likely to be more than a double-digit seed in the the NCAA tournament, if they even make it.
The bottom line is, the one thing that Iowa usually does well, Iowa isn't doing well at the moment. Wisconsin, however, can easily fix what has gone wrong and right the ship. Throw in that the Badgers aren't likely to lose on Happ's senior night, and I've got a pretty good feeling as to how this one is going to go. I'm going with Wisconsin for the cover.