Kansas Jayhawks vs. Texas Tech Red Raiders Pick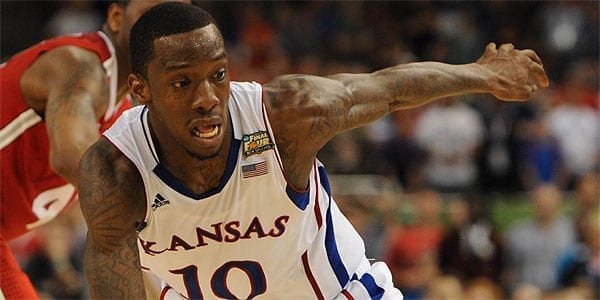 Kansas Jayhawks (20-6 SU, 12-14 ATS) vs. Texas Tech Red Raiders (21-5 SU, 11-14-1 ATS)
When: Saturday, February 23, 2019 – 8 p.m. ET
Where: United Supermarkets Arena, Lubbock, Texas
TV: ESPN
By: Dan Jamison, College Basketball Handicapper, Predictem.com
Point Spread: KU +5.5/TTU -5.5 (Bookmaker Sportsbook)
Total: O/U 135
Last Time Out: Kansas beat West Virginia 78-53; Texas Tech beat Baylor 86-61.
Scouting the Jayhawks:
Has Kansas turned the corner, or is this more of the Jayhawks getting a break in the schedule? Kansas rides a three-game winning streak into this contest, but the record deceives given the quality of the opposition. Of the Jayhawks' three victories during this stretch, two came at Allen Fieldhouse against Oklahoma State and West Virginia, far and away the two worst teams in the Big 12. The other was actually a fairly impressive win against TCU, and the Jayhawks have won all three without the services of Lagerald Vick, raising the question of whether Kansas might actually be better without its second-leading scorer.
Scouting the Tigers:
Since going up to Lawrence and losing, the name of the game has been domination for Texas Tech. The Red Raiders seem to have taken that defeat personally, winning their past four games by 31, 12, 28 and 25 points. Like Kansas, two of those games were against the dregs of the league in Oklahoma State and West Virginia, but comfortable wins over Oklahoma and Baylor are solid results at any point of the season. Texas Tech has been as good as it gets on defense this season, holding opponents to 83.8 points per 100 possessions and leading the Big 12 in both defensive field goal percentage and defensive 3-point field goal percentage. For the Red Raiders, the magic number is 68: Texas Tech is 21-1 when it holds the opponent under 68 points and 0-4 when it fails to do so.
Also Read: Virginia vs Louisville Pick
X-Factor:
Home court disadvantage. Playing in Lubbock hasn't been much of an edge for Texas Tech when Kansas has been the visitor. Granted, Texas Tech has beaten Kansas just once in the past 19 meetings period, but the Red Raiders have lost eight straight to the Jayhawks in Lubbock, dating back to 2009. Current Texas Tech coach Chris Bears was on the Red Raiders' bench for that game — as an assistant to Patrick Knight, who was then in his first season as the head man in Lubbock. Since then, Knight, Billy Gillispie and Tubby Smith have all come and gone, and not one managed to win a home game against Kansas in that stretch. The Red Raiders have to put aside their horrible history against Kansas to have a chance, because if the Jayhawks are allowed to get comfortable again, it's going to be another long night for Texas Tech.
Kansas will Cover if:
The Jayhawks play the kind of defense that got them a victory over Texas Tech in Lawrence. Kansas was in control from start to finish against Texas Tech, and the reason was that the Jayhawks befuddled the Red Raiders and threw them far outside of their comfort zone. When Jarrett Culver shoots 5-for-17 and Texas Tech shoots 59 percent from the free throw line, you've always got a chance to beat them. Texas Tech's defense gets all the attention, but the Jayhawks can stop the ball too, and they've got to do it again in this game.
Texas Tech will Cover if:
The Red Raiders do a better job on Dedric Lawson. With Kansas running out of experience and turning to freshmen, Lawson and his scoring become even more important to the Jayhawks' chances of success. He went for 25 points in just 28 minutes in Lawrence, a sign of just how dominant Kansas was in that game. Texas Tech simply can't allow him to take over the game again if it's going to break this losing streak.
Dan's Pick to Cover the Spread:
The Big 12 title streak has essentially come down to the next 72 hours for Kansas. Beat the Red Raiders and Kansas State, and the Jayhawks are in control of their own fate concerning a 15th straight Big 12 title. Lose in Lubbock, and hope all but disappears even if Kansas beats the Wildcats on Monday.
I might be crazy for doing this, but I'm not going to trust the Jayhawks here. They are getting 5.5 at Bookmaker and yes, the narrative is that it's Lagerald Vick's fault and Kansas is a better team without him after winning its past three games. But Oklahoma State and West Virginia are terrible, and the Jayhawks have been dominant all year at Allen Fieldhouse. Beating TCU on the road was a nice win, but the Frogs gave that game away down the stretch. Texas Tech has been the more dominant team as of late, and I just can't justify picking against the Red Raiders here when they're playing this well.
I think the streak — both of them — will come to an end here. It feels like the Red Raiders' time, and I'm taking Texas Tech.
Who else wants $60 of FREE member picks & predictions?