Kansas State Wildcats vs. West Virginia Mountaineers Pick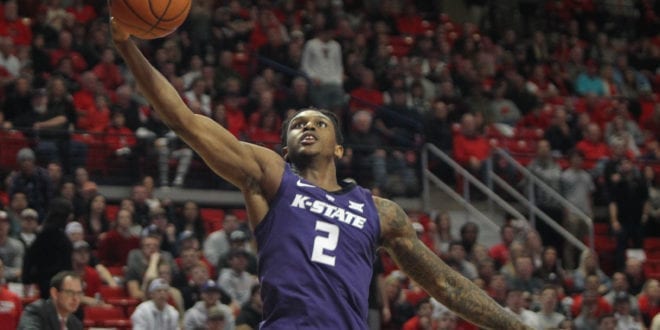 Kansas State Wildcats (19-6 SU, 14-11 ATS) vs. West Virginia Mountaineers (10-15 SU, 7-17-1 ATS)
When: Monday, February 18, 2019 – 9 p.m. ET
Where: WVU Coliseum, Morgantown, W. Va.
TV: ESPN
By: Dan Jamison, College Basketball Handicapper, Predictem.com
Point Spread: KSU -7.5/WVU +7.5
Total: O/U 134
Last Time Out: Kansas State lost 78-64 to Iowa State; West Virginia lost 78-53 to Kansas.
Scouting the Wildcats:
On one hand, the Wildcats are coming into this game shorthanded after Dean Wade injured his foot and left the game in the loss to Iowa State. That's a difficult spot to be in considering that Kansas State is trying to adjust to its new position as the Big 12 favorite and is currently getting everyone's best shot. On the other hand, the Wildcats have the opponent they need on paper. West Virginia is far and away the Big 12's worst team this season, and it's not like the Wildcats aren't still a talented team without Wade. Wade is very important to K-State, but as long as Barry Brown, Kamau Stokes and Xavier Sneed can score, the Wildcats can survive without him.
More Picks: Virginia at Virginia Tech
Or can they? Wade already missed six games this year, and not coincidentally, that was K-State's worst stretch of the season. Included in there was the first game against these same Mountaineers — a game West Virginia led by 21 in Manhattan before K-State roared back to life and stole a two-point victory.
Scouting the Mountaineers:
At this point, Bob Huggins is lucky to be able to field a team at all. The Mountaineers are down to nine scholarship players after Huggins booted two players, Esa Ahmad and Wes Harris, for team violations. With Ahmad, who was West Virginia's top scorer left among healthy players, the Mountaineers weren't very good. Without him, it's a genuine question as to where the points will come from. Derek Culver is the only remaining West Virginia player left that averages more than 10 points a game, and the rest of the roster are the players who weren't good enough to start on a team that's 10-15 this year. In short, it's not a pretty picture.
X-Factor:
Motivation. When a team has been through the wringer like West Virginia has, they can respond in one of two ways. They can pull together and produce some of their best basketball of the season in a shocking performance, or they can fold their tents and become road kill for the rest of the season. With their top three scorers and their best rebounder gone, what will West Virginia choose to do? The Mountaineers didn't look like they had much interest in doing much the rest of the way with a pair of 20-plus point losses to Texas and Kansas, and K-State is perfectly capable of doing the same thing if West Virginia has given up on the season.
Kansas State will Cover if:
Barry Brown proves to be as unstoppable as he was in the first meeting between these teams. Brown popped off for 29 points in the teams' first meeting and was the main catalyst for the Wildcats' comeback victory. Brown has to be as good as he was in the second half of that game for K-State to get just its second win in Morgantown.
West Virginia will Cover if:
The Mountaineers can make the loss of Wade hurt. Kansas State wasn't the same team without Wade against Iowa State, and the Wildcats haven't yet seen any success without their big man in the lineup. If West Virginia can pull together and make the Wildcats start to question their situation, the Mountaineers can hang around long enough to pull off a cover and maybe even steal a win, as they did when Kansas visited.
Dan's Pick to Cover the Spread:
There's an old saying from legendary coach Dean Smith: You can always play one great game without a key player. Well, K-State needs that one great game now more than ever. The Wildcats gave away their margin for error in the Big 12 championship race when they lost at home to Iowa State, and a defeat here would drop K-State into a tie with Kansas and force the Wildcats to go into Lawrence and try to take Kansas' title away on the Jayhawks' home floor.
As sweet as it would be for K-State to finally one-up its rival in that fashion, nobody in purple wants anything to do with that scenario. Bruce Weber and his team would much rather take care of business against the lesser teams of the Big 12 and have that one-game lead on Kansas in their back pockets if they do lose in Lawrence. To have that option, K-State needs to find a way to get the job done without Wade.
Fortunately for the Powercats, Press Virginia is a shadow of its former self and appears to have quit on this season. This is a worrisome pick because the Wildcats are missing a critical player, but the Mountaineers are missing three of them and the rest of the roster just doesn't seem that interested in getting the job done. Sportsbooks put Kansas State at only -7.5. K-State's going to be the hungrier team, and that's always a good sign. I'm taking the Wildcats here.