Kentucky Wildcats vs. Louisville Cardinals Basketball Pick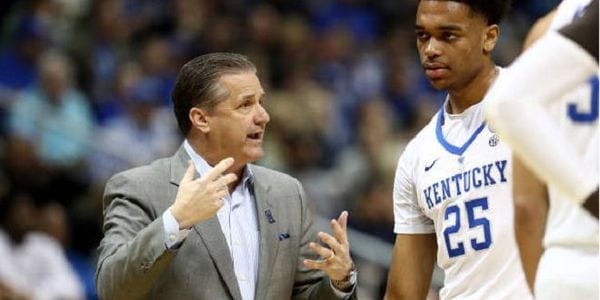 Kentucky Wildcats (9-2 SU, 5-6 ATS) vs. Louisville Cardinals (9-3 SU, 6-4-2 ATS)
When: Saturday, December 29, 2018 – 2 PM ET
Where: KFC Yum Center, Louisville, Ky.
TV: ESPN2
By: Dan Jamison, College Basketball Handicapper, Predictem.com
Point Spread: UK -2
Total: O/U 146
Last Time Out: Kentucky beat North Carolina 80-72; Louisville knocked off Robert Morris 73-59.
Analyzing the Wildcats:
Kentucky finally got the signature win it's been seeking by knocking off North Carolina last week, and the Wildcats face a new challenge in their in-state rivals. Kentucky did a great job of getting production from its starting five against the Tar Heels, but the Wildcats didn't really get much from their bench, which could be a concern against Louisville.
Kentucky's formula for victory has become well-defined by this point: defend the arc, hit their shots from deep and crash the glass. The Wildcats did all three very well against the Tar Heels and got a great game out of Keldon Johnson with a 21-point performance. He'll have to be at that level again for Kentucky to get another victory.
Analyzing the Cardinals:
Louisville's offense starts with Jordan Nwora, as the sophomore has consistently been a major part . Only once has he been held to fewer than 14 points, and Louisville's depth helped it overcome the setback to earn a win over a Seton Hall squad that beat Kentucky. Unlike the Wildcats, Louisville is a deep team that can deal with a bad game from one or more players and still pull out a victory, and they've shown no problems with spreading their scoring around to multiple players. Their big issue in their defeats has been getting good shots, as their defeats against Marquette and Indiana saw them held to under 40 percent. That could be a problem against Kentucky, which ranks 17 spots higher on defense than the Golden Eagles.
X-Factor:
The KFC Yum Center. How will Kentucky react to its first road game of the season? The Wildcats have played tough opponents outside of Rupp Arena, but they've not yet played anyone in a true road contest. The first road game of the season is never an easy prospect, and that goes double for a situation like Louisville, a rivalry game against an opponent that desperately wants to get back at the Cats for last year's humiliation. Kentucky has to be ready for a tough challenge.
Kentucky Will Cover if:
The Wildcats can dominate the glass. Kentucky has already taken down North Carolina by beating the Tar Heels at their own game and outrebounding Carolina by 11 last week. Louisville isn't a bad rebounding team, but the Cardinals aren't on the level of the Tar Heels when it comes to the glass. Kentucky's goal will be to limit the Cardinals to one shot as often as possible and count on its starting five to get the job done.
Louisville Will Cover if:
The Cardinals can make their shots and get to the foul line. First, Kentucky can't kill Louisville on the boards if there are no missed shots. Second, Louisville is an excellent free throw shooting team and Kentucky doesn't have the depth that the Cardinals do. If Louisville can get one or more Kentucky starters in foul trouble, its chances of a victory will drastically increase.
Dan's Pick to Cover the Spread:
I've been burned by doubting Kentucky before. Truth be told, Kentucky is a difficult team to bet in the non-conference season because John Calipari is often trying to figure out which parts go where. Plus, Louisville is 8-0 at home this season, and Kentucky's not yet gone on the road to another team's home building.
But I'm going to go with the Wildcats because of the history of this rivalry. When Louisville wins against Kentucky, it tends to be a tight game. The Cardinals are just 2-9 against Calipari, and both wins have been by a mere three points. Go back a year further to the final year of the disastrous Billy Gillespie era, and the Cardinals beat the Wildcats by three points yet again.
So history suggests that either Kentucky will win, or it's going to be a one-possession win for Louisville. In either case, that suggests a Wildcats cover, and when you throw in the way Kentucky played against North Carolina, it appears that Calipari has this team figured out and will again have the Wildcats where he wants them for the Louisville game. That's the way I'm going to bet this game; Kentucky is my selection.