Minnesota Golden Gophers vs. Maryland Terrapins Pick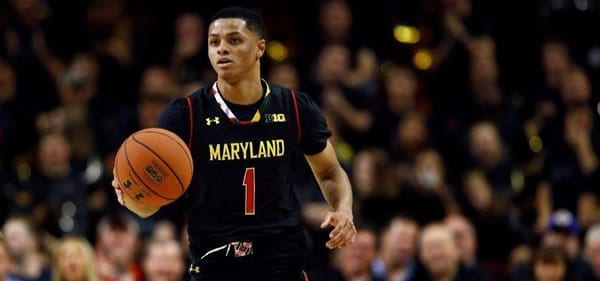 Minnesota Golden Gophers (19-11 SU, 15-15 ATS) vs. Maryland Terrapins (21-9 SU, 15-14-1 ATS)
When: Friday, March 8, 2019 – 7 PM ET
Where: Xfinity Center, College Park, Md.
TV: FS1
By: Dan Jamison, College Basketball Handicapper, Predictem.com
Point Spread: MINN +7/MD -7 (MyBookie)
Total: O/U 135
Last Time Out: Minnesota beat Purdue 73-69; Maryland lost 69-62 to Michigan.
Scouting the Golden Gophers:
Well, that was unexpected. After seemingly setting itself up as a good but not great squad that plays close games but doesn't actually beat any really good teams, the Golden Gophers went out and beat a really good Purdue squad, getting a big win at home that should go a long way toward their hopes of an NCAA tournament bid. However, the win did come at a cost, as Minnesota lost forward Eric Curry for the year, shrinking its depth.
That won't affect the Minnesota game plan, which will continue to flow through senior Jordan Murphy and junior Amir Coffey. Coffey in particular seems determined to get the Gophers back to the NCAA tournament, having scored 32 points in each of Minnesota's past two contests.
Scouting the Terrapins:
A week ago, the Terrapins were playing about as well as anyone in the country, but losses to Penn State and Michigan have changed the picture in a hurry for Maryland. Now the question with this team has become whether the Terps simply ran into a rough week or if a young team is starting to hit a wall at the end of the season. A loss to Michigan is always understandable, but this one came at home, which had been a fortress for the Terrapins that nobody but Virginia had been able to penetrate. Meanwhile, the loss to Penn State came out of nowhere.
50% Cash up to $250

So where does that leave the Terrapins? In a very odd position. On paper, Maryland is the more talented team and should be able to ride Anthony Cowan Jr. and Bruno Fernando to victory. But in practice, Maryland's only two wins in its past five games were against badly fading Iowa and a struggling Ohio State. Which Maryland squad shows up here is anyone's guess.
X-Factor:
Mentality. Where are the Golden Gophers' minds after their win over Purdue? After a game like the win over the Boilermakers, a team of Minnesota's caliber is likely to be in one of two places mentally. Either the Gophers are fired up and ready to get another big win, or they believe they've done their job as far as getting in the tournament and won't be ready to compete. If it's the latter, Minnesota will make its task much more difficult, as it would lose out on a big opportunity and likely open the Big Ten tournament with either Illinois or Rutgers, neither of whom can do anything positive for the Gophers' profile. If they're wise, the Gophers will be ready to get the final piece of their at-large puzzle in College Park rather than risk needing to get through two or more games in Chicago.
Parlay Betting Note: A parlay at poor payout odds is no different than paying a bad price at any retail store. Be sure to know if your sportsbook has 1) decent odds to start with on the team you pick and 2) Good parlay payouts! Don't pay retail and lose in the long haul when you actually picked well enough to put cash in your pocket. 
Minnesota will Cover if:
The Golden Gophers can keep everyone out of foul trouble. Losing Curry isn't likely to show up big in the box score, but it's a big loss because this already wasn't a deep team. Minnesota relies heavily on its starting five to carry the load, and if one isn't producing, the Gophers don't really have another source where the offense can come from. With Curry out of the picture, an even greater weight will be placed on the Gopher big men — not exactly ideal when facing a team that rebounds as well as Maryland does.
Maryland will Cover if:
The Terrapins can get good looks from the arc and hit them. Maryland hasn't had a lot of trouble denying teams a look at the basket, but the Terrapins' shooters have really been struggling when they've needed a big basket. Maryland can't afford to shoot 10.5 percent from the arc again if it's going to win this contest, even against a middling 3-point shooting team like Minnesota. The Terrapins don't have to become a perimeter-oriented team, but at least 30 percent need to go down for this squad.
Dan's Pick to Cover the Spread:
There's a lot that can go wrong with this pick. Maryland might be underrated after playing Michigan twice in its past five games. Minnesota could decide that its job is already done as far as the NCAA tournament goes, which would open the door for a dominating performance from Maryland. Or Maryland could ride its home crowd to a big lift and a win on senior night.
But I'm going to take the Gophers here because it seems that Minnesota is the team that's hungrier at the moment. The Gophers got a win that they badly needed to have, and chances are high that coach Richard Pitino has let his team know that they can easily undo all they did against Purdue if they come out flat here. Conversely, Maryland's best performance in the past two weeks has been against Iowa, which looked as listless as it gets on Thursday against Wisconsin.
It's easy to underrate a team based on how they look against Michigan, but I'm willing to take that risk here. Maryland looks like a team that has shot its wad in the regular season, while Minnesota has more to give. I'm going with the Gophers to cover.