Texas Longhorns vs. Texas Tech Red Raiders Pick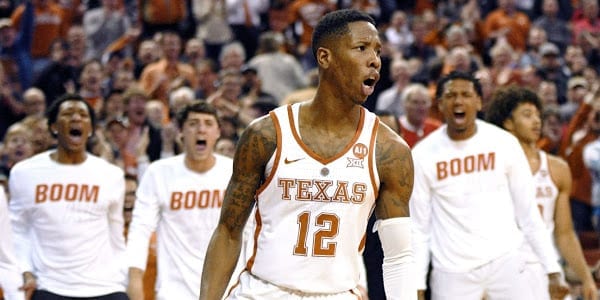 Texas Longhorns (16-13 SU, 15-14 ATS) vs. Texas Tech Red Raiders (24-5 SU, 13-15-1 ATS)
When: Monday, March 4, 2019 – 3:45 PM ET
Where: United Supermarkets Arena, Lubbock, Texas
TV: ESPN
By: Dan Jamison, College Basketball Handicapper, Predictem.com
Point Spread: TEX +8.5/TTU -8.5 (5dimes)
Total: O/U 134
Last Time Out: Texas beat Iowa State 86-69, Texas Tech beat TCU 81-66.
Scouting the Longhorns:
Texas remains a bit enigmatic even as the calendar enters March, mainly because the Longhorns haven't shown anything resembling consistency. When Texas is good, it can be very good, as it showed with an easy win over a good Iowa State squad. But when things go wrong for the Longhorns, they're vulnerable, a trait that has shown itself in losses to Georgia and Radford.
So which Texas squad shows up here? It's tough to answer, but whether it's the good Longhorns or the bad Longhorns, one thing is for sure: Jase Febres will be the main cog. Since Kervin Roach was suspended, Febres has taken it upon himself to provide the scoring for Texas. Against Iowa State, Febres had a career-high 26 points and drilled eight shots from behind the arc, helping create the 17-point margin. He'll have to be on target for Texas to pull off a win here.
Scouting the Red Raiders:
Texas Tech has been outstanding at times during the season, and the Red Raiders are two wins away from winning a share of the Big 12 title as a result. While Texas Tech has picked up the pace a bit and is now average in terms of speed, the Red Raiders remain the best defensive squad in the nation and rely heavily on slowing down other teams' attacks.
More Monday Picks: Virginia vs Syracuse Prediction
When Texas Tech doesn't play great defense, it is vulnerable, as its overtime win over Oklahoma State showed when the Red Raiders gave up 80 points to the Cowboys and barely survived. But that game is the only one in seven that the Red Raiders' opponent has topped 70 points — and not coincidentally, it's the one game in seven that the Red Raiders came the closest to losing.
X-Factor:
The rivalry. Texas Tech already got one up on Texas this year by getting its first-ever Big 12 win in Austin, as the Red Raiders hadn't won at Texas since 1996, when the schools were members of the old Southwest Conference. Now, not only does Texas Tech have a chance to sweep Texas for the first time since that season, but the Red Raiders also have a legitimate shot at winning the Big 12 title if they can complete the sweep of Texas. Conversely, Texas has the concern of falling further behind its rival to worry about. Shaka Smart has been under pressure in Austin in recent months, and denying Texas Tech a conference title on the Red Raiders' home floor would be a major plus toward him keeping Texas fans happy. Plus, a win in Lubbock in a rivalry game would be the major catalyst that takes the Longhorns' NCAA tournament hopes from a likely proposition to a certain one.
Texas will Cover if:
The Longhorns can limit Jarrett Culver's effectiveness. Texas did a great job on Culver in the first half of the teams' first meeting, but Culver turned things around in the second half and was the main reason why Texas Tech came back to earn a victory in Austin. The Longhorns need to slow down Culver and force someone else to beat them if they're going to get a result in this one. If they can do it for a full 40 minutes — not 25 like last time — they'll have a real chance to steal this game.
Texas Tech will Cover if:
The Red Raiders can keep their emotions in check and focus on the task at hand. With a win, Texas Tech will guarantee no worse than second place in the Big 12 and could even lock up a share of the conference title if it wins and Kansas State loses. Texas Tech has never been in this position before, as 13 conference wins would mark a new record for a Red Raider men's basketball squad. Given that Texas Tech finishes the year at Iowa State, a place where Big 12 dreams often go to die, the Red Raiders have to take care of business here, and that means staying in the moment.
Dan's Pick to Cover the Spread:
Texas needs this win to put the exclamation point on its case to make the NCAA tournament. Win here, and the Longhorns are almost certainly in. Texas Tech needs this win to put itself on the precipice of its first Big 12 basketball title. So both teams are coming in with high pressure and high expectations.
Today's NBA: Lakers -4 Hosting Clippers 
That leaves me to go with the squad that I think is better, and for me, that has to be Texas Tech. The Red Raiders are just far more consistent than the Longhorns and have played at a high level all season long. Texas might have a higher ceiling than Texas Tech does, but its floor is far lower, and Texas Tech's floor is still higher than a lot of teams' average level of play, including Texas.
Throw in that it's Senior Day in Lubbock, and I can't see Texas Tech blowing this opportunity. Give me the Red Raiders for the sweep and the cover.
Who else wants $60 of FREE member picks & predictions?