[et_pb_dcsbcm_divi_breadcrumbs_module hide_homebreadcrumb="off" homebreadcrumbtext="Home" separator="sep-raquo" hide_currentbreadcrumb="off" homebreadcrumborientation="left" _builder_version="3.8″ fontsbreadcrumbs_font="Lato||||||||" fontsbreadcrumbs_text_color="#000000″ fontsbreadcrumbs_font_size="15px" fontsbreadcrumbs_line_height="16px" fontsseperator_font="||||||||" fontsbreadcrumblinks_font="||||||||" fontsbreadcrumblinks_text_color="#2567cf" custom_margin="25px|||" custom_margin_phone="30px|||" custom_margin_last_edited="off|desktop" custom_css_main_element="font-family: Helvetica Regular;" global_module="3641″ saved_tabs="all"][/et_pb_dcsbcm_divi_breadcrumbs_module]
Alabama Crimson Tide vs. Louisville Cardinals Week 1 Pick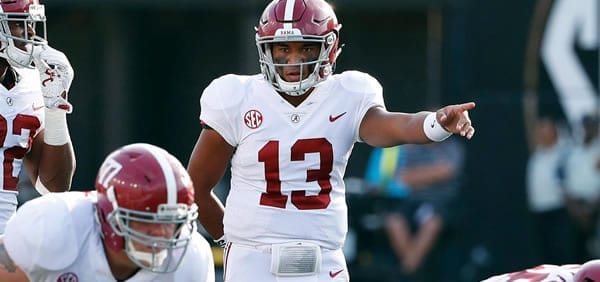 Louisville Cardinals (2017: 8-5 SU, 5-8 ATS) vs. No. 1 Alabama Crimson Tide (2017: 13-1 SU, 8-6 ATS)
College Football Week 1
Date/Time: Saturday September 1st, 2018. 8:00PM (EST)
Where: Camping World Stadium Orlando, F.L.
TV: ABC
Point Spread: ALA -24.5/LOU +24.5 Best Odds: Bookmaker
Over/Under Total: 60.5
The defending National Champions return in 2018 once again as the no. 1 team in the nation as they prepare to continue the Nick Saban dynasty in Tuscaloosa. This Saturday top-ranked Alabama Crimson Tide will meet the Louisville Cardinals on neutral turf at Camping World Stadium in Orlando, Florida for the opening kickoff of the season for both schools. For Louisville, the Cardinals are destined to rebuild and redefine their identity now that former Heisman Trophy winner Lamar Jackson has departed to the NFL along with several starters from their 2018 campaign. Unfortunately, the Cardinals will be faced with a quick learning curve when they take on the Crimson Tide in week 1 who appear like appetizing favorites despite the 24.5 point spread.
It has been said many times that Alabama, who is expected to win 12 games this year, does not "rebuild" but instead they simply "reload" with 5-star talent each year. This year will need to be no different as the Crimson Tide look to fill the void left by 12 different players who were selected in April for the NFL Draft. The 12 selections from Alabama in this year's draft set an SEC record for the most selection ever from a single school in the NFL Draft. Therefore, Alabama will be faced with a learning curve as well as they look to replenish their depth especially on the defensive side of the football. These facts may be ambiguous because the Crimson Tide lost 10 players to the NFL Draft in 2017 but were able to rebound for their 5th title under Saban. Still, there will be several new faces on the field this year for Alabama that will need to live up to their potential to keep this team on the mountain top.
Reasons why Louisville will struggle
I mentioned earlier that Alabama is an appetizing pick at 24.5 points and that is largely relative to the matchup disadvantage they will have against the Crimson Tide. Alabama's style of football is very physical among the trenches where they have excellent talent. Strength and power along the lines are where Alabama has excelled throughout their championship runs. Unfortunately, Louisville does not have the same type of talent up front. The defense has been absolutely horrendous under Bobby Petrino allowing 28 points per game in 2017. In the Cardinals 5 losses, the defense surrendered 40.8 points in each of those contests to mostly mediocre offenses.
Now Louisville has just 4 starters returning to that same defensive group and many questions heading into the new year. To make matters worse, they no longer have the security of guaranteed production on offense to keep them in football games. Despite anyone's opinions on Lamar Jackson, he completely kept the Cardinals in football games over the last two years and gave the team a chance to win. Sophomore Jawon Pass will step into the quarterback position which will give the Cardinals offense a different look. Pass is more of a pocket style passer, pun intended. The good news is that he is capable of turning into a solid quarterback with a pretty solid receiving corps as weapons on the outside. However, the reality is that is going to take some time for things to gel offensively, and Alabama is notorious for patronizing quarterbacks.
Reasons why Alabama will dominate
Defense
Let's simply start with the Alabama defense. I know they have several holes to fill but do not overlook the talent depth along the trenches. The Crimson Tide still have several players that have captured quality playing time including the likes of Raekwon Davis and Isaiah Buggs who will help anchor the defensive line. If you keep up with recruiting, then the level of talent that will be enrolling in Tuscaloosa this season is another reason to be encouraged. Several highly recruited defensive backs and linebackers are expected to make immediate impacts. Despite the learning woes, these defensive players will not lack the speed or size that Alabama is accustomed to fielding. They simply need time to maximize their potential.
Still, the defensive line will be nasty and that is where I believe they will have the biggest impact in the game against Louisville. We have seen Alabama's defense completely wreck some of the best passers in the nation in recent years. Just look at last year's opener against Florida State's Deondre Francois for reference of what can happen in week 1 to an opposing quarterback. Considering Louisville's offense is very inexperienced especially at the quarterback position, I simply cannot foresee the Cardinals having much success, and if turnovers start happening, things could get out of hand quickly.
Tua Tagovailoa
If you want to believe the quarterback controversy that has been hyped this season, that is your entitlement. However, trust me Tua Tagovailoa will be the guy under center, and I expect him to have a huge season. If you recall, Tagovailoa was the freshman that came off the bench to lead the Crimson Tide back in the 2nd half of last year's National Championship Game. It remains one of the most clutch performances ever by a freshman considering the experience and the circumstances. Now Tagovailoa will get the opportunity to lead the offense from day 1, and I don't think he will ever look back. This is a quarterback that shattered Marcus Mariota's records at Saint Louis High School and has shown the type of gunslinger's arm that has been missing from the Alabama arsenal.
We know that the Crimson Tide will remain a dominant rushing force that rides the Nick Saban formula of pounding the football behind their enormous offensive line. We know that Damien Harris should post great numbers and have a great year. However, people still doubt Tagovailoa and have chalked up last year's championship performance as a fluke. I will make an easy prediction and say Tagovailoa will surpass all doubters right away as he leads the Alabama offense with conviction from the first snap on Saturday against an inferior defense. If that happens, the dominance on both sides of the ball will just be too much for Louisville.
Jay's Pick to Cover the Point Spread: If I have not made it clear, Alabama has a big advantage in the way these teams matchup. Take Alabama -24.5 with full confidence!
*Alabama in openers the past 3 years – 2017 Alabama beats no. 3 Florida State 24-7 as 7.5 point favorites, 2016 Alabama beats no. 20 USC 52-6 as 13.5 point favorites, 2015 Alabama beats no. 20 Wisconsin 35-17 as 13 point favorites.
<div class="clickable CTA" style="margin: 0 auto; background: #fff; border-radius: 10px; text-align: center; padding: 10px 20px 20px 20px;"><!-- [et_pb_line_break_holder] --> <img src="https://www.predictem.com/wp-content/uploads/2018/06/5Dimes-logo.png" alt="5Dimes" width="200" /><!-- [et_pb_line_break_holder] --> <p style="margin-top: 5px; font-size: 22px; line-height: 30px;"><!-- [et_pb_line_break_holder] --> -105 Reduce Pricing<!-- [et_pb_line_break_holder] --> </p><!-- [et_pb_line_break_holder] --> <hr class="cta-divider"><!-- [et_pb_line_break_holder] --> <p style="padding-bottom: 20px; font-size: 15px; line-height: 20px"><!-- [et_pb_line_break_holder] --> Pay less per bet &<br>get largest betting menu<!-- [et_pb_line_break_holder] --> </p><!-- [et_pb_line_break_holder] --> <button class="et_pb_button" style="color: #fff; cursor: pointer; width: 90%;" href="#"><!-- [et_pb_line_break_holder] --> Bet Here<!-- [et_pb_line_break_holder] --> </button><!-- [et_pb_line_break_holder] --></div>
<aside><!-- [et_pb_line_break_holder] --><div class="widget105"><!-- [et_pb_line_break_holder] --><h3>Biggest Sportsbook Bonuses</h3><!-- [et_pb_line_break_holder] --><div class="widgetlist"><!-- [et_pb_line_break_holder] --><div class="col1"><!-- [et_pb_line_break_holder] --> <a href="https://www.predictem.com/out/Bovada"><img src="https://www.predictem.com/wp-content/uploads/2018/04/bovada.png" width="150" alt="Bovada" /></a><!-- [et_pb_line_break_holder] --></div><!-- [et_pb_line_break_holder] --><div class="col2"><!-- [et_pb_line_break_holder] --><span class="list"><b>50% Cash</b></span><br><!-- [et_pb_line_break_holder] --><span class="list">5x Rollover</span><!-- [et_pb_line_break_holder] --> </div><!-- [et_pb_line_break_holder] --> <div class="col3"><!-- [et_pb_line_break_holder] --><a href="https://www.predictem.com/betting-sites/bovada/"><button class="btn-widget">Review</button></a><!-- [et_pb_line_break_holder] --></div><!-- [et_pb_line_break_holder] --></div><!-- [et_pb_line_break_holder] --><div class="widgetlist"><!-- [et_pb_line_break_holder] --><div class="col1"><!-- [et_pb_line_break_holder] --> <a href="https://www.predictem.com/out/Intertops"><img src="https://www.predictem.com/wp-content/uploads/2018/04/intertops.png" width="150" alt="Intertops" /></a><!-- [et_pb_line_break_holder] --></div><!-- [et_pb_line_break_holder] --><div class="col2"><!-- [et_pb_line_break_holder] --><span class="list"><b>50% Cash</b></span><br><!-- [et_pb_line_break_holder] --><span class="list">4x Rollover</span><!-- [et_pb_line_break_holder] --> </div><!-- [et_pb_line_break_holder] --><div class="col3"><!-- [et_pb_line_break_holder] --><a href="https://www.predictem.com/betting-sites/intertops/"><button class="btn-widget">Review</button></a><!-- [et_pb_line_break_holder] --></div><!-- [et_pb_line_break_holder] --></div><!-- [et_pb_line_break_holder] --><div class="widgetlist"><!-- [et_pb_line_break_holder] --><div class="col1"><!-- [et_pb_line_break_holder] --> <a href="https://www.predictem.com/out/Gtbets"><img src="https://www.predictem.com/wp-content/uploads/2018/05/gt-bets.png" width="150" alt="GtBets" /></a><!-- [et_pb_line_break_holder] --></div><!-- [et_pb_line_break_holder] --><div class="col2"><!-- [et_pb_line_break_holder] --><span class="list"><b>150% Cash</b></span><br><!-- [et_pb_line_break_holder] --><span class="list">4x Rollover</span><!-- [et_pb_line_break_holder] --> </div><!-- [et_pb_line_break_holder] --> <div class="col3"><!-- [et_pb_line_break_holder] --> <a href="https://www.predictem.com/betting-sites/gtbets/"><button class="btn-widget">Review</button></a><!-- [et_pb_line_break_holder] --></div><!-- [et_pb_line_break_holder] --></div><!-- [et_pb_line_break_holder] --><div class="widget-footer"><a href="https://www.predictem.com/best-sportsbooks/bonuses/">See all sportsbook bonuses</a></div><!-- [et_pb_line_break_holder] --> </div></aside>