[et_pb_dcsbcm_divi_breadcrumbs_module hide_homebreadcrumb="off" homebreadcrumbtext="Home" separator="sep-raquo" hide_currentbreadcrumb="off" homebreadcrumborientation="left" _builder_version="3.8″ fontsbreadcrumbs_font="Lato||||||||" fontsbreadcrumbs_text_color="#000000″ fontsbreadcrumbs_font_size="15px" fontsbreadcrumbs_line_height="16px" fontsseperator_font="||||||||" fontsbreadcrumblinks_font="||||||||" fontsbreadcrumblinks_text_color="#2567cf" custom_margin="25px|||" custom_margin_phone="30px|||" custom_margin_last_edited="off|desktop" custom_css_main_element="font-family: Helvetica Regular;" global_module="3641″ saved_tabs="all"][/et_pb_dcsbcm_divi_breadcrumbs_module]
Pick: Alabama 2018 Season Wins Total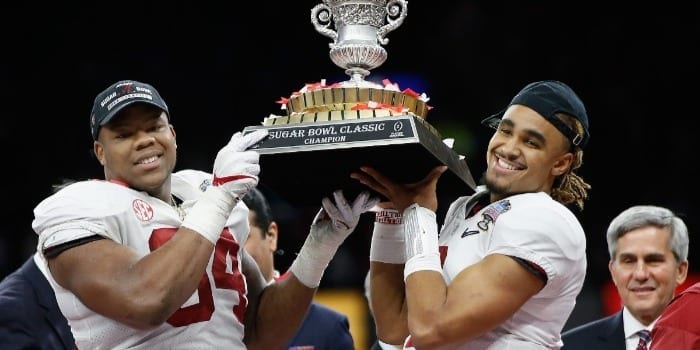 By Mike Mann, Predictem.com
There are many opinions to be had regarding Alabama coach Nick Saban, but regardless of what people think there is no denying his dominance of college football. He currently has more national championships than every other active college football coach combined and considering his players repeated success in the NFL Draft there is no reason to believe this run of success is going to be in decline anytime soon. Alabama broke an SEC record with 12 players chosen in the 2018 draft and since 2010 have had a whopping 60 picked. With that sort of funneling to the next level it's easy to see why their recruiting classes are beyond loaded on a yearly basis.
The Schedule
The schedule could not lineup better for Alabama. They have only four true road games and avoid the top three of the SEC East in Georgia, South Carolina and Florida. Auburn is the only top 15 team that they play the entire season, and they get them at home where the Crimson Tide have won nineteen in a row. Out of conference foes consist of Louisville, Arkansas State, UL Lafayette and the Citadel, and they certainly benefit from drawing the Cardinals in week one when they will be at the most tumultuous as they will be replacing their quarterback, former Heisman winner, Lamar Jackson. Alabama will undoubtedly be favored by double-digits in all of their games, which falls right in line with recent history considering they have only been underdogs once since 2008.
4 Big Small School Season Win Picks
Last Year's Loss
The Auburn Tigers are lined up to be the Crimson Tide's biggest test this season and Bama will certainly continue their streak of being favored, as they have been in every Iron Bowl game since 2007. They also benefit from the game being played in Tuscaloosa, where they have gone 4-1 in their last five against Auburn with an average win margin of 28 points per game. As for this season, the Tigers have question marks all over and will need to rely heavily on quarterback Jarret Stidham to carry the load. They return just one starter to their offensive line, lost 3 of their top six tacklers on defense and have both a freshman place kicker and punter. Not a recipe for success when going on the road against the nation's top ranked team. Auburn is expected to be a much bigger dog to Bama than they were last year.
Returning Players
Seven players return to an Alabama offense that ranked in the top 15 nationally in both scoring and rushing while also finishing the year ranked 29th in total yards per game. The backfield is set well with Damien Harris returning for his senior season after rushing for a 1000 yards and scoring 11 touchdowns while averaging an impressive 7.4 yards per carry a year ago. Who will start at the quarterback position remains to be seen with both Jalen Hurts and Tua Tagovailoa returning after differently successful 2017 seasons. Hurts started every game for the team and was successful for most of the season, though it was Tagovailoa who came in to save the day in the Tide's National Championship victory over Georgia in the BCS title game. Whoever it is will be well protected behind an experienced offensive line that returns four of five starters including stalwarts Ross Pierschbacher and Jonah Williams.
Defensively the team returns three starters, though considering their multitude of success it's pretty clear that Alabama is more of a team that reloads than one that replaces. Lineman Raekwon Davis is the clear best of the bunch and along with linebackers Dylan Moses, Mack Wilson and Anfernee Jennings should help the team maintain a similar level to what they are able to pull off last season when they ranked 1st nationally in scoring, rushing and total yards allowed per game. They will need that front seven to help maintain that consistency early on considering the team will be replacing all four of their defensive backs, but with Nick Saban's system and the constant influx of recruited pro-level talent, the Tide should have little issue continuing their defensive dominance. They not only had one of the best recruiting classes in the country, but they are also able to get stronger with transfers. This year JUCO transfer and former LSU Tiger Savion Smith will be relied on to provide some immediate stability to the defensive backfield, which has always been a known source of strength throughout Saban's history in Tuscaloosa.

The Pick
When looking at preseason wagering options for Alabama, the one that stands out the most to me is their over/under for wins, which is currently set at 11. As highlighted above, the Tide schedule lines up very well for them for a variety of reasons and I believe taking the over 11 wins is the only way to go. If there is one thing for certain about Bama under Nick Saban in recent history is that they win the games they are supposed to, as evident by their current 40 games winning streak as a double-digit favorite. With a lineup of games in which they should be favored by at least ten in each, I cannot imagine a scenario where Alabama doesn't get at least 11 wins and would truly be shocked if they didn't end the regular season undefeated.
The one preseason netting option I would be hesitant to take is the Crimson Tide to win the National Championship at just +185. Even with their recent run of success there is little value in getting under 2-1 odds on any team in college football to win it all especially considering the talent at the top of the rankings. Clemson and Ohio State are legit contenders along with a Georgia team that returns most of its starters and beat Alabama a year ago in the SEC Championship game along with taking them to overtime before falling in the finale. If you are looking to bet Alabama before the season starts, there is a lot better value to be had than taking them against every other FBS team at very low payout odds.
<div style="width:340px; margin: 0 auto;"><!-- [et_pb_line_break_holder] --> <a class="twitter-timeline" data-width="340" data-height="500" data-link-color="#008156" href="https://twitter.com/PredictemPicks?ref_src=twsrc%5Etfw">Tweets by PredictemPicks</a> <script async src="https://platform.twitter.com/widgets.js" charset="utf-8"></script><!-- [et_pb_line_break_holder] --></div>
<h4 class="widgettitle">More NFL Picks</h4><!-- [et_pb_line_break_holder] -->