[et_pb_dcsbcm_divi_breadcrumbs_module hide_homebreadcrumb="off" homebreadcrumbtext="Home" separator="sep-raquo" hide_currentbreadcrumb="off" homebreadcrumborientation="left" _builder_version="3.8″ fontsbreadcrumbs_font="Lato||||||||" fontsbreadcrumbs_text_color="#000000″ fontsbreadcrumbs_font_size="15px" fontsbreadcrumbs_line_height="16px" fontsseperator_font="||||||||" fontsbreadcrumblinks_font="||||||||" fontsbreadcrumblinks_text_color="#2567cf" custom_margin="25px|||" custom_margin_phone="30px|||" custom_margin_last_edited="off|desktop" custom_css_main_element="font-family: Helvetica Regular;" global_module="3641″ saved_tabs="all"][/et_pb_dcsbcm_divi_breadcrumbs_module]
Arizona State Sun Devils vs. Washington Huskies Pick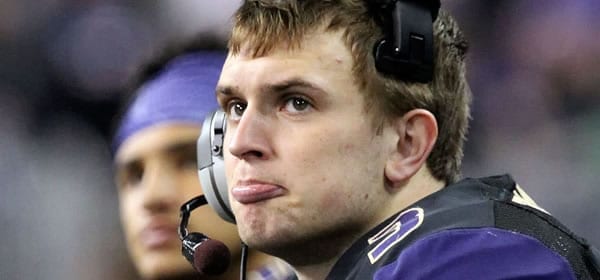 Arizona State Sun Devils (2-1 SU, 2-1 ATS) vs. Washington Huskies (2-1 SU, 1-2 ATS)
College Football Week 4
When: Saturday, September 22, 2018 at 10:30PM EDT
Where: Husky Stadium, Seattle, Washington
TV: ESPN
By: Loot Levinson, NCAA Football Handicapper, Predictem.com
Spread: ASU+10.5/WASH -10.5
Total: 47
The Arizona Sun Devils take on the Washington Huskies in a big Pac-12 matchup in Seattle on Saturday. Both teams enter this game at 2-1 with this being a crossroads game of sorts. The winner moves on with momentum and hope, while the loser sits at 2-2, trying to pick up the pieces. Last week wasn't a great one for the favored Sun Devils, coming off two good weeks of football before dropping a 28-21 game to San Diego State on Saturday. Washington continues to regroup from a rough week one loss, winning their second in a row with a nice 21-7 win at Utah to get their conference schedule off to a good start.
It's still fair to say that Herm Edwards' arrival in Tempe has given the Sun Devils program a boost. A big week two win over Michigan State got ASU ranked, before they came back to earth in losing for the second straight season against the Aztecs, Edwards' alma-mater. A late play appeared to get the Sun Devils in position to tie the game, before it was overruled when the officials went to review a targeting call. Rotten luck aside, they should be pumped-up to kick off their Pac-12 schedule with gusto against the top-ten Huskies.
MAKE THE SMART CHOICE! STOP LAYING -110 ODDS! START LAYING ONLY -105 TODAY AT 5DIMES SPORTSBOOK!
Washington's week one loss might have given them a bad rap. Their conference contemporaries were mostly with soft company at home, while the Huskies had to face Auburn on the road, coming up short in a 21-16 loss. Week two was a blowout over an FCS foe. And not that Utah is great, but they are solid and were 2-0, having beaten the Huskies last season. To beat them like that at home shows their defense is still perhaps the best in the Pac-12. They now look to unhinge their offense at home.
Is the Shine Off Arizona State?
Other than a two-season span where they won ten games twice, the last decade for the Sun Devils has been plagued by a stubborn case of mediocrity. I suppose that's been Arizona State's history in a sense the past 40 years in this conference—a lot of so-so seasons with the occasional flare-up. Edwards brings the promise of another one of those flare-ups, though they'd probably settle for simply ascending to the ranks of a good Pac-12 team this season, a level they really haven't achieved in a while.
Naturally, Herm's presence alone won't get it done. The ASU offense showcases a tremendous talent at QB in Manny Wilkins, an experienced senior who has completed 65% of his throws so far this season. He is also dangerous with his legs. He has a vast receiver package at his disposal, led by an emerging receiver in K'Neal Harry. Kyle Williams also brings a lot of experience, with Frank Darby stepping up this season so far. Running back Eno Benjamin is a blossoming sophomore who has been showing nice form.
A coach who made his bones as a DB and defensive coach, we saw Edwards' handiwork pay off in weeks one and two, as they allowed a combined 20 points. And holding a really good Big Ten team like the Spartans to 13 points was a major feat for a team that has been really erratic on that side of the ball, mostly for the worse. Giving up a huge rushing performance to the Aztecs on Saturday was a setback and a road spot against the Huskies might not seem like an ideal place to get back on the right track, but look for a good effort. And let's not forget, although it was in Tempe, the Sun Devils held the Huskies to just 7 points in a 13-7 win last season. Some of that mojo within the matchups might still exist.
How Legit is Washington?
Here lies the real question of the game for the purposes of covering. In 2016, we saw a near-powerhouse with the Huskies. In 2017, we saw something less, though their defense was even better. The offense never quite turned over like it did the previous season. This season, the offense is in a state of some transition aerially, though some constants remain. Senior QB Jake Browning hasn't quite managed to recapture the form that saw him in New York for the Heisman ceremony in 2016, as he already has as many picks this season as he had that whole year. He has a lot of experience and is due to start clicking better.
There are ample weapons on this U of W squad. Myles Gaskin is one of the top backs on the west coast coming off three straight 1300+ yard seasons. When you have two seniors at the QB-RB battery with all that big-game experience, it's worth a lot. They've been to the College Football Playoff. They've played in huge games before. Unfortunately, the aerial package doesn't seem ready for prime-time. Against Utah, Gaskin was huge, but in throwing for 155 yards, Browning struggled to find viable targets other than rising junior Aaron Fuller. That part of their approach will need to step up if they look to eventually graduate to the ranks of the truly-elite this season.
Holding Utah to 7 points on Saturday reveals the true menace that Washington represents on defense. Over the last few years, they've really become a top defense in the world of college ball. All the DBs in the NFL who played here the last few years have made this a haven for young ball-hawks and this season appears to follow suit. Wilkins will definitely find this a lot tougher than the defensive secondary of the Aztecs he faced last week.
Take the Over in the Arizona State vs. Washington Game
Last season's 13-7 result might not be a reliable blueprint, but certain factors are hard to shake from the mind. The Arizona State offense has a lot of pep, but on the road against this "D" and in this environment (which could also be wet) it doesn't seem like an ideal time to thrive. Washington, meanwhile, can't seem to get their offense to really turn over, as they continue taking steps back aerially. I see this one going under.
Loot's Pick to Cover the Point Spread: I'm betting that the Arizona State vs. Washington game goes "under" 47 points.
<aside><!-- [et_pb_line_break_holder] --><div class="widget105"><!-- [et_pb_line_break_holder] --><h4 class="cash">Best Sportsbook Bonuses</h4><!-- [et_pb_line_break_holder] --><div class="widgetlist"><!-- [et_pb_line_break_holder] --><div class="col1"><!-- [et_pb_line_break_holder] --> <a href="https://www.predictem.com/out/IntertopsB"><img src="https://www.predictem.com/wp-content/uploads/2018/04/intertops.png" width="" alt="Bovada" /></a><!-- [et_pb_line_break_holder] --></div><!-- [et_pb_line_break_holder] --><div class="col2"><!-- [et_pb_line_break_holder] --><span class="list"><b>50% Cash</b></span><br><!-- [et_pb_line_break_holder] --><span class="list">4x Rollover</span><!-- [et_pb_line_break_holder] --> </div><!-- [et_pb_line_break_holder] --> <div class="col3"><!-- [et_pb_line_break_holder] --><a href="https://www.predictem.com/betting-sites/intertops/"><button class="btn-widget">Review</button></a><!-- [et_pb_line_break_holder] --></div><!-- [et_pb_line_break_holder] --></div><!-- [et_pb_line_break_holder] --><div class="widgetlist"><!-- [et_pb_line_break_holder] --><div class="col1"><!-- [et_pb_line_break_holder] --> <a href="https://www.predictem.com/out/BovadaB"><img src="https://www.predictem.com/wp-content/uploads/2018/04/bovada.png" width="" alt="Intertops" /></a><!-- [et_pb_line_break_holder] --></div><!-- [et_pb_line_break_holder] --><div class="col2"><!-- [et_pb_line_break_holder] --><span class="list"><b>50% Cash</b></span><br><!-- [et_pb_line_break_holder] --><span class="list">10x Rollover</span><!-- [et_pb_line_break_holder] --> </div><!-- [et_pb_line_break_holder] --><div class="col3"><!-- [et_pb_line_break_holder] --><a href="https://www.predictem.com/betting-sites/bovada/"><button class="btn-widget">Review</button></a><!-- [et_pb_line_break_holder] --></div><!-- [et_pb_line_break_holder] --></div><!-- [et_pb_line_break_holder] --><div class="widgetlist"><!-- [et_pb_line_break_holder] --><div class="col1"><!-- [et_pb_line_break_holder] --> <a href="https://www.predictem.com/out/GtbetsB"><img src="https://www.predictem.com/wp-content/uploads/2018/05/gt-bets.png" width="" alt="GtBets" /></a><!-- [et_pb_line_break_holder] --></div><!-- [et_pb_line_break_holder] --><div class="col2"><!-- [et_pb_line_break_holder] --><span class="list"><b>100% Cash</b></span><br><!-- [et_pb_line_break_holder] --><span class="list">20x Rollover</span><!-- [et_pb_line_break_holder] --> </div><!-- [et_pb_line_break_holder] --> <div class="col3"><!-- [et_pb_line_break_holder] --> <a href="https://www.predictem.com/betting-sites/gtbets/"><button class="btn-widget">Review</button></a><!-- [et_pb_line_break_holder] --></div><!-- [et_pb_line_break_holder] --></div><!-- [et_pb_line_break_holder] --><div class="widget-footer"><a href="https://www.predictem.com/best-sportsbooks/bonuses/">See all sportsbook bonuses</a></div><!-- [et_pb_line_break_holder] --> </div></aside>
<h4 class="widgettitle">More NFL Picks</h4><!-- [et_pb_line_break_holder] -->
<!-- [et_pb_line_break_holder] --><div class="widget-footer"><a href="https://www.predictem.com/nfl/">See all the NFL picks.</a></div><!-- [et_pb_line_break_holder] --><hr><!-- [et_pb_line_break_holder] --><style><!-- [et_pb_line_break_holder] -->ul.postsbycategory {list-style-type: none; margin:0; padding: 0; margin-left: -3px}<!-- [et_pb_line_break_holder] -->.postsbycategory li {padding: 5px 0px; display:block; clear: both; border-bottom: 1px solid #ccc;line-height:16px!important; min-height: 50px;}<!-- [et_pb_line_break_holder] -->.postsbycategory li a{color: #000; font-size: 14px!important;}<!-- [et_pb_line_break_holder] -->.postsbycategory img {width: 85px!important; height: 40px;<!-- [et_pb_line_break_holder] -->float:left; <!-- [et_pb_line_break_holder] -->padding:0px;<!-- [et_pb_line_break_holder] -->margin: 0px; margin-right: 8px;<!-- [et_pb_line_break_holder] -->border: 1px solid #EEE;<!-- [et_pb_line_break_holder] -->}<!-- [et_pb_line_break_holder] --> .widget-footer a {color: #666;}<!-- [et_pb_line_break_holder] --> .widget-footer a:hover {padding-top: 2px;}<!-- [et_pb_line_break_holder] --></style>
<div style="width:340px; margin: 0 auto;"><!-- [et_pb_line_break_holder] --> <a class="twitter-timeline" data-width="340" data-height="500" data-link-color="#008156" href="https://twitter.com/PredictemPicks?ref_src=twsrc%5Etfw">Tweets by PredictemPicks</a> <script async src="https://platform.twitter.com/widgets.js" charset="utf-8"></script><!-- [et_pb_line_break_holder] --></div>