Big 12 Picks: West Virginia vs. Texas Spread Winner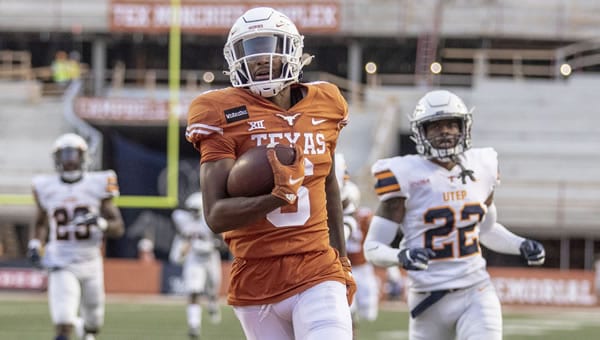 West Virginia Mountaineers (4-2 SU, 4-2 ATS) vs. Texas Longhorns (4-2 SU, 2-3-1 ATS)
When: Saturday, November 7, Noon
Where: Campbell-Williams Field, Austin, Texas
TV: ABC
Point Spread: WVU +6.5/TEX -6.5 (MyBookie - Deposit $100 to $300 and they'll match you dollar for dollar! Double your bankroll!)
Total: O/U 58.5
Outlook
The two teams that all but took the Big 12 out of the picture for the College Football Playoff (West Virginia by taking down Kansas State; Texas by beating Oklahoma State) now face off to see which one gets to stay in the race for the Big 12 title. With each team sporting a pair of losses in what has become a wide-open league race, a third defeat and another team to jump over in the standings would make a trip to Arlington virtually impossible, making this as much of a must-win game as there is in 2020.
For West Virginia and its nasty defense, the magic number is 21. When the Mountaineers hold an opponent to less than that total, they've won four consecutive games and six out of eight. When they fail, it's not pretty. The last team that they actually managed to beat while giving up more than 21 was Kansas, a string of six straight defeats when giving up more than 21 points. That includes last year's game against Texas, a 42-31 Longhorn win in Morgantown.
That's a significant worry against Texas, which does not like to play low-scoring football games. All six games Texas has played have seen the Longhorns score at least 27 points, and four of six have seen both teams score at least 30. But Iowa State and Baylor did manage to hold Texas under that magic number last year, and both emerged victoriously. However, both of those games were road games for Texas. The last time the Longhorns were held under 21 in Austin was in October of 2017 when they dropped a 13-10 decision to Oklahoma State. Which team wins the battle of strength here?
How the Public is Betting the West Virginia/Texas Game
So far, 58 percent of tickets have come in on the Mountaineers, and that's caused the line to drop from the opening -7 to the current -6.5. The total has dropped as well, falling from 58.5 to the current 55.
Injury Concerns
West Virginia:
Linebacker Vandarius Cowan is questionable with a knee injury, and offensive lineman Chase Behrndt is questionable with an undisclosed issue. Kicker Evan Staley has a knee injury and is out for the season.
Texas:
Running back Keaontay Ingram is questionable with a leg injury, while wide receiver Brenden Schooler is questionable with a thigh issue. Defensive back Jahdae Barron is questionable with an illness, while defensive back Josh Thompson is questionable with a neck issue.
When West Virginia Has the Ball
The main thing West Virginia cannot do in this game is beat itself. The Mountaineers have two losses on the season, and both of them have one thing in common: the West Virginia offense gave up a touchdown in the contest. Against Oklahoma State, the Mountaineers' defense held the Cowboys to just 20 points, but a fumble recovery allowed Oklahoma State to put that game away. Against Texas Tech, the defense struggled a bit but still had the momentum — until the offense coughed up the ball in the fourth quarter and allowed the Red Raiders' defense to score the winning touchdown with 8:44 to play.
An ideal game in Austin from a West Virginia perspective would see Leddie Brown as the lead man. However, that might not be possible because the ground is where the Texas defense does its best work. The Longhorns aren't as strong on the front seven as the Mountaineers' run defense is, but they're a solid unit that only gives up 130 yards a game on the ground. To win this game, West Virginia has to put the ball in the hands of Jarret Doege. For the most part, Doege has taken care of the ball and has thrown for more than 300 yards in each of his past three games.
The main question is, which one of the Mountaineers' receivers steps up in this contest? Winston Wright has been the main pass-catcher with 32 receptions, but he's not the kind of receiver who gains many yards per catch, averaging just over 12 yards a grab. Bryce Ford-Wheaton might have to have a huge game, as he's been the receiver that stretches defenses and allows West Virginia to attack a Texas pass defense that gives up nearly 280 yards a game through the air.
Mire Picks: Get Dan's Miami at NC State Betting Forecast >>>
When Texas Has the Ball
Conventional wisdom says that you need some kind of running threat to be a winning college football team, but Texas is tossing that idea to the wind this year. So far, the Longhorns not only have more passing attempts than rushing attempts, but one-third of Texas' running plays have gone to quarterback Sam Ehlinger, who doubles as the Longhorns' leading rusher.
It hasn't hurt the Longhorns' offense, which averages 44.3 points per game and has only been held under 30 once. The problem for Texas is that the offense often scores so quickly that the defense simply cannot keep up, leaving the Longhorns stuck in a shootout (which is why they've hit the over in five of six games this season).
In this game, it's not clear whether Texas's lack of a running game will help or hurt it. On the one hand, West Virginia knew Kansas State was built around its ground game and set its strategy accordingly, daring the Wildcats to beat them through the air. But Kansas State is one of the weakest passing teams in the Big 12 and starts a backup quarterback, as opposed to a veteran like Ehlinger. Then again, being a senior hasn't kept Ehlinger from making a few boneheaded decisions that have cost the Longhorns in crucial situations. This game could open up for Joshua Moore, but only if Ehlinger makes the right reads and forces the Mountaineers to at least respect his running ability. If West Virginia is free to focus only on the pass, Texas will have a hard time.
Betting Trends
Something has to give in the points department, and in this series, the something that gives has tended to be the defenses. But if you thought that development would favor the Longhorns, think again. For whatever reason, Austin has been the Mountaineers' home away from home since they joined the Big 12 in 2012. In four trips to the Lone Star State's capital, West Virginia has won the game outright on three occasions, with the lone exception coming in 2014. In two of their three wins, the teams managed to top 80 points.
In fact, during this series, these two teams have mostly just traded off beating each other in each other's stadiums. 2014 and 2015 were the only times that the home team has won, and in both cases, the win was a comfortable one. In every other meeting in this eight-game series, the road team has won, and in four of those games, the margin of victory was seven points or less.
Keeping that streak going would require the Mountaineers to figure out playing on the road, as they've covered in just four of their past 14 games as a road underdog. However, if we've learned one thing about Texas over the past several years (really, ever since the Longhorns parted ways with Mack Brown), it's that the Longhorns seem allergic to sustained success. Most times, after Texas wins a big game, the program makes the mistake of thinking that "Texas is back" and then finds a way to botch its next match. The numbers bear that out: the Longhorns have failed to cover in six of their past eight games that followed a spread victory.
Weather Report
The forecast couldn't be better for Saturday afternoon in Travis County. It's expected to be 80 degrees and sunny, with a breeze heading southeast at two miles an hour.
Dan's Pick to Cover the Spread
Can West Virginia's defense hang with Texas? Baylor showed that stopping the Longhorns is possible, but the Bears still lost the game because their offense saw six of its first seven drives end with either a punt or a missed field goal. Texas can be stopped, but only if a team's own offense is putting enough pressure on the Longhorn defense so that it forces the Texas offense into mistakes. If Ehlinger is allowed time to get in the flow of the game and doesn't have to force anything, Texas will have a huge advantage.
I think West Virginia's offense is good enough to keep pace with Texas and keep this game tight. I wouldn't wait too much longer to get this game; I think West Virginia plus 6.5 points is good value that might not be around for much longer. Give me the Mountaineers. Bet this game and ALL your sports bets at -105 instead of -110 at BAS Sportsbook! Wagering on sports at reduced odds will save you THOUSANDS of dollars in risked amount over the years and trumps ANY signup bonus you can get by 100x! Click here to bet cheaper today!