Big Ten Pick: Buckeyes vs. Nittany Lions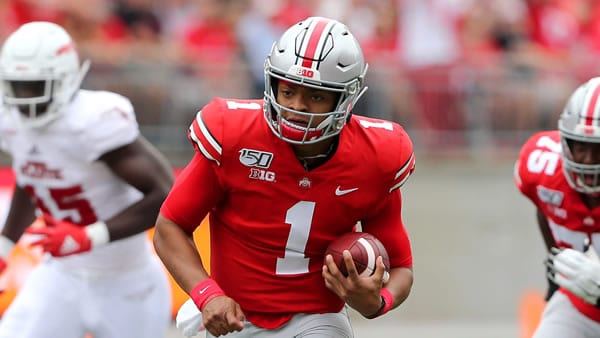 Ohio State Buckeyes (1-0 SU, 1-0 ATS) vs. Penn State Nittany Lions (0-1 SU, 0-1 ATS)
College Football Week 9
Date and Time: Saturday, October 31, 2020 at 7:30PM EDT
Where: Beaver Stadium, University Park, Pennsylvania
TV: ABC
Point Spread: OSU -13/PSU +13 (Bookmaker – Is your bookie a POS? Stop messing around with clowns and get with a Bookmaker! They've been online since the 90's, take bets up to 50K and offer no hassle payouts, EVER!)
Over/Under Total: 62.5
The Ohio State Buckeyes come into Beaver Stadium for a Big Ten showdown with the Penn State Nittany Lions. It's a high-stakes conference matchup that could have a big say on each team's overall seasons. After both teams got off to a very belated start last week, they already find themselves in very different positions. Ohio State had a largely-successful first game, smoking Nebraska and covering the big number in a dominant 52-17 win. It couldn't have gone worse for Penn State, as they were beaten at home in OT, 36-35, by Indiana. A win here would really help atone for that, and at home, who knows? Which team can get the cover on Saturday?
The Fallacy of Game One Evaluations
This season, in particular, it seems smart to caution oneself about reading too heavily into one-week windows. When you're waiting for months for teams to play, long-starved for pertinent data, it's pretty human to run with the story a little bit. In a season that took forever to get going, the limited info coming out of training camp and the general sense of teams operating in darkness out of the public view only enhanced the urge to take the story and run with the first games finally coming off last Saturday.
First games can be tricky for teams and bettors alike. Perhaps we should allow more time for teams to show their full scope of play before etching anything in concrete. Sure, Ohio State looked powerful, and Penn State looked very problematic in week one, and that could very well end up characterizing their entire season. But it's also entirely possible that Ohio State isn't as good as they looked, while Penn State had an off-day. At home with an ax to grind, I'm not sure banking on a subpar performance in their first game is enough to relegate the Nittany Lions to the scrap-heap.
Ohio State: The Good and Bad
They are really loaded in a lot of ways. With their recruiting ability and with how successful they've been in recent years, getting blue-chip talent to come to Columbus isn't that difficult. On offense, we see it paying off handsomely. And at this level, when you have an NFL-ready type quarterback like Justin Fields, it goes a long way. That's especially the case when surrounded by difference-makers like Trey Sermon, Master Teague, and many others. On Saturday, we saw another potential star receiver step up, with Garrett Wilson going for 129 yards and a TD, with Chris Olave also making some big catches. On Saturday, we definitely saw one of those typical Ohio State offenses, where the points come quick and heavy, sometimes almost effortlessly. After Nebraska tied it at 14-all in the 2nd quarter, Ohio State dropped the hammer and pulled away.
KILLER BONUS: DEPOSIT $100 TO $1000 AND GET A 100% REAL CASH BONUS AT BETNOW SPORTSBOOK! BIGGEST BONUS FROM A LEGIT BOOK WE'VE EVER SEEN!
With a big lead against Nebraska, one may have preferred to see some more balance, particularly with the horsepower they have at RB with Sermon and Teague. Maybe with so many other quarterbacks getting a head-start, of sorts, Fields feels like he really has to make a point and could be pressing a little. And while everything looked in order against Nebraska, things could come more to light against a better team. Especially all the player-turnover from last season, as over half of Ohio State's starters, needed to be replaced with some major ones, including difference-makers Chase Young and JK Dobbins. The Buckeyes weren't terribly impressive along both lines of scrimmage, a major concern with all the changes on those lines. Nebraska's D-line sometimes muscled the Buckeyes' front, while Nebraska was sometimes able to run with ease and tear holes in the Ohio State D-line.
Silver Lining for Penn State
The loss to the Hoosiers was one of those wacky losses—a demoralizing game to be sure, but one where they had some rotten luck too. After all, they had 11 more first downs and gained more yards by a 488-211 clip. Between some close calls, special teams gaffes, first-half turnovers, and penalties, things just lined up well for the Hoosiers, who really deserved something good to happen after all their recent suffering. Still, the conditions of the loss make one hesitant to completely retool their perception of Penn State.
One could expect Penn State QB Sean Clifford to be gunning to exorcise the demons of last week's two-interception performance. He can be a real dual-threat kind of guy and had 119 yards and a TD on the ground on Saturday, along with three more TDs he threw. But mistakes plagued his efforts. He did connect well with Jahan Dotson, as the young receiver looks to break through this season. A lot of that offense is intact from last season and should come around better this week and beyond.
For the purposes of this game, however, one has to question the Penn State defense, particularly after being so exploitable in spots last week. They were torched in the second quarter, while being exceptionally un-clutch late, when Indiana tacked on a late TD and a two-point conversion, before allowing another TD and the game-winning two in overtime. With over half of last year's starters gone and a bad week one showing, they better find something quick on "D" with the high-octane Buckeyes offense coming into town.
Lay the Points on the Road Favorite
I know that urgency could resonate here, as an 0-2 start would be tough on a Penn State program that worked so hard to get back to prominence. I just think that there are certain realities they will have to face this season, namely a defense that might be up-to-snuff against the better conference offenses they face. And Ohio State would certainly qualify. I think Penn State's coaching and pride could have them in this game for a while before that defense maybe starts wilting some late, as the Buckeyes pull away for the win and cover. I'll take Ohio State.
Loot's Pick to Cover the Point Spread: I'm betting on the Ohio State Buckeyes minus 13 points. College Kid Bonus: Deposit $25 and get an extra fifty bucks added to your wagering account when you use bonus code: ROOKIE200 at Intertops Sportsbook!