Cal vs. Oregon Pick Against the Spread 10/15/21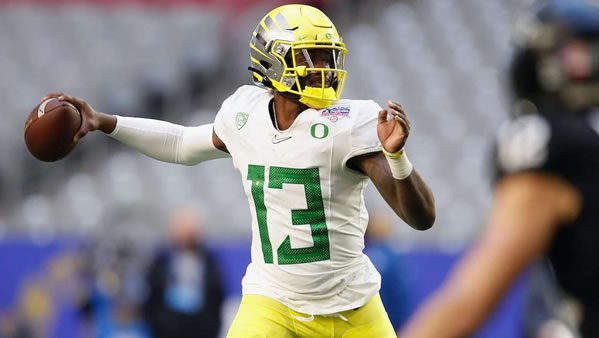 California Golden Bears (1-4 SU, 2-3 ATS) vs. Oregon Ducks (4-1 SU, 1-4 ATS)
College Football Week 7
Date and Time: Friday, October 15, 2021 at 10:30PM EDT
Where: Autzen Stadium, Eugene, Oregon
TV: ESPN
Point Spread: CAL +13.5/ORE -13.5 (GTBets - Don't redeposit into your current betting acct and receive NOTHING! Take advantage of a 100% REAL CASH bonus up to $500 here!)
Over/Under Total: 54
The California Golden Bears come to Autzen Stadium in Eugene to battle the Oregon Ducks in Pac-12 action on Friday night. For Oregon, this is a belated opportunity to atone for a loss in their last game to Stanford. They had last week off and look to approach the rest of their schedule with gusto. That could be bad news on a beleaguered Cal bunch, coming off an ugly 21-6 loss to Washington State at home. They also had a week off and hope to have come up with some answers. Who can cover the number this week in Eugene?
Cal as Bad as It Seems?
It's hard to find silver lining coming off a 6-point showing at home against the Cougars. But an even-handed look at their whole season suggests that with a twist here or a turn there, maybe things could be a little different. All their losses up until the WSU fiasco were close, with close losses to Nevada and TCU by a combined 7 points, with Washington needing overtime to vanquish the Golden Bears. For the most part, they've been making it hard on opponents. Getting a robust point-allowance here, that type of trait warrants some mention. With it being in a crazy Pac-12 Conference, it constitutes downright hard evidence.
Let's not forget, a lot of these guys on Cal know what it's like to beat the Ducks. Last season was a dumpster fire in spots for the Ducks, and when they lost to Cal, it was during that time. We still saw experienced Cal quarterback Chase Garbers commandeer a capable offense. He was efficient and ran in a score, while Nikko Remigio (questionable) also had a score on the day. Granted, this is a different Oregon team. Still, they showed in their last game that they are not above the parity and zaniness of the Pac-12.
Some of these factors line up well for a case on the Golden Bears getting almost two TDs. Their defense is far from infallible, but in the last few years, they've gone through great lengths to not be the exploitable units of years past. That role-reversal is true for the whole team, as they've gotten away from that all-offense/no-defense approach we saw a few years back. So what they've given up on offense, they've gained on "D," where they bend but seldom break altogether.
Good Spot for Oregon?
While they surely would have liked to immediately atone for the overtime road loss to the Cardinal, maybe the extra break came at a good time after a whirlwind starts to the season for the Ducks. The win over Ohio State had them looking like the big-shots of the Pac-12, but Stanford showed that maybe it isn't the case. Still, there's a lot to play for, and I'd look for the Ducks to right the ship to some extent at home this week. It's a manageable spot, and a good opportunity for them get pointed in the right direction again.
An Oregon loss here puts a big hurt on a season that looked like it was going places. In a lot of ways, it may have been better for the Golden Bears if Oregon was just unbeaten and maybe overlooking them this week. That angle is hard to justify this week. First, they had more time to ruminate on it with the extra time off. They now have something to prove against a team that beat them last season. If one likes Cal, they have to like it strictly from a football point-of-view because they won't catch Oregon sleeping this week.
The problem for Oregon is the injury setbacks to their backfield, with CJ Verdell, lost for the season and Travis Dye listed as questionable. That's a big part of their offense. They have some balance, but the combo of Verdell and Dye, along with the nifty footwork of QB Anthony Brown was really their bread-and-butter. But with loss comes opportunity, and while it may not bring much experience, there is a gaggle of backs chomping at the bit to make their mark on this stage. Now is the time for Brown, Jaylon Redd, Johnny Johnson, III., Mycah Pittman, and other spokes of the Oregon offensive wheel to get rolling.
Best Bet Alert: Kentucky at Georgia Spread Play
Opportunity for Cal?
A lot of things line up for a butt-whipping here of somewhat major proportions for the Golden Bears. They just got manhandled by WSU, where they couldn't score for the final 3.5 quarters of the game. But the Oregon backfield is a top-heavy group where there is some fall-off after the top few guys. Cal is pretty adept against the run. Anthony Brown is a QB who leans on his running backs, and maybe being thrown into a different role won't suit him so ideally. To cover this spread, a now-compromised Oregon team is going to need to out-perform what they did last season by nearly three touchdowns.
Take the Points
It's hard to make this pick with a clear head. Cal hasn't been good, and anyone who saw them in their last game would take Oregon as a matter of simple reflexes. But with Oregon losing some steam on offense against a team that matches up well against them and beat them last season, I'm not in the spirit of laying almost two touchdowns. Not in this conference where logic only makes sporadic appearances. Not that Oregon can't come out and absolutely hammer Cal, but I see a resourceful Golden Bears squad getting out of town with the cover. I'll take the California Golden Bears.
Loot's Pick to Cover the Point Spread: I'm betting on the California Golden Bears plus 13.5 points. There's a 98% chance that you are wasting money every time you bet. Find out how to end this problem immediately by reading this article on reduced odds sports wagering that will educate you on a very serious topic!
100% REAL CASH up to $300

USE BONUS CODE:
PREDICT100