Clemson Tigers vs Boston College Eagles Analysis & Predictions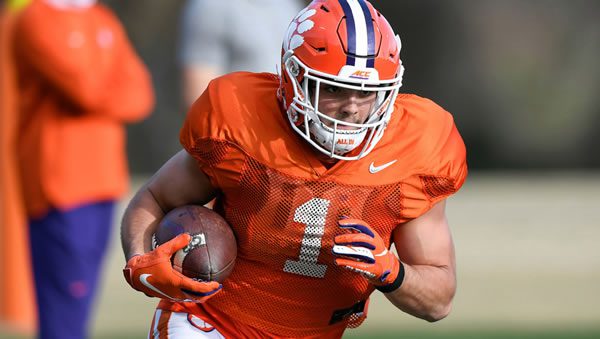 Clemson Tigers (5-0 SU, ATS 2-2) vs Boston College Eagles (2-3 SU, ATS 1-3)
Date: Saturday, October 8th
Location: Alumni Stadium (MA), Chestnut Hill, MA
TV: ABC
Point Spread: Tigers -20.5/Eagles +20.5 (BAS Sportsbook – It's so much smarter to bet on games at -105 instead of -110! Imagine how much you'd have saved over the past year! Take 5 minutes and make the switch TODAY! You'll be so glad you did!)
Money Line: Tigers -1800/Eagles 912
Over/Under: 49.5
RECENT FORM
So far, the Tigers not only had a strong overall record (5-0), but they also played well in
Atlantic Coast play, going 3-0. This season, the Tigers have an ATS mark of 2-2-0 while being
favored in every game. Their over-under record sits at 3-1-0 on an average point total betting
line of 41.8.
In their last game, the Tigers are coming off a 30-20 win over NC State. In addition, they
added an ATS win as they were 6.5 favorites on the spread. In the game, Clemson finished with 1
touchdown through the air while throwing for 209 yards. The team ended the game with 2 rushing
touchdowns, along with a total of 145 yards on the ground.
Quarterback DJ Uiagalelei comes in the game having completed 104 of 159 passes for a passer
rating of 109.58. Overall, he has a total of 1242 passing yards. So far, the team's most
productive wide receiver is Beaux Collins, who has caught 14 passes for a total of 232 yards. The
Tigers have turned to running back Will Shipley a total of 66 times for a total of 413 rushing
yards.
The Eagles head into this week's game with an overall record of 2-3. However, they are 1-2 in
Atlantic Coast action. This season, the Eagles have been favored in 1 game while posting an ATS
mark of 1-3-0. Their average over-under betting line is 38.2 leading to an over-under record of
2-2-0.
In their previous game, the Eagles picked up a 34-33 road win over Louisville. This was an
impressive victory as they were also the 13.5-point underdogs. In the win, Boston College
completed 85.7 of their 21 passes, 3 of which resulted in touchdowns. On the ground, the team
ended with 1 rushing touchdown while averaging 4.0 yards per carry for a total of 144 yards.
So far, quarterback Phil Jurkovec has a passer rating of 92.83 while completing 96 of his 150
attempts. So far, the team's most productive wide receiver is Zay Flowers, who has caught 34
passes for a total of 481 yards. The top option in the run game for the team is Pat Garwo III,
who has carried the ball 62 times for a total of 225 yards.
BETTING TRENDS
Against the spread, Clemson have gone 6-4-0 in their last 10 games. Over this same period,
their straight-up record is 10-0-0. They maintained a positive scoring differential in these
games by averaging 37.7 per game and allowing 17.8. Their last 10 over-under record is 5-4-1.
Clemson has played well in their previous 5 road games, going 5-0-0 straight up. In this
stretch, they averaged 34.4 points per game while allowing 18.4. The team also performed well vs
the spread at 4-1-0.
Through their last 10 matchups, Boston College has gone 4-6-0 straight up and 3-7-0 vs the
spread. Their last 10 scoring differential sits at -5.0, as they averaged 21.4 points per game
while allowing 26.4 points. The over-under record in these games was 4-6-0.
In their last 5 games at home, the Eagles have a straight up record of 2-3-0 while going 1-4-0
vs the spread. The team's offense averaged 25.2 points per game in these contests.
More Picks: Washington St vs. USC Trojans 10/4/22
KEY STATS AND ANALYSIS
So far, the Tigers have been one of college football's top offenses, averaging 41.0 points per
game on offense, which is good for 15th most in college football. The Tigers head into this
week's matchup against a Boston College defense, allowing 28.6 points per game. Clemson must
continue to move the chains with a high rate of success, as they are among the NCAA leaders in
converting on 3rd downs.
Although the Tigers have turned to the passing attack at a below-average rate this season,
they have an opportunity to find success through the air vs a Boston College defense allowing
teams to complete passes at a rate of 61.18%.
So far, the Clemson offense is averaging 175.8 yards per game on the ground. This production
has come on an average of 38.0 rush attempts per game (54th). This week, the Tigers could be in
line for a big game on the ground, as Boston College is 119th in rush yards allowed per game.
This year, they have averaged 183.5 yards per game when facing defenses ranked outside the top
50.
Heading into this week's matchup, the Eagles will look to improve their offensive output, as
they are ranked just 103rd in the NCAA in points scored. This week, they are matched up against a
Clemson defense that is allowing an average of 21.4 points per game.
One aspect of the game that could benefit a Boston College offense that struggles to generate
big plays in the passing attack is that they are facing off a Clemson defense that has yet to
generate a lot of pressure on opposing quarterbacks. So far, the Tigers are just 74th in sacks
per game.
Don't look for Boston College to generate much offense on the ground, as they are averaging
just 76.6 yards per game in the rushing attack. This production has come on an average of 31.4
rush attempts per game (113th). In addition, Clemson is the top-ranked defense against the run
this year.
FREE NCAAF PICK
Clemson -20.5. Make the Clemson Tigers a -0.5 favorite by inserting them into a massive 20 point college football teaser found at Wagerweb Sportsbook!
NCAA Football Betting Guide
New to college football betting or football wagering in general? Point spreads and odds can be confusing at first glance! We explain how these wagers work, as well as totals, futures and prop bets in our How to Bet on College Football article!