Hawaii Rainbow Warriors vs. UCLA Bruins Point Spread Pick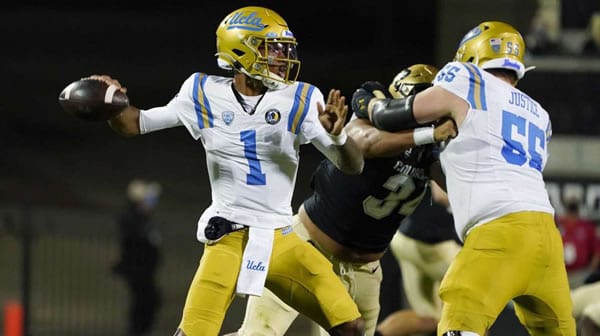 Hawaii Rainbow Warriors (0-0 SU, 0-0 ATS) vs. UCLA Bruins (0-0 SU, 0-0 ATS)
College Football Week 1
Date and Time: Saturday, August 28, 2021 at 3:30PM EDT
Where: Rose Bowl, Pasadena, California
TV: ESPN
Point Spread: HAW +17/UCLA -17 (Betanysports.eu - Bet on games at -105 instead of -110! Saves you HUGE money and trumps any bonus you can get!)
Over/Under Total: 70.5
The Hawaii Rainbow Warriors come into the Rose Bowl on Saturday the 28th to take on the UCLA Bruins in week one of the college football season. Both teams start the new season with hope, following subtle but meaningful positive steps last season. And with those improvements occurring during a difficult season for all, the hope is that they can take another step this season with what will hopefully be a smoother overall road. For Hawaii, this is a tough spot for the Mountain West Conference upstart—a road game against a Pac-12 team that could be on the upswing.
The State of Hawaii
Coming into week one and following such a screwball season, potential UCLA backers should know what they have on their hands with what is in many ways a new kind of Hawaii team. For much of recent history, the Rainbow Warriors are bad, with the occasional spark that usually came from a dialed-in aerial offense that did much of the work. With more defensively-oriented head coach Todd Graham in his second season following a 5-4 mark in 2020, we see a more balanced team and one that isn't a total laughingstock on the defensive side of the ball for a change.
Graham has generally been able to foster a winning vibe at the seemingly dozen places he's coached at for the last 15 years or so. Last season was highlighted by a one-score loss to Boise, a win over Nevada, and a bowl win over Houston—not bad for a first-year coach thrown into a tough spot to kick off his tenure. They return a proven starter at quarterback in Chevan Cordeiro, who was also the team's leading rusher. They have immense talent at running back in Graham's balanced approach, with Calvin Turner looking to shine. Still, against this UCLA team and its often-shoddy defense, one wonders if the less-balanced and more-explosive Hawaii teams from a few years back would stand a better chance of pulling off this upset at the Rose Bowl.
UCLA on the Upswing?
It hasn't gone that well for UCLA under the Chip Kelly era so far. They have almost become the Pac-12's version of what Hawaii used to be. And while the "D" let them down at times last season, we started to see more things click with wins over Cal and both Arizona. All their losses were of the one-loss variety, including painfully close losses to conference powers Oregon and USC. They get ten starters back on an offense that started to gel last season, resembling the kind of attack fans expected with the Kelly hire. Since his tenure, he has groomed QB Dorian Thompson-Robinson, and it started to show well last season. The offense could be dynamic.
The Hawaii defensive front will have to deal with the prospects of a fully-intact Bruins' offensive line that was pushing around people at times last season. Thompson-Robinson will have his main weapon back in TE Greg Dulcich, Jr. WR Kyle Phillips and RB Brittain Covey also return. And what has at times been a slapstick defense under Kelly wasn't that bad last season, making a lot of plays and really getting after opposing QBs. Most of that menace returns this season. We also saw a secondary that, while being exploitable, was robust when it mattered and made a ton of big plays.
More Picks: Nebraska vs. Ilinois Point Spread Prediction> >>>
Major Challenges For Hawaii
UCLA has no excuses now. Kelly has all his guys. This is his team. A run of five straight losing seasons is really terrible for a school of this caliber in this location. We should start to see some of the hard work pay off. DTR is ready to shine with the skill guys and line necessary to make it really happen. A tough schedule could cause them to sink this season, but frankly, Hawaii is not part of that equation. Overmatched in the trenches and at the skill positions, this has the looks of an uphill battle on paper. Then again, since when has an optimistic view on Bruins' football paid off at the windows?
Hawaii returns ten starters on defense, and Graham should get them performing better this season. Still, against the run, they were pretty shabby, and that doesn't bode well against the UCLA attack. The Hawaii secondary returns its two best players, and it looks to be an area of strength after some solid recruiting and the acquisition of a few key transfers. They could be one of the better pass defenses in the Mountain West. But it might not be one of the more rigid defenses the UCLA offense sees this season.
Lay the Number on the Bruins
It might not be easy for most to click on "UCLA -17." That's understandable. The superiority of conferences and home advantage aside, that's a big number to lay on what has primarily been an unreliable football product for years, particularly against a plucky team on what seems to be an upswing. I'm just of the feeling that even if UCLA is not ready for prime-time, it won't manifest in spots like this.
The fact of the matter is that the UCLA defense still lags behind the other side of the ball in terms of overall potential, and Hawaii could do damage on that front, making it hard to cover a big number. It's just not easy to envision the Hawaii defense not getting run over a little bit at some point. And towards the end of a game like that, I don't want to be hoping for a late backdoor score or two to win my bet. I'm taking the Bruins in this one.
Loot's Pick to Cover the Point Spread: I'm betting on the UCLA Bruins minus 17 points. Kick your season off with a bankroll booster by depositing $100 to $500 at GTBets Sportsbook and they'll match you dollar for dollar with a 100% real cash bonus! Click here to register now!