Hawaii vs. Wyoming Pick ATS 10/30/20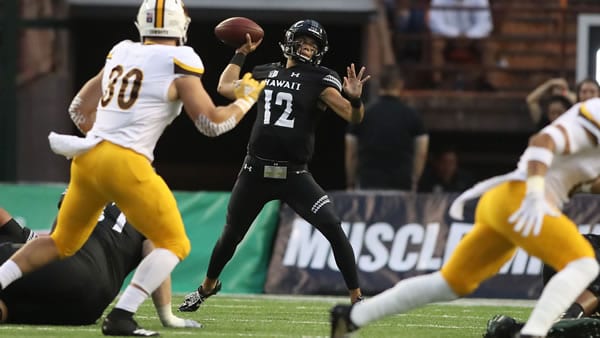 Hawaii Rainbow Warriors (1-0 SU, 1-0 ATS) vs. Wyoming Cowboys (0-1 SU, 0-1 ATS)
College Football Week 9
Date and Time: Friday, October 30, 2020 at 9:45PM EDT
Where: War Memorial Stadium, Laramie, Wyoming
TV: Fox Sports One
Point Spread: HAW -2.5/WYO +2.5 (Intertops – Free $50 Bet! Deposit $25, add in bonus code ROOKIE200 and they'll give you an EXTRA fifty bucks! Online since the 90's! Rock Solid!)
Over/Under Total: 57
The Hawaii Rainbow Warriors make the trip to Laramie for a Friday night Mountain West battle with the Wyoming Cowboys. Both teams finally got their seasons underway last week, and with their first games coming in week 9, it tells you all you need to know about this wacky college football season. Nevertheless, both teams look to kick their seasons into high-gear with a limited schedule and window to make an impact. Hawaii was surprisingly good in week one, going into Fresno as underdogs and winning 34-19. Wyoming saw the opposite scenario play out, beaten at home as favorites in an overtime struggle with Nevada, 37-34. Who can get it done this Friday?
First Impressions
In week one, Wyoming looked flat early, as Nevada took a 28-13 lead that they held into the final quarter. Two Wyoming touchdowns, with Cowboys QB Levi Thompson taking over with his legs, evened matters. A late Nevada FG was overcome when Thompson led the team down to tie it late—but losing in overtime after that comeback made week one a deflating and tiring experience. However, with that being their first game, I wouldn't expect energy to be low this week.
Hawaii looked great in week one. However, you wonder if playing from such a deficit in the home-away context will hurt, with two road games in a row and now a hefty one from Hawaii to Wyoming. In Fresno last week, however, the Rainbow Warriors were in control. They are working in Chevan Cordeiro at quarterback, and he has a little experience working behind Cole McDonald in the last few seasons. He is far more of a running QB than his predecessor, and on Saturday, he and RB Miles Reed were both over 100 yards, suggesting we might see something we don't often see—a robust Hawaii ground-game.
Issues for the Cowboys
Prospective starting QB Sean Chambers, an oft-injured QB with potential, was carted off against Nevada, with Thompson taking over, and he does have experience. But to see a starting QB go down so quickly seemed to set the tone for the Cowboys. For a long-struggling team that won 8 games last season and is looking for an uptick, it was a hard pill to swallow, even if Thompson was expected to see some time. And like Wyoming, Nevada is considered a team on the rise, so it's not like they lost to one of those really bad Nevada teams we see from time to time. And Thompson is a player who appears to be on the rise. Therefore, maybe week one painted them in a worse light than what is really the case.
Still, we have a Wyoming defense that might be under some scrutiny to start the season, especially after giving up 420 yards and four passing TDs to Nevada QB Carson Strong. Late in the game, we saw the Cowboys defense tighten up some, but for the most part, it was entirely too easy against Wyoming. They have a good defensive front, anchored by star DL Dom Peterson. But obviously, after last week, questions loom about their pass-defense. Lucky for them, Hawaii's new quarterback is less of an aerial demon than his predecessor. And if what we saw in week one with Hawaii's larger reliance on the run holds up, this Wyoming defense could possibly match up better. But aerial weapons still exist on that Hawaii sideline, and Cordeiro has shown an aerial flair in some of his time behind center.
More Picks: Ohio State at Penn State Week 9 Pick
Where Does Wyoming Stand?
After week one, it's a little difficult to rate where the Cowboys stand in the MWC picture. Maybe we have to recalibrate. Areas of promise rested in the QB position, something we now have to reconsider. They do return a significant portion of the offensive line that thrived last season, along with the top conference rusher from last season in Xazavian Valladay. The defensive front looks solid. But will there need to be an offensive philosophy change with Chambers going down? Was giving up over to 400 to Strong last week enough to condemn this secondary?
Challenges for the Rainbow Warriors
There is some player-turnover across all areas. After a successful run, Nick Rolovich is out, and Todd Graham is in as head coach. They lost their starting QB and two 1000-yard receivers. However, Cordeiro was really pushing McDonald for playing time, and with Jared Smart and Graham's recruiting ability, they look to have secured a pretty good core of ball-catchers. Graham typically relies heavily on good backs, and we should see a more-balanced Hawaii offense, with Miles Reed's numbers swelling this season.
Note: Don't forget to check out our Week 8 NFL picks!
Still, the Hawaii run-defense was a massive area of concern last season, and the only reason we didn't see it suffer in Week one was that Fresno was playing from behind and had to air it out more. With Valladay and the other running tools Wyoming has, this could be a spot where we really see a Hawaii defense in a state of transition start to struggle a little bit. And their pass-defense really didn't look all that crisp against an inexperienced Fresno QB. Undersized in the middle and at the edges, one wonders if what didn't show against Fresno will rear its head more this week.
Take the Home Team
I don't question what we saw in week one, and if going strictly off that, Hawaii would look promising in this spot. But even with crowds not really figuring into it, these road-spots can be really hard on a team located in the middle of the Pacific, especially in consecutive weeks. I think some urgency will resonate with the Cowboys here after their week one flop, and I believe they're in an excellent position to win and get the cover at home this week. I'll take the Cowboys.
Loot's Pick to Cover the Point Spread: I'm betting on the Wyoming Cowboys plus 2.5 points. Bet your Week 9 college football picks for FREE by taking advantage of the best bonus running: Deposit anywhere from 100 to 1000 and get a 100% real cash bonus! Deposit 500 get 500 FREE! Deposit $1000, get $1000 FREE! Find this killer offer at BetNow!