Heisman Trophy Odds & Value Picks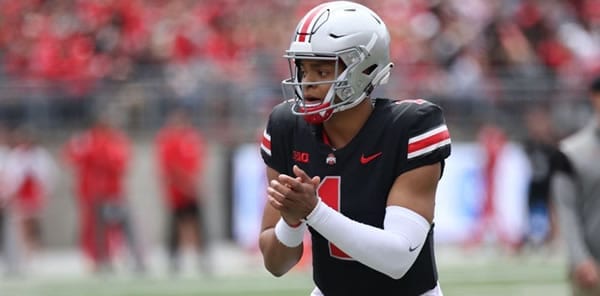 Picking the Heisman Trophy winner is never an easy thing, as dark horses enter the fray all the time in college football. After all, Washington State quarterback Gardner Minshew wasn't even on the board in Vegas as an option to win the Heisman until late October last season, and he finished fifth in the voting when all was said and done.
But we're in the business of predicting what's most likely to happen, so we're going to take our best shot at guessing where your best bets might be for college football's most outstanding player this year. Some of these will be among the favorites, and some will need a lot of breaks to go their way, but all have one thing in common: the idea of them winning the Heisman is a realistic one.
Here are a few names to keep in mind.
Trevor Lawrence, Clemson
Why he could win: Take a look at just how good he was in the College Football Playoff against Alabama. Lawrence was fantastic against the Crimson Tide, and that was as a true freshman. Now it's unquestionably his team, and the Tigers aren't going to hesitate to make him a significant focus of their offense. Lawrence not only has the talent, but he's got the maturity needed to put up a big season, as he handled the job beautifully last year and did a nice job of stepping up with the pass when it was necessary to get the Clemson attack going. He should take a big step forward this year, making him a real award threat.
Why he won't win: Clemson isn't just stacked at the quarterback position going into the year. The Tigers also return one of the best running backs in the game, who is a legitimate contender for the trophy as well. Etienne kept defenses honest last season, and while he helps Lawrence get the job done where it counts the most, he also sucks up a good chunk of yardage and touchdowns that the Tiger offense puts up on a regular basis. There's also the chance Clemson simply buries too many of its opponents early in the game, which could leave Lawerence unable to produce the kind of numbers that are needed to claim the Heisman.
Bottom line: At +275, Lawrence is one of the unquestioned favorites to earn the Heisman, and he plays for a good enough team to do it, given that the Tigers will be favored in just about every game they play this season. He's shown that he is no ordinary young quarterback, and he should be even better this season against a lesser schedule than what they faced a year ago. Given the price, this is a solid bet to try. While we're on the topic of Clemson, I believe another great pick is Travis Etienne at 30/1. If he can stay healthy, he'll put up a ton of stats. You can bet him as high as 30/1 at 5Dimes Sportsbook. 
Tua Tagovailoa, Alabama
Why he could win: Tagovailoa was outstanding against everyone except Georgia and Clemson last season, and neither the Bulldogs nor the Tigers will be on the Tide's schedule in the regular season.
Tagovailoa was last year's Trevor Lawrence, and he showed just how good he was from Day 1 in 2018, throwing for more yards than Kentucky and Mississippi State's starting quarterbacks combined. Oh, and he only played in the first half of most of Alabama's games last year, so those numbers could be even more video game-like if Tagovailoa is allowed to play a full four quarters.
Why he won't win: How well is he going to adjust to a new offense? Mike Locksley is no longer in Tuscaloosa, heading off to Maryland as the coach there following Tagovailoa's fantastic campaign. In comes Steve Sarkisian, and while Nick Saban still has the final say over everything the Tide offense does, a new voice in the coordinator role can make a big difference. How quickly Tagovailoa and Sarkisian adjust to one another will determine whether Tagovailoa has another first-rate season or just a merely solid one.
Bottom line: The good news for Tagovailoa is that Sarkisian isn't a stranger to working with Saban and getting his vision across. Sarkisian worked in Tuscaloosa before, leaving in 2017 to take the offensive coordinator job with the Atlanta Falcons. But that doesn't mean there won't be changes afoot, and it doesn't mean that this will be an easy change. Given the switch, I'm surprised that Tagovailoa starts with the same odds as Lawrence, as the latter will be working with a pair of offensive coordinators that have been in Clemson since 2015. Tagovailoa doesn't have that kind of consistency in his corner, and the Tide face better defenses than the Tigers do in the SEC. If the price were a little better, Tagovailoa would be a solid bet, but for the same price as Lawrence, the Clemson quarterback is the one I want.
Jalen Hurts, Oklahoma
Why he could win: The past two Heismans have gone to Norman, Okla., and now Jalen Hurts gets his shot to step into a new situation and make the most of it. Hurts gets to run a much more open attack that is designed to put up big numbers, which is a large part of how Baker Mayfield and Kyler Murray won the Heisman over the past two years. Hurts didn't forget how to play quarterback, and the odds are that he'll be ready to show Alabama and others on what they missed out. Given that the Big 12 is perhaps the most open conference in the country when it comes to offense, there should be plenty of points and yardage for him to produce.
Why he won't win: Three straight years at one school has never happened for the Heisman. Even doing it two years running is a major challenge, and Hurts is trying to go one better this season. It's also no guarantee that Lincoln Riley's offense can keep producing at the level it has for the past two years. Eventually, something has to give, even in the Big 12
Bottom line: Playing in the Big 12 has its advantages, and Hurts will have every opportunity to let it fly in Riley's offense. Unlike Alabama or Clemson, Oklahoma isn't going to be pulling Hurts early in most
games because virtually every offense in the Big 12 has the ability to put up points in a hurry. Unless you're playing the likes of Kansas — and even the Jayhawks should be a little better under Les Miles — there is no such thing as a safe lead in the Big 12. That will play right into Hurts' hands, and at 10-1 odds, you could certainly do a lot worse than a quarterback with a chip on his shoulder in a league that has no idea how to play defense.
Justin Fields, Ohio State
Why he could win: Fields is still the quarterback that everyone wanted out of high school, and the fact that he sat behind Jake Fromm in Georgia doesn't change that. He's a dynamic quarterback and Ryan Day operates an exciting offense that showed no signs of stopping last season, even as the Buckeyes got deep into Big Ten play.
Why he won't win: Sitting behind Fromm for a year is a great recipe for rust, and that's before you throw in the move to a brand new school. While it's worked for several athletes (see: Minshew, Gardner, Mayfield, Baker and Murray, Kyler), it's still always a big risk. If Fields lost anything while sitting, it's going to be hard for him to be a contender, especially considering the weather will turn in November in ways that it won't for the likes of Alabama and Clemson.
Bottom line: A 10-to-1 price isn't enough to get me interested. We still don't know how good Fields is or isn't going to be at the college level, and it's just too soon for me to make that investment. It's likely going to take part of a year for Fields to adjust to Ohio State's offense, and by then, it'll be too late for him to catch up to his rivals. I like his chances next year, but for right now (and considering this paragraph reads like a response on Shark Tank), I'm out.
Justin Herbert, Oregon
Why he could win: Coming back for his senior season gives Herbert an edge over these young guns: he should be a master of the Ducks' offense and be able to direct an improving squad to a solid season. If he's able to get Oregon to a nine-win season or better, his command of the offense will be a big reason why, and he'll trigger some of the hype he needs to make the Heisman winnable.
Why he won't win: I hate to do this, because last year's Redbox Bowl was a disaster that will rank among any season's most awful contests. But that's the way the Ducks' season ended, with just 7 points in a ridiculously weak WIN over Michigan State. If the Oregon offense still resembles that complete dumpster fire as we go into 2019, Herbert's got no chance at the Heisman.
Bottom line: Show of hands: who respects the Pac-12 right now? Yeah, that's what I thought. The problem for Herbert is that perception is the reality when it comes to a vote-based award like the Heisman,
and voters aren't going to give a vote to someone who plays in a league that they consider to be second-tier. Right now, people believe good football is not played west of the Central Time Zone and the fact that Gardner Minshew didn't even get on the board until October suggests that hasn't changed. At 20 to 1 odds, Herbert brings a nice payout, but he's a longshot who will need a great season from the team around him to make it possible.
Jonathan Taylor, Wisconsin
Why he could win: A strong running back needs to be in the conversation somewhere, and Taylor might very well be the one. Unlike with Fields, the weather in Big Ten country will favor Taylor as the season goes on, and Wisconsin never shies away from pounding the rock when it gets a chance. If the Pinstripe Bowl was any indication, the Badgers are going to keep feeding him when it matters most.
Why he won't win: Heisman winners don't play in the Pinstripe Bowl. Wisconsin wasn't a great team last year, and that's got to change if Taylor is going to get anything close to the hype he needs to make it to New York. There's also the fact that the game has changed so much and running backs get less important every season. Seven of the last eight Heisman winners have been quarterbacks, with Derrick Henry being the lone exception. Will a running back from Wisconsin really be the one who breaks the mold if the Badgers go 8-4 or 7-5? Highly unlikely.
Bottom line: Taylor isn't a bad option if you're looking to think outside the box. But with Wisconsin coming off a so-so year, it's a real question as to whether he can generate enough hype to get him in the mix for the trophy. At 18-1, you could do worse than Taylor by a wide margin, but you also have to temper your expectations. If the Badgers have a great year, he'll be the biggest reason, but most likely, he'll be on the outside looking in.
Odds to Win the Heisman Trophy in 2019
Listed Heisman odds provided by Bovada on July 29th.
Tua Tagovailoa (QB Alabama) +250
Trevor Lawrence (QB Clemson) +275
Justin Fields (QB Ohio State) +900
Jalen Hurts (QB Oklahoma) +1000
Adrian Martinez (QB Nebraska) +1100
Jake Fromm (QB Georgia) +1400
Sam Ehlinger (QB Texas) +1500
Justin Herbert (QB Oregon) +2000
Jonathan Taylor (RB Wisconsin) +2200
Shea Patterson (QB Michigan) +2500
Najee Harris (RB Alabama) +2800
Travis Etienne (RB Clemson) +3000
Ian Book (QB Notre Dame) +3500
AJ Dillon (RB Boston College) +4000
D'Andre Swift (RB Georgia) +4000
Jerry Jeudy (WR Alabama) +4500
Austin Kendall (QB West Virginia) +5000
Rondale Moore (WR Purdue) +5000
Tee Higgins (WR Clemson) +6000
D'Eriq King (QB Houston) +6500
Tate Martell (QB Miami) +6600
Kelly Bryant (QB Missouri) +7500
Khalil Tate (QB Arizona) +7500
Eno Benjamin (RB Arizona State) +8000
K. J. Costello (QB Stanford) +8000
Joe Burrow (QB LSU) +10000
Tylan Wallace (WR Oklahoma State) +10000
Laviska Shenault Jr. (WR Colorado) +15000
First college games of the season kickoff on August 24th with Miami at Florida and Arizona at Hawaii - Make this season a winning one by having a trio of sportsbooks for line shopping and have free picks from professional handicappers to help improve your bottom line!