Houston Cougars vs. Tulane Green Wave Pick 9/19/19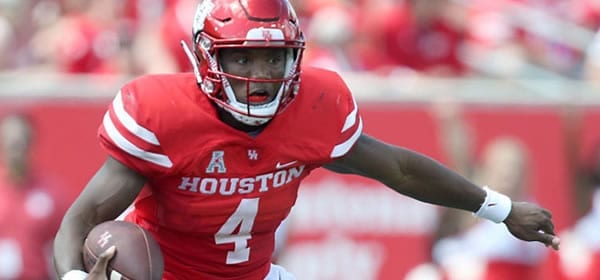 Houston Cougars (1-2 SU, 2-1 ATS) vs. Tulane Green Wave (2-1 SU, 2-1 ATS)
College Football Week 4
Date and Time: Thursday, September 19, 2019 at 8PM EDT
Where: Yulman Stadium, New Orleans, Louisiana
TV: ESPN
Point Spread: HOU +4/TULN -4
Over/Under Total: 62
The Houston Cougars come into Yulman Stadium for a Friday AAC matchup with the Houston Cougars. Last season, the Cougars handed Tulane a painful 48-17 beating, avenging a defeat the previous season. This time around, the 2-1 Green Wave get this one at home, where they will have three of their first four games this season. Can Houston reproduce last season's effort or will the Green Wave be able to do better and at least make a run at a win at home?
Confusing Signs Thus Far
Tulane is 2-1, as they make their conference debut. As three-point favorites in week one, they smoked FIU, 42-14, before losing to Auburn, 24-6, playing halfway respectably, though not covering the spread. Last week, they thumped Missouri State, 58-6, so there isn't much to go on, despite three games worth of reference. They've been running the ball reasonably well, even having some moments in their loss to Auburn. Dual-threat quarterback Justin McMillan is a big part of that recipe on offense, and they look to turn that loose on a Houston defense that hasn't shined in stopping the rush through three games.
Houston isn't looking great from a W-L standpoint at 1-2, but in covering the spread against two ranked opponents, they've shown themselves to have some pluck and merit. In week one in Norman, they covered the spread against high-ranked Oklahoma, before losing but covering against Washington State last week. Those losses sandwiched a win over Prairie View A&M, so we have another team in the Cougars whose level is still a little up in the air. Like Tulane, they have shown some spark on the ground that they look to turn loose in their conference-opener. Let's try to figure out which team can thrive in their own wheelhouse after three weeks of table-setting.
The Top Weapon on the Field
Houston quarterback D'Eriq King is one of the more prolific players in the country, coming off a 50-touchdown season and already having 9 of them this season. King and others who are still a part of this offense really had big days against this Tulane defense last season, including running back Patrick Carr and receiver Jeremy Singleton. Look for receivers Keith Corbin and Marquez Stevenson to contribute this season in this matchup, along with RB Kyle Porter, who makes for a great 1-2 punch when combined with King. We haven't seen this offense much at top-gear this season thus far, but after seeing them against Oklahoma and Washington State, maybe they can be closer to the best version of themselves against this Tulane defense.
Watch Out for the Tulane "D"
Thus far, Tulane has shown they have teeth on defense against the run in 2019. Granted, stuffing the FIU and Missouri State run-games will only get you so far against Houston, but even against Auburn, we saw this defense making things tough on the opposing running-game. There's a chance we're looking at an upgraded unit from the group that allowed almost 300 rushing yards to Houston in last season's game. Big nose tackle Jeffrey Johnson is making an impact, taking enough attention to open things up for guys like LB Lawrence Graham and DE Cameron Sample. And their secondary looks pretty solid, even making plays with Larry Brooks, PJ Hall, and Thakarius Keyes all already having picks on the young season. Even with Auburn on their record, they've allowed just 44 combined points through three games.
Can Tulane's Offense Keep Pace?
QB Justin McMillan looks for a lot better after a tough game against Houston last season, throwing for 147 yards and no TDs with a pair of picks. He couldn't get anything going with his legs either. Though they were beaten lopsidedly, they still got good production from backs Darius Bradwell and Corey Dauphine, both of whom appear to be in good form this season so far. And there are others, as Tulane flexes a pretty deep backfield. McMillan isn't much of a passer, making more impact at times with his legs. He will have to find a way to have more success this season, but look for him to throw a lot of different looks and weapons at this Houston "D" on Friday.
Houston Defense Looking for Answers
I would expect the Houston defense to perform better this week against a more-manageable Tulane offense. Sure, they've looked ragged at times, but the context here is important. Getting thrown around at times by the Oklahoma offense is hardly an indictment for their chances in spots like this, nor was the huge passing game they gave up to Washington State last week. Even when being exploited in places, they still showed some edge and desire, things that will almost certainly resound more against this caliber of offense. Granted, the road-surroundings and the multitude of different looks Tulane can provide could be troublesome, but even when getting dominated at times by higher-powered programs this season, Houston's defense looks like it could thrive in the right spot.
Take the Points on the Road Team
I don't question whether Tulane will be a lot tougher, especially with this one coming at home. Their defense has looked a lot better this season, and their offense has even thrived in some spots. Still, when you're getting points on a team that won by 31 last season, you have to ask if the team that has to make up that deficit is that many points better off than last season. And I think the answer is no. This game will be a lot closer, but I see a more-dynamic Houston offense making the difference at the end of the day, with the Cougars getting out of New Orleans with the cover on Friday.
Loot's Pick to Cover the Point Spread:
I'm betting on the Houston Cougars plus 4 points. Get a FREE $20 bet on this game simply by signing up at Intertops Sportsbook through this link, deposit $20, place your wager, then you'll receive a $20 reimbursement credit! Intertops has been online with a flawless reputation since the 1990's!