Illinois Fighting Illini vs. Michigan Wolverines Best Bets 11/19/22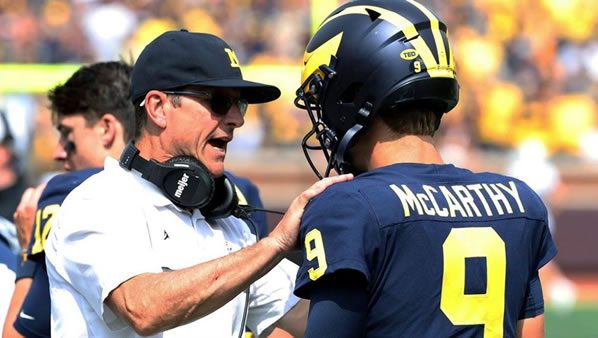 Illinois Fighting Illini (7-3 SU, 6-4 ATS) vs. Michigan Wolverines (10-0 SU, 6-3-1 ATS)
When: Saturday, November 19, at Noon
Where: Michigan Stadium, Ann Arbor, Mich.
TV: ABC
Point Spread: ILL +17.5/MICH -17.5 (You're pissing away your hard earned money for no reason if you're still betting on games at -110! End that problem TODAY by making the switch to -105 odds at BAS Sportsbook!)
Total: O/U 42.5
Outlook
Illinois appears to have hit the wall in Bret Bielema's second year in Champaign, as the Illini's star has faded over the past two weeks. That's probably not a bad thing, given that the Illini really weren't ready to make a run to Indianapolis to take on either Ohio State or Michigan for the Big Ten title. However, the Illini can't avoid Michigan completely, as they now have to try to find a way to slow down the Wolverines in the game right before the Big Game for Michigan.
For Michigan, the concern is getting out of this game healthy and getting ready for Ohio State. The Wolverines haven't beaten the Buckeyes in Columbus since 2000, which means that's where a good chunk of their attention will be for the foreseeable future. And that gives Illinois a chance to keep this close because the Wolverines don't have to worry about style points against the Illini. At this point in the season, throttling Illinois isn't going to do a thing for Michigan's chances at the College Football Playoff.
The Wolverines have three paths to the playoff, and they know it. Path A is the easiest: beat Illinois, Ohio State, and the Big Ten West winner and get ready to play in the Fiesta Bowl. Path B is less simple but still plausible: play Ohio State close and hope TCU loses. Path C is the most convoluted of all but still more of a path than B: lose to Illinois, but beat Ohio State and the Big Ten West winner, thus putting Michigan in as a one-loss league champ. The Wolverines' obvious goal is Path A, but with Path C being what it is, don't expect Michigan's focus to be on this matchup.
How the Public is Betting the Illinois/Michigan Game
Public and sharps are in agreement here in Michigan, and the spread has risen accordingly. 59% of tickets came in on the Wolverines, with the spread rising to -17.5 and the total dropping to 42.5 from 43.5.
Injury Concerns
Illinois:
Defensive back Tyler Strain (concussion), wide receiver Pat Bryant (undisclosed), running back Chase Brown (leg), and running back Josh McCray (leg) are questionable. Defensive back Tahveon Nicholson (concussion), running back Aidan Laughery (undisclosed), linebacker Ezekiel Holmes (knee), wide receiver Shawn Miller (undisclosed), and quarterback Donovan Leary (undisclosed) are out.
Michigan:
Tight end Luke Schoonmaker (undisclosed) and linebacker Kalel Mullings (undisclosed) are questionable. Quarterback Cade McNamara (knee), tight end Erick All (undisclosed), long snapper William Wagner (undisclosed), defensive back Caden Kolesar (knee), and linebacker Nikhai Hill-Green (lower body) are out.
When Illinois Has the Ball
Before you make any kind of play on Illinois, be sure to check whether or not Chase Brown will be on the field. If he will, then the Illini's offense should be able to move the football at least a little bit. If he's not, good luck. There's little secret with this Illini offense: Illinois wants to keep the ball in Brown's hands and let him grind out yards and first downs as much as possible. The Illini do not want to put the ball in Tommy DeVito's hands unless they have no other choice.
Against Michigan, they might have no other choice. The Wolverines lead the nation in run defense, although that could also be because the only good rushing attack they've seen all season was Penn State. Out of the bottom eight rushing attacks in the Big Ten, the only ones who haven't shown up on Michigan's schedule were Purdue and Northwestern. Penn State is also the only Michigan opponent who ranks in the top six in the conference in total offense, so both of Michigan's numbers might very well be misleading. But we know enough to know that Illinois really cannot pass the ball well at all, so this is either going to be strength on strength or a case of the Illini exposing an overrated unit that really hasn't been tested more than once.
When Michigan Has the Ball
Take most of what was just written about Illinois' offense and apply it to Michigan, except the Wolverines have no worries about whether their running back will play. Blake Corum will get touches, and he's facing a defense that has mostly been effective against the run but hasn't always been up to the task. Against Wisconsin, the Illini were monsters on defense, but against Minnesota, Mohamed Ibrahim would have dominated the game if Minnesota had anything that even slightly resembled a passing threat that day.
J.J. McCarthy isn't really much of a passing threat, but like DeVito, he won't turn the ball over. That might not work against the Ohio State and Georgia type teams of the world, but against most of the Big Ten, it's gone just fine. The Wolverines don't throw it a lot because they don't need to throw; Corum has basically run over every opponent he's seen and forced most Michigan opponents out of their game plan. As long as he can find running room against Illinois, Michigan shouldn't need to attack the air much.
More Picks: Illinois at Michigan Week 12 betting analysis and predicted spread winner
Betting Trends
These teams don't meet often, but when they do, backing the underdog has paid off. The underdog has cashed in six of seven meetings, and more often than not, the Illini have filled that role. Illinois has also done the job well when leaving Champaign, covering in six of its past seven away from eastern Illinois.
But Michigan is usually at its best in November, covering five of six with a push in the regular season's final month. The Wolverines have also comfortably dominated the Big Ten; they've covered in 12 of their last 16 league games, again with one push.
Weather Report
This is NOT going to be a friendly game for passing. First, it's going to be 28 degrees but feel like a mere 12. Second, the wind will blow at 15 miles per hour to the southwest with gusts of up to 25 miles per hour possible. At least there won't be snow; that won't arrive until the night.
Dan's Pick to Cover the Spread
The under looks like the right move here. Illinois and Michigan both want to run the ball and keep the clock moving, and Michigan has little incentive to go for the cover and risk an injury before going to Ohio State. This is one where Michigan likely takes the win and gets out as quickly as possible.
I think Illinois hangs around if Brown plays. If he doesn't, go with Michigan, but if he plays, I want Illinois and the points. Did you know that you can move the line up to 20 points using one of the massive college football teasers offered at Wagerweb Sportsbook?