Iowa Hawkeyes at Michigan Wolverines Pick 10/5/19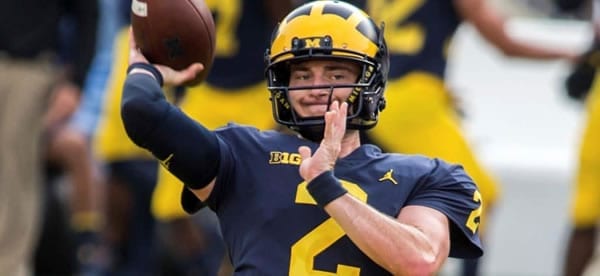 Iowa Hawkeyes (4-0) at Michigan Wolverines (3-1)
When: Saturday, October 5, Noon EDT
Where: Michigan Stadium, Ann Arbor, Mich.
TV: Fox
Point Spread: MICH -5.5 (Intertops) Total: O/U 46
Outlook For Week 6
Both teams were given very beatable opponents in Week 5, and neither left any doubt. Iowa was in control from start to finish in a 48-3 rout of Middle Tennessee, while Michigan bounced back from a loss to Wisconsin by hammering Rutgers. These teams now meet for the first time since 2016, and they won't see each other again after this until 2022, barring a rematch in the Big Ten championship game.
With a loss here, however, Michigan can pretty much forget about a November trip to Indianapolis, as the Wolverines would be 1-2 in the league and still have to face Penn State, Michigan State, and Ohio State. Iowa doesn't have to win here to keep its hopes of winning the Big Ten West alive, but with Wisconsin looking like a legitimate national title contender, the Hawkeyes would be well-advised not to take a loss before that showdown with the Badgers if they want to make their first appearance in Indianapolis since 2015.
How the Public is Betting the Iowa/Michigan Game
A preliminary line had Michigan favored by a mind-boggling 13 points, but the line was down to 7 when it was released to the general public. Even that wasn't enough to entice bettors to take Michigan, and the line has dropped to favoring the Wolverines by 5.5 points. The total has also dropped, from 47 points to 46.
More Picks: UGA/TEN Betting Analysis: Pick Against the Spread >>>
Injury Concerns
Iowa:
Offensive lineman Kyler Schott is questionable with a foot injury, while defensive lineman Brady Reiff is questionable with a leg issue. Defensive back Kaevon Merriweather has missed the Hawkeyes' past two games with a foot injury but is expected to play against Michigan. Corner Matt Hankins is day-to-day with a leg injury.
Michigan:
Defensive lineman Michael Dwumfour is questionable with an unspecified injury. Tight end Sean McKeon is questionable as he recovers from a leg injury.
When Iowa Has the Ball
Nate Stanley might not be spectacular with the football, but he doesn't have to be for the Hawkeyes to win. All he has to do is not force the issue, and that's precisely what he's done in Iowa's first four games. Stanley has yet to turn the ball over, tossing eight touchdowns against no interceptions to date.
But Iowa's strength on offense, as usual, is the ground game. The Hawkeyes boast a trio of talented ball carriers, and they're likely to hand to any of Mekhi Sargent, Toren Young and Tyler Goodson on any down. That's a worry for Michigan, as the Wolverines run defense was helpless against Wisconsin, giving up 357 rushing yards to the Badgers. If the Wolverines are anywhere near that generous against Iowa, the Hawkeyes will run them over.
When Michigan Has the Ball
The Detroit Free Press put it succinctly: the Wolverines have to slow down Iowa defensive end A.J. Epenesa. The Wolverines have struggled with their pass protection this season, and Epenesa has the ability to disrupt quarterback Shea Patterson on every play if Michigan's line can't stop him. To stop Epenesa and get the offense going, Michigan will have to get quality pass protection, because it's not likely to bother Iowa with its weak rushing attack. The Wolverines got nothing going against Wisconsin on the ground, and Zach Charbonnet is the only Wolverine who has topped 200 rushing yards this season.
The good news for Michigan is that running the ball against Iowa isn't usually a successful endeavor anyway. The Hawkeye front seven has allowed just 77 rushing yards per game, and Michigan's ground attack isn't likely to change that.
Betting Trends
This series used to be straight domination by Michigan in the days of Bo Schembechler and Lloyd Carr, but the worm has turned as the Hawkeyes have become a model of coaching stability while the Wolverines have descended into chaos. Overall, Iowa is just 15-41-4 against Michigan, but six of the Hawkeyes' wins over the Wolverines have come since hiring Kirk Ferentz as coach in 1999. Since 2002, when Ferentz got his program established in Iowa City, the Hawkeyes are 6-4 against Michigan and 2-3 in Ann Arbor. The teams have only met three times in the past eight years as the Big Ten has gone to divisional play, with Iowa winning the previous two meetings, both of which were in Iowa City. The spread bodes well for the Hawkeyes, as the underdog has covered in 11 of the teams' past 14 meetings. Plus, Michigan has been a complete disaster at covering the spread as of late. The Wolverines' win over Rutgers marked the first time Michigan had covered the point spread since routing Penn State on November 3, 2018 — and that performance was judged so poor that the Scarlet Knights reacted by firing their coach after the game. Otherwise, Michigan has continuously failed to meet expectations, regardless of who the opponent is. One thing both teams have done well is put up points. Iowa has hit the over in eight of its past nine games away from Iowa City. Michigan has nailed the over in five of its previous six games inside the Big Ten.
Weather Report
The end of summer is nigh in Michigan, and this game should see classic Big Ten football weather, with a high of 60 degrees on Saturday.
Dan's Pick to Cover the Spread
I'm honestly surprised that this line is where it is, given how both teams have started the season. Michigan looked great last week, but everyone except Massachusetts has looked great against hapless Rutgers. Iowa doesn't have a signature win this season in the eyes of most people, but Iowa State is a much better team than people give it credit for being, and the Hawkeyes beating the Cyclones on the road was a significant statement.
Throw in that Michigan has been an underachieving bunch under Jim Harbaugh, and the fact that this line was ever double digits for the Wolverines seems indefensible. Based on both talent and coaching, Iowa appears to be the better team. I'll happily take a free 5.5 points if they're willing to give them to me with the Hawkeyes, but I don't think I'll need them in a game I think Iowa wins outright.
Give me the Hawkeyes.
100% Free Play up to $1,000