Liberty vs. Coastal Carolina Bowl Pick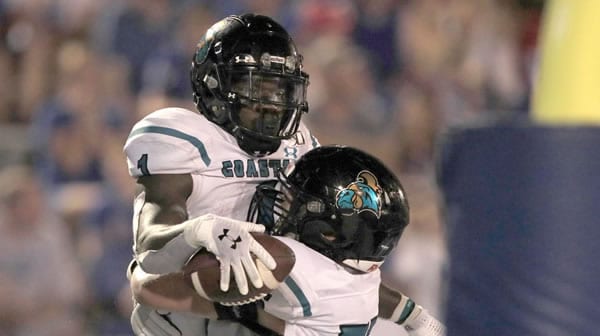 Liberty Flames (9-1 SU, 8-2 ATS) vs. Coastal Carolina Chanticleers (11-0 SU, 8-2-1 ATS)
FBC Mortgage Cure Bowl
Date and Time: Saturday, December 26, 2020 at 12PM EST
Where: Camping World Stadium, Orlando, Florida
TV: ESPN
Point Spread: LIB +6.5/CCU -6.5 (WagerWeb - Move college football lines up to 20 points using their MASSIVE football teasers!)
Over/Under Total: 59
The Liberty Flames take on the Coastal Carolina Chanticleers in the FBC Mortgage Bowl on Saturday in Orlando. Don't be misled by the rather nondescript name of the bowl game, as this game features two of the more transcendent programs in college football. Who were Liberty and Coastal Carolina before this season? All of a sudden, you have two teams stringing together wins like nobody's business. And against the spread, either team would have been a bonanza to ride all season, going a combined 16-4-1 at the betting windows. Who can come out ahead in this one?
Can Chanticleers Go 12-0?
This is a tough spot, but they're used to that. Naysayers could say they play in the Sun Belt and aren't subjected to the same rigors as other teams. They beat a ranked Louisiana team this season, a win they were hoping to repeat until last week's conference title game got scratched. But a few wins back, they scored a win that really gave their season some credence—a 22-17 win over 13th -ranked BYU, who was 9-0 going into that game. And in the midst of all that are a bunch of dominant conference wins.
Chanticleers' QB Grayson McCall is completing nearly 70% of his throws with 23 TDs against just two picks. Add in almost 500 yards on the ground and a half-dozen scores. He's quite a force. Backs CJ Marable, Reese White, and Sherman Jones round out a consistent ground-attack. Through the air, it's Jaivon Heiligh and TE Isaiah Likely doing most of the damage, along with a deep cast of supporting role-guys. They average almost 38 points a game and rarely undermine themselves with mistakes.
The Coastal Carolina defense makes this a robust challenge for the Flames' offense. They're pretty solid across all areas and not easy to exploit either aerially or on the ground. But it's their playmaking that makes them a real threat, opportunistically pouncing on opponents' mistakes. Guys like Silas Kelly, CJ Brewer, Jeffrey Gunter, and Tarron Jackson really get after the QB, combining for 26 sacks. The secondary is stout and also makes a lot of plays, with D'Jordan Strong, Alex Spillum, Derick Bush, and Breyden Watts having created 14 turnovers.
How Good is Liberty?
Most college football fans have heard that Liberty is winning, without knowing much else. Two games back, a one-point loss to NC State spoiled their perfect season. They since bounced back with a 45-0 win over UMass. It would have been their best win of the season, as their schedule lacks the nugget that Coastal Carolina has in BYU and, to a lower degree, Louisiana. To the credit of Hugh Freeze's squad, they did go into Virginia Tech and win. But without common opponents, it's a little hard to match the different contexts.
Like Coastal Carolina, Liberty's offense depends on a talented QB who is efficient through the air and productive on the ground. Liberty's Malik Willis is probably a more-talented runner than his counterpart, the team's leading rusher with 807 yards and ten touchdowns. He has thrown for 20 TDs with just four interceptions. With very productive backs like Joshua Mack, Peytton Pickett, and Shedro Louis, the Flames' ground-attack is robust. Their receiving crew is more of a cabaret of contributors, with any number of different ball-catchers likely to step up on a given day.
Another common thread between Liberty and their bowl opponent is the defense. The Liberty "D" has allowed an average of just 19.2 points a game. They don't possess the same playmaking component that Coastal Carolina's defense has, but they're perhaps even more stout overall. And they've been playing well lately, having allowed a total of 29 points in their last three games. This week, however, they could be pushed a little harder.
More Picks: Get all of our team's Bowl Picks >>>
Advantages for Both
In a game where the defense looks to have a major say on the proceedings, Coastal Carolina's more-disruptive defense could go a long way. It's true that the Liberty offense doesn't make a lot of mistakes. Still, it could manifest in a game where an extra big extra play could determine the result. And between McCall, Marable, Likely, and Heiligh, the Chanticleers have a little more star-power on offense, players who are typically a little more prolific than their colleagues on the other sideline.
The Flames are not without answers, obviously, as they match up pretty well against a team with which they have a lot in common. Their pass-defense has passed the eye-test each and every time it's been challenged. They can run the ball better than any team Coastal Carolina has played this season, and it comes from a variety of sources. As a team, they average 5.7 yards per run. They're simply a very competent football team that gets the most of what it has, without being their own worst enemy. If they lose, it will be the other team who beat them, not themselves.
Take the Chanticleers
Though they passed a few tests this season, this could easily be Coastal Carolina's toughest game of the season. A win here would really give both teams a boost, and one should expect a good well-contested game. I just think that this late in the season, in a matchup like this, the greater overall spark on both sides of the ball might come from the Chanticleers. I sense a little better energy and big plays being enough to get them over the hump as they cover the spread in the FBC Mortgage Cure Bowl.
Loot's Pick to Cover the Point Spread: I'm betting on the Coastal Carolina Chanticleers minus 6.5 points. Note: If you're laying -110 on games you are overpaying! Start betting on games TODAY at only -105 reduced odds at BAS Sportsbook!