LSU Tigers vs. UCLA Bruins Pick ATS 9/4/21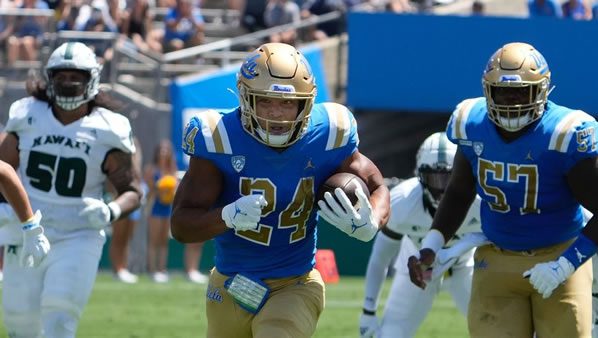 LSU Tigers (0-0 SU, 0-0 ATS) vs. UCLA Bruins (1-0 SU, 1-0 ATS)
College Football Week 1
Date and Time: Saturday, September 4, 2021 at 8:30PM EDT
Where: Rose Bowl, Pasadena, California
TV: Fox
Point Spread: LSU -3.5/UCLA +3.5 (BAS – Cheapest odds on the web!)
Over/Under Total: 67
The LSU Tigers kick off their 2021 college football season with a cross-country matchup with the UCLA Bruins at the Rose Bowl. It was fairly well-known that the mass exodus of talent from Louisiana State's 2019 title-winning season would result in a rebuild. And it was even more of a rebuild than some anticipated with a 5-5 season, featuring a wildly-inconsistent offense. They hope to get the team pointed in the right direction, but the opener is no cinch in a foreign locale against a UCLA team that looked good in their first game on August 28 with a 44-10 win over Hawaii. This has the looks of a pretty good game at the Rose Bowl.
Can LSU Get Back on Track?
A lot of their hopes are in that the returning players from last season benefit from the experience. And hopes are also tied up in the element of talent and not so much proven production. With LSU once again a high-profile program with a slew of their talent going into the NFL, recruiting top talent isn't a problem. Their QB situation has been topsy-turvy, with different conditions leading to Max Johnson getting the nod. Truth be told, he was pretty impressive in his spot-time last season, though accuracy is an area of needed improvement.
They lost a key piece up-front and a good tight end to the transfer portal. But a lot of experience returns on that O-line and that's an area where supporters are looking for a significant upturn. It would really help an offense that might need some time to come around. You have a starting quarterback who still isn't cemented, a receiving crew that is high in talent and low in experience, and a returning ground-game that sputtered last season. An upgraded line could really help things come together sooner than later.
Can the LSU Defense Contain UCLA?
While LSU's offensive freefall was more in plain-sight last season, it was really the defense that fell apart the most. It led to a revamp of the defensive coaching staff and it's a unit that is in a little bit of flux. We just won't know until we know. The issue was that while there were elements of playmaking, particularly from a disruptive front and a secondary that was adept at taking the ball away, with 4 scores to boot, the stoutness wasn't there.
No secondary gave up more yardage than LSU in the whole FBS. And sure, that has something to do with the opposition in the SEC, but any of that kind of leakiness could make covering a number against UCLA a major problem. The front should be better after being awful against the run last season, as they are also a playmaking bunch. They have one of the best corners in the game with Derek Stingley, Jr., so there is cause for optimism. But if this side of the ball doesn't hit the ground running in their first game, a warmed-up UCLA offense could potentially feast.
Avenues to a Win and Cover for UCLA
We don't want to attribute too much hope to UCLA's opening game win over Hawaii. But the Rainbow Warriors are a pretty competent team and provided no challenge to the Bruins. We saw what could be a varied Bruins' offense this season. Against Hawaii, it was the run-game which took center stage with Zach Charbonet running for three TDs and Brittain Brown adding 78 yards and a touchdown. QB Dorian Thompson-Robinson threw for a TD, but was more-subdued with the run-game taking over. Still, it's a dimension we should see more of moving forward. But things are likely to get a whole lot tougher than it was against Hawaii. It still offers hope as the context increases this week against a higher-caliber LSU, but still a team that had a ton of defensive liabilities last season.
WILL THE CHIEFS GO OVER OR UNDER THEIR SEASON WINS? GET LOOT'S PICK!
Against a Hawaii team that is built more to compete in the Mountain West, the UCLA defense was allowed to shine. First signs were certainly good for a UCLA defense that has brought very little to the table in the Chip Kelly era. The front was stiff against the run in allowing very little, while also getting after the quarterback. Datona Jackson got a sack and a pick. The secondary was very improved as advertised. Against SEC talent, one would expect a step back in this game. And how big of a step back will likely determine who covers the spread.
Conditions that Favor UCLA
Not that Louisiana boys are averse to heat, so there aren't any conditions that are going to throw them off. And it is the first game of the season and there's a certain energy that comes with it. Maybe the rigors of this road-trip would be felt more down the road. But the Tigers are still not a west-coast team by any measure and they're going to look about as out-of-place in the Rose Bowl as the Bruins would look in Baton Rouge. It's a quirky opening-game matchup for the Tigers who face an opponent already accustomed to game-battle. The ease in which they beat Hawaii, whether it ends up being a true good sign or not, at least gives UCLA some wind in their sails.
Take the Bruins and the Points
I sense good things happening for UCLA this week. I see this as a nice opportunity to notch the best win of this coach's tenure against a team whose reputation might surpass where they're actually at right now. It's a team whose fall seems about as steep as any national champion in recent memory, going from top dog to middling SEC also-ran almost immediately. And against a UCLA team that has been on its back now just trying to rise up, I see the Bruins putting it on the line and getting the cover at the Rose Bowl.
Loot's Pick to Cover the Point Spread: I'm betting on the UCLA Bruins plus 3.5 points. Note: As noted above in the point spread portion of this article, we're trying to megaphone that BetAnySports has the cheapest/best priced odds on the web. Making the switch serves two beautiful purposes: You risk less to win the very same amount, resulting in more money to bet on games. If we refer them players, they keep paying to advertise on our website, which is ultimately what keeps us in business and allows us to serve you free content. Please do us both a favor and consider signing up at BetAnySports! It's so much better than any bonus you can receive! Their wagering menu is huge too! Click here to start reaping the benefits today!
$125% Cash up to $400 w/Bonus Code: PREDICTEM