Maryland vs. Michigan Analysis & Pick 9/24/22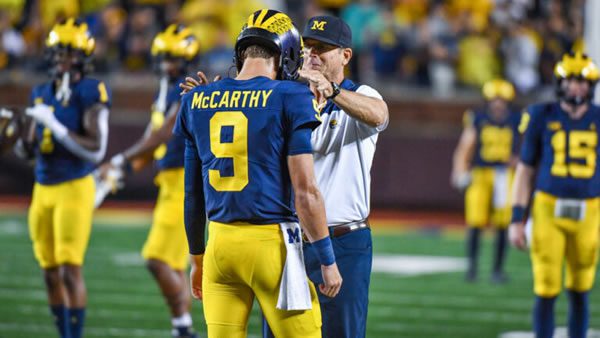 Maryland Terrapins (3-0 SU, 2-1 ATS) vs. Michigan Wolverines (3-0 SU, 2-1 ATS)
When: Saturday, September 24, Noon
Where: Michigan Stadium, Ann Arbor, Mich.
TV: Fox
Point Spread: MD +17.5/MICH -17.5 (Make the Wolverines a +2.5 underdog by inserting them into a massive 20 point CFB teaser found at Wagerweb!)
Total: O/U 55.5
Outlook
Since Jim Harbaugh took over at Michigan, this matchup has been about as competitive as Bulldozer vs. Dandelion. Maryland has had six cracks at Harbaugh with four different coaches, and the Terrapins have yet to stay within 20 points of the Wolverines, with last year's 59-18 humiliation serving as yet another mark as to how wide the gap has become between these divisional foes. Over the course of Harbaugh's time leading the Maize and Blue, Michigan has outscored Maryland 261-59 and has held the Terps to 10 points or less on four occasions.
The Terrapins come into this matchup undefeated and having just bested a decent SMU squad, but winning non-conference games in September is nothing new for Maryland at this point. The problem for this program has been how it handles Big Ten play. Since their debut in the conference, the Terrapins haven't finished higher than fourth in the Big Ten East, and even that was only because of the abbreviated schedule caused by COVID. Without that season, Maryland's highest finish in the East is fifth, and coach Michael Locksley is a mere 1-8 against the Big Four of Ohio State, Michigan, Michigan State, and Penn State.
For the Wolverines, the concern is how they'll react if they happen to get tested. Michigan couldn't have made its nonconference schedule much easier as the Wolverines blasted Colorado State, Hawaii, and Connecticut in Ann Arbor. Maryland shouldn't be that much of a step up from those foes, but the Terrapins are still expected to provide a bit stronger of a test than what Michigan has seen so far. If the Wolverines get caught unaware early on, this could be closer than expected.
How the Public is Betting the Maryland/Michigan Game
If you don't want to pay too high a price for backing the favorites, grab the Wolverines now. Roughly 72% of tickets have come in on Michigan, and the spread has ticked up from -17 to -17.5. It's unclear whether it's something the public saw in Maryland's performance against SMU or the injury to Cade McNamara, but for whatever reason, the public is not expecting the total to happen. The number has already fallen from 62 to 55.5.
Injury Concerns
Maryland:
Running back Challen Faamatau (undisclosed) is questionable.
Michigan:
Quarterback Cade McNamara (leg) is out. Linebacker Nikhai Hill-Green (undisclosed), offensive lineman Karsen Barnhart (ankle), and running back Donovan Edwards (undisclosed) are questionable.
When Maryland Has the Ball
If Maryland beats itself the way that it did against SMU last week, this matchup won't be close. When the Terrapins got out of their own way, quarterback Taulia Tagovailoa and running back Roman Hemby proved effective, gashing SMU for 34 points in all and outscoring the Mustangs 14-0 in the game's final quarter to provide the winning margin.
But the penalties nearly gifted SMU the game and would have done it if the Mustangs didn't keep stopping themselves with turnovers of their own. Maryland committed 15 penalties against SMU and lost two fumbles, which allowed the Mustangs to stay on the field and over-exhaust the Maryland defense. That cannot happen again if Maryland is going to keep this game close.
The good news for Maryland is that when the offense can avoid a mistake, it moves the ball pretty well. The Terrapins have averaged more than seven yards per play this season (granted, one of their first three games was against Charlotte, which has one of the worst defenses in the nation) and can score from almost anywhere on the field. But when the other offense is Michigan's, Maryland cannot afford to let penalties turn good drives into punting situations.
NCAA Football Betting Guide
New to college football betting or football wagering in general? Point spreads and odds can be confusing at first glance! We explain how these wagers work, as well as totals, futures and prop bets in our How to Bet on College Football article!
When Michigan Has the Ball
The only real adversity Michigan has met this season actually made things a lot easier on Jim Harbaugh because now he doesn't have to go through the charade of pretending that Cade McNamara and J.J. McCarthy are equals at the quarterback position just because he didn't want to replace the more experienced veteran after McNamara led the Wolverines to a Big Ten championship. McNamara suffered a leg injury against Connecticut, which means that the job McCarthy won after the Hawaii game is now unquestionably his.
So far, it hasn't mattered who Michigan has put under center because the opposition has been so weak that anything the Wolverines tried was going to work. In three games, Michigan has outscored its opponents by a count of 166-17, and the margin could have been a lot worse had Harbaugh not substituted liberally in the second half with the outcome long decided. The first time Michigan meets any adversity will be interesting, but it hasn't happened yet, and Maryland's lack of success against the Wolverines says that it probably won't happen in this game, either.
More Picks: Get the Loot with Levinson's Oregon at Wash St 9/24/22 ATS bet
Betting Trends
As stated earlier, this has been one of the easiest games to handicap in recent years: Take Michigan, give whatever points are necessary to get them, and laugh your way to the bank. Maryland is 0-6 SU and ATS against Harbaugh, and that's in large part because Maryland consistently looks good in September and then crashes to earth when it begins to take on the Big Ten. The Terrapins are a mere 17-36 ATS in their last 53 Big Ten games, a far cry from the 5-2 ATS mark they've had in their past seven September games.
Michigan is different: the Wolverines have been pounding the daylights out of both Big Ten and non-Big Ten opponents not named Georgia. The Wolverines have covered five straight against Big Ten foes, and the only reason they haven't covered in eight of their past nine is that the spread was absurdly high in the game against Hawaii after the Rainbow Warriors allowed Vanderbilt to drop 63 on them. Otherwise, Michigan has been a finely-tuned machine on offense and a sneakily good defense. The under has cashed in nine of the Wolverines' past 12 at home, mainly because Michigan's defense has been so effective that an over cash would require around 90% of the points to come from the Wolverines.
Weather Report
Football weather has arrived in the Big Ten, and this is going to be a perfect day to play. Temperatures will sit at 68 degrees at kickoff, with the wind blowing southwest at nine miles per hour.
Dan's Pick to Cover the Spread
SMU was too flawed to punish Maryland's mistakes. Michigan isn't. A week isn't enough time to clean up all of the things that the Terrapins did wrong against the Mustangs. The bottom line is that Maryland was the inferior football team against SMU last week but won out because the Mustangs gave away the game with turnovers. This Maryland squad is still a flawed team that has talent but needs the opponent to make enough mistakes of its own to offset its own mistakes.
Michigan isn't going to make those kinds of mistakes. The Wolverines will take those Terrapin gifts and turn them into touchdowns. There's a reason that Harbaugh has pounded Maryland six years in a row, and I think he and the Wolverines make it seven here. I'm backing Michigan. Question: Do you partake in live betting? If so, we highly recommend that you check out the live wagering platform at Bovada Sportsbook! It's freakin' amazing! All on one page! Not clunky like the rest! FAST processing of bets! It's where we bet!