Nebraska Cornhuskers vs. Ohio State Buckeyes Pick ATS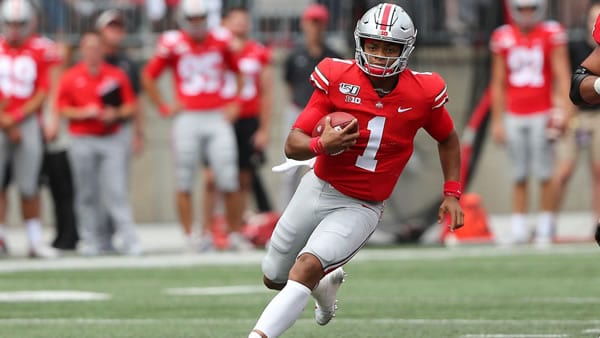 Nebraska Cornhuskers (0-0 SU, 0-0 ATS) vs. Ohio State Buckeyes (0-0 SU, 0-0 ATS)
College Football Week 8
Date and Time: Saturday, October 24, 2020 at 12PM EDT
Where: Ohio Stadium, Columbus, Ohio
TV: Fox
Point Spread: NEB +26/OSU -26 (Intertops - Get a free $50 bet! Simply deposit only $25. Use bonus code ROOKIE200 and your account will get credited!)
Over/Under Total: 65.5
The Nebraska Cornhuskers come to Columbus for a Big Ten showdown with the Ohio State Buckeyes. Both teams starting their season in Week eight comes with its set of challenges—for everyone involved. But it's not really something you can handicap, so let's consider it a wash and contend with the football element of it. You have a Nebraska team that one would have to figure is going to start making headway, now in Scott Frost's third year at the helm. This is a spot to jump-start the program, taking on an Ohio State team that again looms as a favorite to dominate this conference. Who can cover the big number on Saturday?
Any Clues From Last Season
Considering what has occurred, last season seems like three seasons ago. Still, there are enough common pieces from last season to at least make it relevant. Ohio State went into Lincoln in their first real road test of the season, laying a beating on the 'Huskers, 48-7. Justin Fields threw four TDs, and while JK Dobbins and Jeff Okudah, who tormented Nebraska in that game, are now gone, a lot of familiar faces exist. And they're not likely to catch the Buckeyes sleeping in a season-opener at home. In fact, Nebraska is really going to be challenged this season to show improvement when three of their first four games come against conference powers Ohio State, Wisconsin, and Penn State.
Issues for Nebraska
Granted, they have some room with which to work with the point-spread, but a few problems already loom. For having not started their season, they are a little banged-up, especially with some receivers who were being counted on to contribute. One could suffice they will go with incumbent Adrian Martinez, but as of press time, nothing was solid, and Luke McCaffrey is apparently in the running. It's a stark contrast when you look on the other sideline and see Ohio State quarterback Justin Fields, considered one of the more lethal quarterbacks in college ball and a top NFL draft prospect. Whereas Nebraska is trying to piece together a suitable receiver rotation, the Buckeyes are working with some of the nation's top dogs and prospects.
There is, however, some hope on the Cornhuskers' offense, with some veteran pieces that could congeal with the promise of young talent delivering. But the defense looms as a major liability against the high-powered Ohio State offense, a pent-up group waiting to unleash its menace and at home, to boot. It's a tough entrance exam for a Nebraska defense that often made life easy on opposing quarterbacks last season. They will have needed to have gotten a big boost in the pass-rushing department to deal with Fields, his cast of blue-chip weaponry, and a front that is once again built to dominate. The only thing Nebraska can look forward to is not having to deal with the traditional frothing Ohio State faithful.
Silver Lining for Nebraska?
Perhaps a run of better health will give rise to a better Adrian Martinez, and because of lineage alone, McCaffrey is an interesting option. Their top two rushers from last season are back, and some interesting prospects were procured. And this means a lot to them. Granted, there's probably a class-divide here, as Ohio State is a big dog and Nebraska a team trying to just make it in a shark-infested sea. Nebraska, though, will be energetic and could be a difficult team to blow out. But with top receiver JD Spielman flying the coup, they don't have a returning ball catcher who exceeded 234 yards last season. Their top two pass-rushers from last season are also gone, so other than hope and projected improvement with a more-embedded Frost, there aren't a ton of sources of optimism that are readily-identifiable.
But that Nebraska hope has some basis—the forecasted development of Martinez, a pretty loaded backfield, and Frost's vision having had time to come to fruition. They want to atone for a national embarrassment last season. While Master Teague (questionable) and Trey Sermon loom as major weapons on offense, along with Fields, they have among the fewest returning starters of all Big-12 teams. That secondary has been really ravaged by departures, something the Cornhuskers can possibly exploit in their quest to play a conference power on competitive terms.
Intangibles
With other teams having already played some games and other big-name quarterbacks having gotten what you could call a head-start, Fields will likely be looking to impress. That goes for other top-level talent on both sides of the ball. And against a defense that could struggle in applying pressure, the idea of Fields working comfortably in the pocket with those playmakers is definitely a concern for anyone entertaining Nebraska in this spot. But Nebraska has some worthwhile experience on offense, and against an Ohio State defense with some new pieces, maybe they can get on a little spurt and make this spread an uphill battle.
Take the Home Team
The underdog-lover in me goes out of its way to make a case for the longshot. But in all honesty, I'm not a huge optimist when it comes to the Scott Frost regime. I sense an upswing this year, perhaps, but I still find them wholly unsuitable in this context. Depending on hope and making a case for improvement for a team that hasn't been able to get it together and then assuming that a proven winner might deteriorate is a road I don't like to take. I'm just not sure enough has happened in favor of the Cornhuskers to shave two touchdowns and a field goal from last season's result, now playing in Columbus. Ohio State seems like the safer pick in this spot. I'm taking the Buckeyes.
Loot's Pick to Cover the Point Spread: I'm betting on the Ohio State Buckeyes minus 26 points. Note: Get a GIANT bankroll builder bonus on your first deposit of $500 to $1000 at Betnow Sportsbook! Free loot is good loot!
STOP LOSING TODAY! START WINNING WITH DOC'S TEAM OF PROFESSIONALS! GET A FREE NO STRINGS ATTACHED $60 FOR THIS WEEKEND'S GAMES!