New Mexico Bowl Pick: Central Michigan vs. San Diego State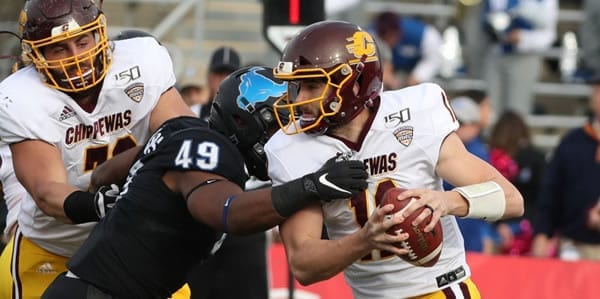 Central Michigan Chippewas (8-5 SU, 10-3 ATS) vs. San Diego State Aztecs (9-3 SU, 7-5 ATS)
New Mexico Bowl
Date and Time: Saturday, December 21, 2019 at 2PM EST
Where: Dreamstyle Stadium, Albuquerque, New Mexico
TV: ESPN
Point Spread: CMU +4/SDSU -4 (Intertops)
Over/Under Total: 41
The Central Michigan Chippewas take on the San Diego State Aztecs on December 21 in Albuquerque in the New Mexico Bowl. The Mountain West's Aztecs finished the regular season with a big win over BYU to get to nine wins in another successful season for San Diego St. They look to cap it off with a bowl win over a CMU bunch that really made a big move this season with an 8-win campaign. It didn't work out in the MAC title game, as they lost 26-21 to Miami-Ohio, but they look for better here. Who is in a better position to notch the cover at Dreamstyle Stadium?
Setting the Table
This season was more typical for a San Diego State team that has been near the top of the MWC standings for a number of years under head coach Rocky Long. Despite the feeling that this Aztecs team might need another year, they managed nine wins and some big things. For Central Michigan, getting to this spot might have more meaning, if for no other reason than they were 1-11 last season, so getting to their conference title game and this bowl is pretty big for this Jim McElwain-led bunch.
Uneven Form Entering This Game
For Central Michigan, it's just their last game. Almost touchdown-favorites against Miami-Ohio and having seen their offense take off in recent weeks, they were flat in the title game, something that would really cost them in this game. It's not even certain that a peaking CMU offense can get it done against this San Diego "D," but the group we saw on December 7 would be in big trouble. While the Aztecs scored a nice win over BYU in their last contest on November 30, recent losses to Hawaii and Nevada have seen their offense hit new lows.
Defense is Nice, But So Are Points
With Aztecs' starting quarterback Ryan Agnew's status for this game being a bit iffy, we have a weak San Diego State offense that is now dealing with injuries on top of everything else. It's downright odd to see a nine-win team with this little offensive upside. They average 19 points of scoring a game. Agnew was halfway-efficient through the air this season, connecting with leading receivers Kobe Smith and Jesse Matthews. But with 3.3 yards a run, their ground-game suffers. Will Agnew be ready in time for this bowl game, or will they get a look at the future with freshman Carson Baker, who did well against BYU? Does it even matter? Let's just say this team didn't get to nine wins based on QB-play.
But boy, can the Aztecs play defense. And even with their offense grinding to a halt in some instances recently, their "D" is in fine form for this game, having allowed a total of 24 points in their last three games to BYU, Hawaii, and Fresno. Led by Kyahva Tezino and a fine group of heavy-hitters, the Aztecs are looking to ride their defense to a bowl win on December 21. When you get through their schedule with never allowing more than 23 points, you have to concede this is a special defense that delivers just about every time out, despite whatever issues are on the other side of the ball.
Putting it in Perspective
Granted, the Chippewas have shown some fire on offense, especially later in the season. Led by former Tennessee QB Quinten Dormady, they have the benefit of having a quarterback who has been in big games before. With Jonathan Ward and Kobe Lewis, they almost had two 1000-yard rushers, and they have a gaggle of worthy receivers. On paper, it looks pretty good and infinitely more-explosive than the offense the Aztecs bring to the table.
While far from a quantum leap from the MAC to the Mountain West, there is a quality difference. Playing MAC teams with successful, but still mixed results is still a ways off from beating a top Mountain West team. The key here is to gauge how much of a leap it will be, with the top concern being how the CMU offense will fare against the Aztecs' offense. The few times this season when they came out of their MAC comfort zone, they scored a total of 12 points against Wisconsin and Miami, so we've seen already that their formula for success falls flat in a more difficult context.
Will CMU Be Able to Run the Ball?
The Chippewas have a balanced offense, a testament to McElwain's handiwork to create such harmony on this side of the ball in his first season after a 1-win campaign. But for them, a big part of their offensive flow depends on their two backs getting off. Allowing an average of 72 yards per game on the ground, the Aztecs rarely allow opposing running-games to thrive. And we're talking about opposing offenses that don't get stymied by the likes of Miami-Ohio. Even the most ardent CMU backers have to wonder how well their offense will translate in this spot—against a good foe in totally unfamiliar conditions.
Lay the Short Number
It's never easy laying points in a bowl game on an offense that hasn't exceeded 20 points in scoring since mid-October. This is more in SDSU's wheelhouse, in an MWC stadium they played in last season. We've seen some bad showings from the Aztecs in their previous two bowl games. And facing a MAC team in New Mexico isn't a great bowl spot for a 9-win team. Letdown potential aside, I see points being hard to come by for the Chippewas, with the San Diego State "D" may be able to get a score, with enough noise on offense to nip the win and cover at Dreamstyle Stadium. I'll take the Aztecs.
Loot's Pick to Cover the Point Spread: I'm betting on the San Diego State Aztecs minus 4 points.
100% REAL CASH up to $300

USE BONUS CODE:
PREDICT100