Ohio State Buckeyes vs Indiana Hoosiers Pick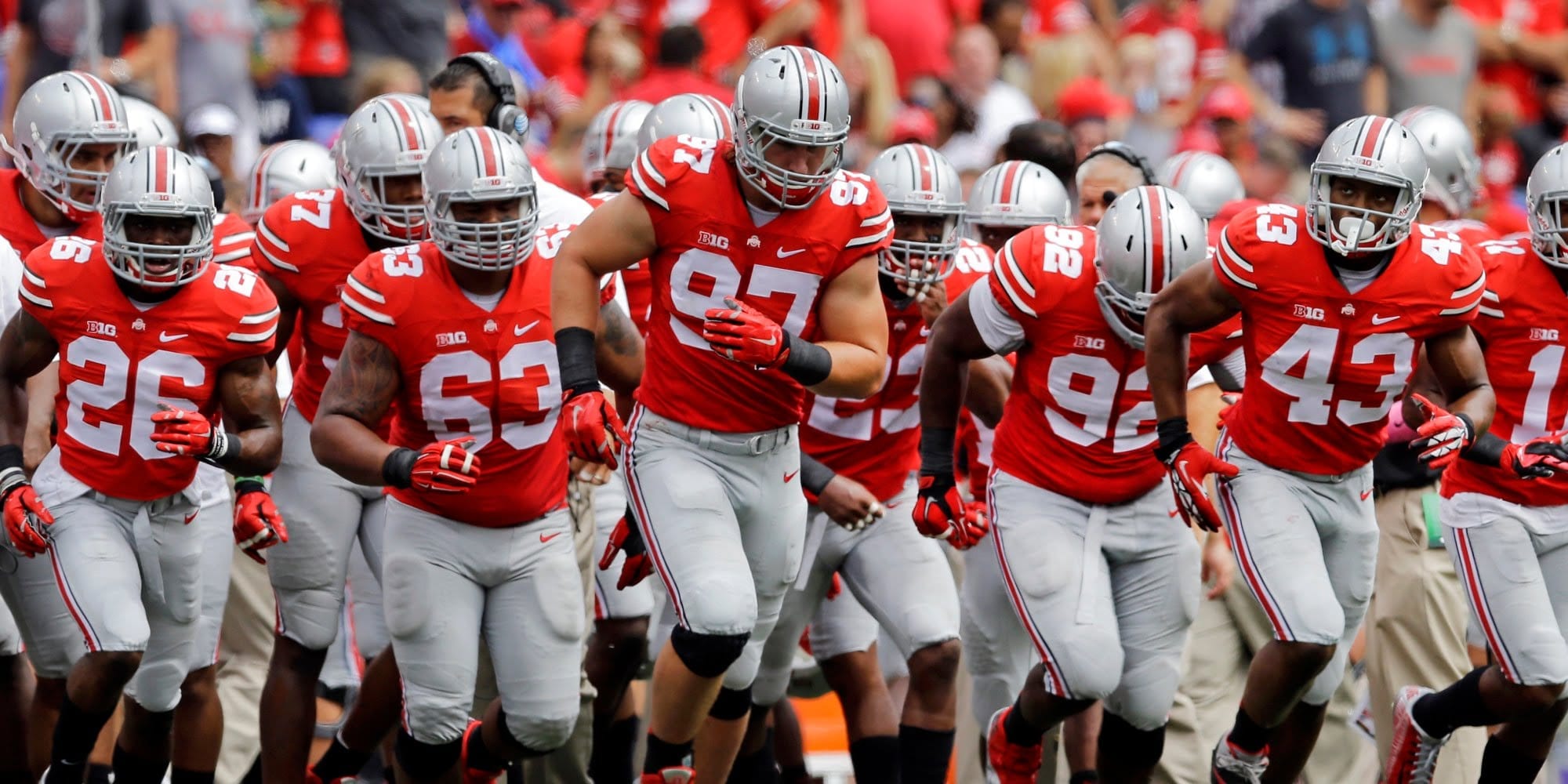 Indiana Hoosiers (4-1 SU, 1-4 ATS) vs. Ohio State Buckeyes (5-0 SU, 3-2 ATS)
College Football Week 6
Date and Time: October 6 at 4pm ET
Where: Ohio Stadium
TV: FOX
By:Ted Walker, College Football Handicapper, Predictem.com
Spread: IND +25/OSU -25
Over/Under: 64.5
For years, it was joked about that the Big Ten was actually the Big Two and the Little Nine and the joke wasn't that nine and two equal eleven, not ten. No, the joking was in reference to Ohio State and Michigan essentially running roughshod over the rest of the conference. Things have changed a bit in Big Ten land but there are some threads that extend back to that era and the Indiana-Ohio State series is one of them. The Hoosiers are riding a 22-game losing streak against OSU as they prepare to head to The Shoe this Saturday. These teams have met 90 times throughout history with Indiana currently at 12 total wins. We have seen some crazy upsets just this year in college football but a Hoosier win on Saturday would be among the most unlikely of scenarios that one could predict. The one thing that Indiana has done is take heavy point spreads and turn them into ATS wins. Ohio State gets the straight up W in their sleep but Indiana is 6-4 against the spread in the last ten meetings, winning all six from 2011 to 2016. Can the Hoosiers do it again Saturday?
Hangover for the Buckeyes?
There is no way that Ohio State can rise to their standard emotional level after selling out against Penn State in that tremendous come from behind win, right? Maybe they actually can but it is more likely that they come out flat against an opponent that they know they can beat on their worst day. Maybe they don't put in the extra work this week in practice or maybe they are already looking forward to a National Championship push but no matter what, I think there is a high probability for a slow start from Ohio State. Couple that with Indiana treating this contest like a bowl game and it would not be surprising to see this one knotted at 14-14 in the second quarter. Ohio State does not have an elite defense, especially without DE Nick Bosa. They are 63rd in rushing yards allowed and just barely inside the top-50 in pass defense. Indiana is not an offensive juggernaut but they have averaged 28.2 points per game and the Hoosiers getting anything north of twenty is going to put a ton of pressure on OSU to cover the three touchdowns-plus.
See all of Predictem's Sunday NFL Picks!
Hoosier Balance
No one is going to confuse Indiana with being a top team in the Big Ten but coach Tom Allen has done well to make sure the Hoosiers have no glaring weaknesses. Indiana comes into the week ranked in the 60's in passing, rushing and total yards. There aren't many big plays in this offense but six pass catchers have at least thirteen receptions so far with QB Peyton Ramsey completing 71% of his passes. Ramsey is a nifty runner with two rushing scores to go along with his eight touchdown passes. Stevie Scott leads the IU rushing attack and he has ground out nearly 100 yards per game while scoring five times. The Indiana defense has performed in a similar workmanlike fashion. That unit enters Saturday ranked 25th in total yards allowed while giving up 21.2 points per game, good for 41st in the country. After a 5-7 record in 2017, this Hoosier squad is looking more and more like the kind of team that made back-to-back bowl appearances in '15-'16.
A little deeper look into why Indiana has stretched out to a 4-1 start reveals a potential key for this game. The offensive line has held up and only allowed seven sacks of Peyton Ramsey. That time has given Ramsey the ability to scan the field and find guys like Whop Philyor and Donovan Hale. Philyor may be limited by an ankle injury but he provides the quick-hitting slot routes while the 6'4" Hale leads the team with three touchdown receptions. Ramsey has thrown for at least 275 yards in each of his last two games and another similar performance will push a Buckeyes secondary that has given up some plays. Ramsey is also a threat to pull it down and take it himself with 170 rushing yards already. I am not going to confuse Ramsey with Trace McSorley in terms of running ability but it is worth pointing out that McSorley just went for 175 rushing yards against Ohio State. Ramsey was able to hit the 50 yard rushing mark against Rutgers and another 50+ rushing yard day against the Buckeyes seems in order with the OSU linebacker level still struggling to find its footing.
Dwayne Haskins is a stellar signal caller for OSU and has 19 touchdown passes in the early going. Five Buckeye receivers have caught at least two touchdown passes so there are plenty of options for Haskins to go to. Indiana has been good against the pass thus far, allowing just 163 yards per game through the air. Now, OSU is a large upgrade in talent from what the Hoosiers have seen but that Indiana secondary has only allowed one 200-yard passer to this point. The IU defense overall has limited opponents to 32% on third down conversions so the statistical basis is there to support the Hoosiers as a hang-in-there team this weekend.
Despite a nice start to the season, Indiana is just 1-4 against the spread and is riding an 0-7 ATS losing streak on the road. You have to ignore that a bit as they have won six of the last seven against the spread against Ohio State and have won each of the last four ATS in Columbus. This one will probably feel like a bye week for OSU after the heavyweight fight against Penn State but taking it easy is going to be to Indiana's benefit. Now that OSU is rather firmly in the top-4 and trending toward the playoff, they don't need to cover spreads and make statements. They are going to struggle to find that killer instinct early and let Indiana hang around. The Buckeyes will hit cruise control in the second half but a respectable Indiana squad gets enough on the board to win with the points. OSU 44 Indiana 21
Your Name's Pick to Cover the Point Spread: Indiana
<aside><!-- [et_pb_line_break_holder] --><div class="widget105"><!-- [et_pb_line_break_holder] --><h4 class="cash">Best Sportsbook Bonuses</h4><!-- [et_pb_line_break_holder] --><div class="widgetlist"><!-- [et_pb_line_break_holder] --><div class="col1"><!-- [et_pb_line_break_holder] --> <a href="https://www.predictem.com/out/IntertopsB"><img src="https://www.predictem.com/wp-content/uploads/2018/04/intertops.png" width="" alt="Bovada" /></a><!-- [et_pb_line_break_holder] --></div><!-- [et_pb_line_break_holder] --><div class="col2"><!-- [et_pb_line_break_holder] --><span class="list"><b>50% Cash</b></span><br><!-- [et_pb_line_break_holder] --><span class="list">4x Rollover</span><!-- [et_pb_line_break_holder] --> </div><!-- [et_pb_line_break_holder] --> <div class="col3"><!-- [et_pb_line_break_holder] --><a href="https://www.predictem.com/betting-sites/intertops/"><button class="btn-widget">Review</button></a><!-- [et_pb_line_break_holder] --></div><!-- [et_pb_line_break_holder] --></div><!-- [et_pb_line_break_holder] --><div class="widgetlist"><!-- [et_pb_line_break_holder] --><div class="col1"><!-- [et_pb_line_break_holder] --> <a href="https://www.predictem.com/out/BovadaB"><img src="https://www.predictem.com/wp-content/uploads/2018/04/bovada.png" width="" alt="Intertops" /></a><!-- [et_pb_line_break_holder] --></div><!-- [et_pb_line_break_holder] --><div class="col2"><!-- [et_pb_line_break_holder] --><span class="list"><b>50% Cash</b></span><br><!-- [et_pb_line_break_holder] --><span class="list">10x Rollover</span><!-- [et_pb_line_break_holder] --> </div><!-- [et_pb_line_break_holder] --><div class="col3"><!-- [et_pb_line_break_holder] --><a href="https://www.predictem.com/betting-sites/bovada/"><button class="btn-widget">Review</button></a><!-- [et_pb_line_break_holder] --></div><!-- [et_pb_line_break_holder] --></div><!-- [et_pb_line_break_holder] --><div class="widgetlist"><!-- [et_pb_line_break_holder] --><div class="col1"><!-- [et_pb_line_break_holder] --> <a href="https://www.predictem.com/out/GtbetsB"><img src="https://www.predictem.com/wp-content/uploads/2018/05/gt-bets.png" width="" alt="GtBets" /></a><!-- [et_pb_line_break_holder] --></div><!-- [et_pb_line_break_holder] --><div class="col2"><!-- [et_pb_line_break_holder] --><span class="list"><b>100% Cash</b></span><br><!-- [et_pb_line_break_holder] --><span class="list">20x Rollover</span><!-- [et_pb_line_break_holder] --> </div><!-- [et_pb_line_break_holder] --> <div class="col3"><!-- [et_pb_line_break_holder] --> <a href="https://www.predictem.com/betting-sites/gtbets/"><button class="btn-widget">Review</button></a><!-- [et_pb_line_break_holder] --></div><!-- [et_pb_line_break_holder] --></div><!-- [et_pb_line_break_holder] --><div class="widget-footer"><a href="https://www.predictem.com/best-sportsbooks/bonuses/">See all sportsbook bonuses</a></div><!-- [et_pb_line_break_holder] --> </div></aside>