Oklahoma State Cowboys vs. Oregon State Beavers Pick 8/30/19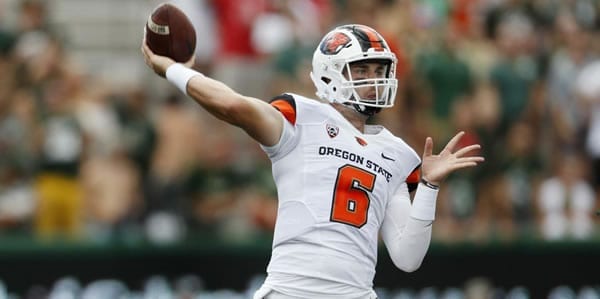 Oklahoma State Cowboys (0-0 SU, 0-0 ATS) vs. Oregon State Beavers (0-0 SU, 0-0 ATS)
College Football Week 1
Date/Time: Friday, August 30, 2019 at 10:30PM EST
Where: Reser Stadium, Corvallis, Oregon
TV: Fox Sports 1
Point Spread: OKST -15.5/ORST +15.5 (WagerWeb)
Over/Under Total: 73.5
Setting the Table
The Oklahoma State Cowboys take on the Oregon State Beavers in Corvallis, as both teams kick off their 2019 college football season. Neither team could take much pride in their overall results from last season. Oklahoma State eked into bowl-eligibility, finishing the season a moribund 7-6. That's not up to their standards and in Mike Gundy's 15th season at the helm, they are looking for better results. Oregon State, meanwhile, has nowhere to go but up. After another tough season at 2-10 last year, there is a reason to forecast an uptick from the Beavers this season. In head coach Jonathan Smith's second season, they are hoping the continuity and innovativeness in the transfer area results in a boosted roster. Which team will hit the ground running in this fork-in-the-road 2019 season?
Key Personnel Changes and Info
With Oklahoma State, you're looking at a team that traditionally relies a lot on its offense. Able to draw bigtime talent, the Cowboys always have the horses in that regard. Their overall fortunes usually ride on how good their defense is. And while it's never all that great seemingly, it doesn't need to be. If it's just adequate and lets the offense do its thing, the Cowboys are usually near the top of the Big 12, even getting some national run from time to time. This season, whether it's Dru Brown or redshirt freshman Spencer Sanders at quarterback, the offense should be tremendous and versatile.
Oregon State, however, might match up decently against the Cowboys here. It's a foreign sight for the bulk of the Oklahoma State roster, most of whom haven't played anywhere all that close to Corvallis. And with Oregon State's offensive line looking dicey, they won't be facing one of the tougher offensive fronts they will see this season, as Oklahoma State's defensive line enters 2019 with a lot of questions. With Oregon St. quarterback Jake Luton returning with more experience, he could conceivably do some damage in this spot. At his disposal are weapons like Noah Togiai, who might end up being one of the better tight ends in the conference this season. With RB Jermar Jefferson and ball-catchers Isaiah Hodgins and Trevon Bradford, there are some tools there in place.
Matchup Concerns
Oklahoma State's features a good secondary, led by a good corner in AJ Green. And LB Calvin Bundrage is a potential difference-maker, especially if he added some maturity and discipline. But that front-seven was pretty rough last season, and almost everyone needed to be replaced. With an Oregon State O-line that has a higher ceiling than advertised, especially on the left side, it's not hard to imagine the Beavers making some things happen on that side of the ball at home here in week one. Against a different team, they might not match up that well, but Oregon State looks able to at least sort of hold their own in a shootout with a Cowboys' "D" that might not find its legs for another number of weeks.
But let's face it, Oregon State is going to be put to the test on defense and perhaps to an even more-severe degree than their opponents. The Cowboys are loaded in the receiver corps, and it's tough week one matchup for an Oregon St. defense that hasn't been very crisp in recent seasons. Cowboys' receiver Tylan Wallace will be the most-compelling weapon on the field, bolstered by the presence of other legit threats like Landon Wolf and Jelani Woods. The real issue will be in containing the Oklahoma State run-game, led by Chuba Hubbard, with the talent behind him. Last season, the Beavers were awful against the run across the board, quite possibly the worst of any team in a major conference. And while the Cowboys' offensive line has some potential depth issues, there is still ample firepower up-front—enough to thwart an Oregon St. defensive front that simply isn't up to par.
Beavers Less Hopeless than Advertised?
Despite a 2-10 mark last year, Oregon State can put up a lot of points. Combine that with Oklahoma State's revamped defense, which is weak in the front-seven; there's daylight here for Oregon State. Luton is getting better at quarterback and has the tools to help make this potentially competitive. This is as good a chance as Oregon State is going to get to make a national statement on their improvement. At home in the first-ever meeting between schools with some potential matchup advantages, I don't see this as a slam-dunk for the Cowboys. It could end up being that, especially with the studs at the skill positions for the Cowboys and the Beavers' issues on defense. But with a less-than-cemented starting quarterback this late in the game, one can sense some conditions being present for a potential shocker.
I'm not that high on Oregon State, a team that has gone 3-21 in their last two seasons. It's hard to be that confident of a team that seems to get their butts kicked every week. But I'm not sure this is the best week for Oklahoma State to cover a fairly-big number on the road in a sort of random locale. Position battles are being worked out, and with the season-opening against the Beavers and McNeese State, the Cowboys can warm up to the task of the 2019 season. A late game, the Cowboys will be playing at a time that is later than which they are accustomed. And with that defense looking like it will take time to gel, I see Oregon State having just enough ammo on offense to keep this one in the ballpark. I'll take the home-dog in this battle.
Loot's Prediction to Cover the Point Spread: I'm betting on the Oregon State Beavers plus 15.5 points.