PAC-12 Picks: Oregon Ducks vs. Stanford Cardinal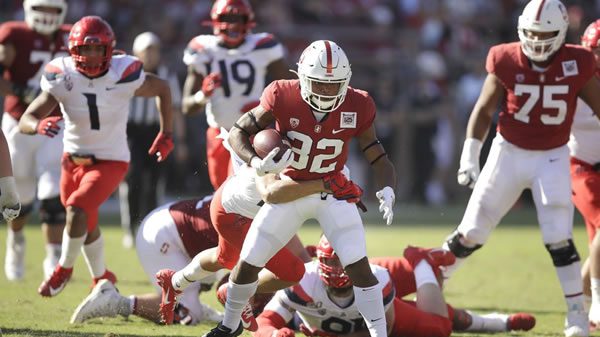 Oregon Ducks (4-0 SU, 1-3 ATS) vs. Stanford Cardinal (2-2 SU, 2-2 ATS)
College Football Week 5
Date and Time: Saturday, October 2, 2021 at 3:30PM EDT
Where: Stanford Stadium, Stanford, California
TV: ABC
Point Spread: ORE -9/STAN +9 (Betanysports.eu - Bet your football games at -105 odds there! Betting on games at -110 is overpaying!)
Over/Under Total: 58
The Oregon Ducks take on the Stanford Cardinal in a big Pac-12 battle on Saturday. Stanford saw their topsy-turvy season continue on Saturday. Week one had them looking bad but wins over USC, and Vanderbilt offered hope. This past Saturday, they appeared to revert to form in a 35-24 loss at home to UCLA. They are again home this week with what appears to be an even tougher task with the Oregon Ducks coming into town. On Saturday, the Ducks beat Arizona, 41-19, to go to 4-0 and keep their hopes alive for some big things this season.
What to Expect from Stanford
The season is still just four games old, but Stanford has shown to be a team where getting a clear read is elusive. The way they were dominated by Kansas State and their subsequent trouncing of USC and Vandy were all unsuspected. Those wins led to some anticipating more resistance at home last week to an improved but still wholly-imperfect UCLA team. And they never clearly looked the part of a winner on Saturday.
The Cardinal are not always going to be able to see all facets of their offense thrive. They didn't against UCLA, and this might be tougher. Tanner McKee has been a surprise at quarterback, taking what the game gives him and not making many miscues. Bryce Farrell came out of nowhere and caught a few big passes and gave them another aerial piece to wield on conference opposition. But the run game was pretty lousy on Saturday. And with a passing game that isn't exactly electric, they couldn't really pick up the slack enough to be truly competitive.
Major Obstacles for a Stanford Cover
We've already seen times this season where Stanford can reach some high notes on both sides of the ball. Then there are other times where they're not getting over the hump on at least one side of the ball. The defense can go from resistant to just vaguely present. They are, in many ways, a microcosm of the conference in which they play. The offense is inconsistent, but they can string some big plays together through the air. The defense follows suit. But at the highest levels of conference play, one would be within reason to project a more lower-end version of the scope of different play we've seen from this team in 2021.
Questions for Oregon
There were spots when the Ducks' defensive front was being pushed around a little bit by the Arizona O-line. They made up for it with a disruptive secondary and an Arizona offense that makes a lot of mistakes. But if Stanford can get some push up-front, it opens up a lot of possibilities for their offense. For all of Oregon's success this season, the Ohio State win is still their only cover of the season. On Saturday, against an Arizona team that has now lost 16 straight games, Oregon only led 24-19 in the fourth quarter before going on a little spurt, They were still never close to covering the spread. In this conference, expect to see kooky things.
People looking at this game on the surface will see that Oregon is a highly-ranked team, while Stanford is more or less assuming the look of a mid-range conference team. It's just that it hasn't been a long time since we saw that play out to the tune of a Stanford cover. This isn't UCLA or Arizona State to Stanford. It's a game where they usually seem ready to play well. Even in the conference, things like W-L records and current form seem to carry less water. But when these teams meet, there's even more separation from what most observers call reality. You can throw out the rankings and the notions of the College Football Playoff. Can Oregon match Stanford's urgency? For Stanford, this is their tough game, whereas Oregon knows they have bigger fish to fry. That can manifest in a bad way for the favored team.
More Picks: Ole Miss at Alabama Predicted Point Spread Winner
Real Challenges for Stanford
The Oregon offense might continue to grow in power with their growth and experience. QB Anthony Brown is getting more cemented into this system. With CJ Verdell and Travis Dye coming out of the backfield, along with proven ball-catching talents like Johnny Johnson, III., Jaylon Redd, Kris Hutson, and others, there's a lot of juice on this side of the ball, enough to run off some big plays on a Stanford "D" that is perhaps showing some signs of fraying a bit.
Against more-subdued offenses, we've seen Stanford make it work. But maybe they were made to look a little better than they are, holding a Vandy team to 23 that lost 62-0 the following week and then putting the hurt on a USC offense the game before they canned their head coach. It's a big jump to go from the likes of that to an Oregon offense that has shown they can make it work at high levels this season already.
Take the Points
I don't question the very real possibility of an Oregon rout following a few less-than-thrilling showings the last few weeks. But Stanford at home should be able to run off enough big plays on an Oregon defense that is hardly infallible to keep this from getting out of hand. The Ducks can play down to the level of their opponent in a conference setting, as we've seen, and with Stanford pumped up for this home spot, I see enough resistance that they get the cover. I'll take Stanford in this one.
Loot's Pick to Cover the Point Spread: I'm betting on the Stanford Cardinal plus 9 points. Bet your Week 5 college football picks for FREE by taking advantage of a 100% REAL CASH bonus on your first deposit of $100 to $1000 at Betnow!