Tulsa vs. Temple Betting Odds, Trends, Predictions 10/21/22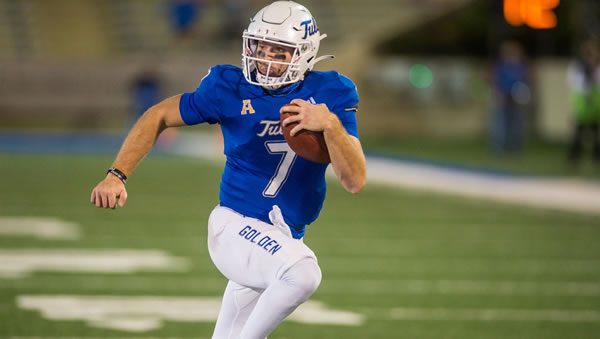 Tulsa Golden Hurricane (2-4 SU, 2-3-1 ATS) vs. Temple Owls (2-4 SU, 3-3 ATS)
College Football Week 8
Date and Time: Friday, October 21, 2022 at 7:30PM EDT
Where: Lincoln Financial Field, Philadelphia, Pennsylvania
TV: ESPN2
Point Spread: TLSA -13/TEM +13 (Bovada – Get a 50% bonus and rebates on ALL your gets whether they win or lose! A must have in your football betting arsenal!)
Over/Under Total: 52.5
The AAC takes center stage in a Friday night special at Lincoln Financial Field as the Tulsa Golden Hurricane take on the Temple Owls. On Thursday, the woes continued for Temple, recipients of a 70-13 beating to Central Florida. After a couple of bad weeks where their offense has gone into the pits, they look for better at home against what seems like a more-doable spot against Tulsa. The Golden Hurricane had last week off, where their backers hoped they worked some stuff out after losing to Navy for their third straight loss, 53-21. Who can get us the cover in Philly on Friday?
What Last Year Tells Us
We should look at 2021 results among conference opponents with a quizzical eye. That doesn't mean last season's 44-10 win for the Golden Hurricane carries zero importance. We saw Tulsa quarterback Davis Brin operate surgically against a Temple defense that doesn't seem to be peaking at this point in 2022. Some characteristics from that game persist this season, namely how Tulsa stresses offense more, while Temple tries to rely on their defense. It sets up for a nice matchup, but a Temple backer in this game would certainly have to have concerns about point-output in light of recent events and last year's matchup where they didn't come up with much.
The Importance of Context
While some teams from the American Athletic Conference get attention, a bulk of the conference operates out of the public's attention for the most part. We will see teams like Temple and Tulsa get absolutely hammered within their own conference, and it's easy to jump to conclusions when seeing such results. It's not easy to get behind teams after they lose by 40 to teams that you might not even ever really hear about when following college football. But it's really all relative in the AAC, a conference that encompasses a wider spectrum of teams in terms of quality than any other conference. In other words, not being viable against the better teams in this conference doesn't at all mean either of these teams won't be more in their wheelhouse this week.
The Eye Test
On one hand, you have two teams who are both 2-4. Temple has even been a little better against the spread. It's just that they haven't really shined at any point this season. They beat Lafayette and scored a 28-0 shutout over UMass, but there have been downright ugly sequences—an unsightly shutout loss to Duke, an ugly loss to Rutgers, coming up with nothing against a so-so Memphis team, and then the collapse against Central Florida. Conversely, you see a Tulsa team with the same sideways 2-4 record but hanging in there nicely against a good Cincinnati team, losing a one-score game to Ole Miss, and putting up a lot of points in their other spots. Combine that with last year's result, and maybe there is a difference in how to look at each team's identical won-loss record.
More Picks: Texas at Oklahoma State Analysis & Picks 10/19/22
What to Expect
One could look at Tulsa's defensive showings this season and surmise that this is a spot for the Temple offense and QB EJ Warner to get things kick-started. There have been times this season when the Tulsa run defense was so laughable you'd think you and three of your buddies could form a better defensive front. It has been truly awful in spots. But Tulsa might be OK this week, as Temple can't really run the ball, averaging well under 3 yards a carry with their leading rusher Edward Saydee at 160 yards through six games. Temple's best hope might be to pick up what they can aerially, as Warner works with Jose Barbon and Adonicas Sanders—two half-decent ball-catchers. But the bulk of Tulsa's defensive talent is in their secondary, though their flattering stats are at least partially a result of teams having things their way on the ground against this Tulsa bunch. But as much of a stretch as it might sound like with Temple's offense so in the dumps, maybe they don't match up so terribly against this particular Tulsa defense.
For what Temple's offense is doing to really stick, they're going to need to find answers on defense—something they haven't been doing lately in general and something they certainly didn't do against Brin and the Golden Hurricane last season. Still, Temple winning in the lower reaches of this conference will be something that comes from their defense. It flopped against Central Florida in their last game, but this isn't that. And there have been times this season where we've seen them be decently rigid, despite an offense that keeps them on the field a whole bunch. Maybe at home, with it getting a little chilly, they can find some answers, and the "D" can help keep them in this game.
Take the Points
Something tells me that at home, Temple can do enough things to hang in there. Whether it's eking out enough production aerially or their defense just being vaguely resistant, I don't see this as a slam-dunk for Tulsa, even though it might turn out that way. You see, Temple isn't very good, and teams like that falling even flatter than forecasted doesn't really go down and any kind of surprise. But Tulsa isn't that great either, and laying almost two TDs on the road might not be the swiftest move, either. I'll take a whirl on the Owls on Friday. I'm taking Temple and the points.
Loot's Pick to Cover the Point Spread: I'm betting on the Temple Owls plus 13 points. You can make the Owls a massive +33 underdog by adding them to a massive 20 point college football teaser at Wagerweb Sportsbook!