Washington Huskies vs. California Golden Bears Pick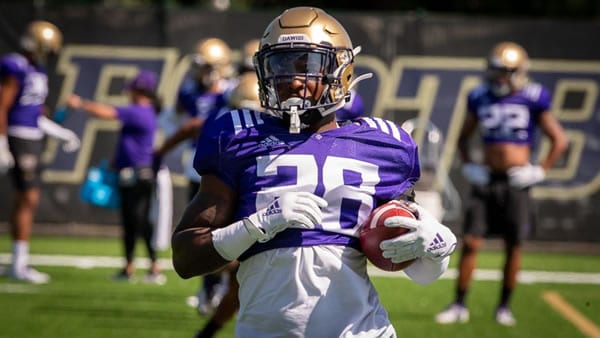 Washington Huskies (0-0 SU, 0-0 ATS) vs. California Golden Bears (0-0 SU, 0-0 ATS)
College Football Week 10
Date and Time: Saturday, November 7, 2020 at 10:30PM EDT
Where: California Memorial Stadium, Berkeley, California
TV: ESPN
Point Spread: WASH +1/CAL -1 (BAS - Why bet on games at -110 odds (waste of $) when you can bet on games at -105 here?)
Over/Under Total: 46
The Washington Huskies take on the Cal Golden Bears, as each team kicks off their season in Berkeley on Saturday. These teams will play an abbreviated 7-game schedule and try to salvage something as they begin their campaigns in week ten of the college football season. Both teams are coming off 8-5 seasons where there were ups and downs. And if the last few seasons are any indication, this should be a competitive game, as the Golden Bears have eked out wins over the Huskies the previous two seasons and look for more of that at home.
A New Cal?
Justin Wilcox has transformed this Cal program. A few years back, they were a pass-happy team that tried to smother opponents with offense, while the defense had become more or less an afterthought. Therefore, we all knew there were going to be some growing pains as Wilcox overhauled the team, which is now a defense-heavy squad that is way more-conservative on offense. But in three seasons, his win totals keep swelling, and they're on the right track. And that sort of approach has been way harder for Washington to deal with the last two years, dropping a pair of games to Cal by a combined 3 points.
Challenges for Washington
They're working on a lot of new stuff. Promoted from within, former defensive coordinator Jimmy Lake takes over for Chris Petersen and now has the job of getting the Huskies back on top after not winning the Pac-12 North for the first time since 2015. We'll see what a Jimmy Lake offense looks like, as they are apparently attempting to simplify things. This would have been the ideal first entrance exam for the Huskies, but since Wilcox took over, Cal has been a real thorn in the side of the Huskies.
With a new coach, a new quarterback, and a lot of new faces on both sides of the ball, Washington has to take to the road to take on a team that's been a significant problem for them the last few years. That's not an easy spot for an opener. One thing that makes it easier is whoever steps behind center will still have a lot of power up-front, with a line that should be very serviceable. It could come down to Kevin Thomson or Dylan Morris, with the possibility that Lake could play two quarterbacks. With limited info, this is what we have to work with.
Oklahoma State at Kansas State Betting Prediction >>>
Huskies Offense: More Run?
A stacked backfield running behind a physically formidable offensive line should be a major part of what Lake and Huskies lean on to start the 2020 season. Richard Newton is a wrecking-ball, a real goal-line threat who is now trying to show he can do more damage in the middle of the field. Complementing Newton is Sean McGrew, a more shifty type, with potential big-time contributor Cameron Davis eager to showcase his wares. Aerially, whoever starts for Washington at quarterback will have many interesting targets with which to work. If some youngsters develop and the players with experience can stay healthier, this could also be a team strength. Making it all come together will be if the shuffling of players along the line comes off well. If so, whoever is behind center will be afforded a nice opportunity to hit the ground running.
Optimism for Cal?
With third-year starter Chase Garbers, the Cal offense is in good hands. He has missed some time, but when he's in there, Cal is usually very competent. It's not the high-powered Cal offense of years past, but it's also not an offense that is going to undermine itself. With a very healthy amount of returning starters still in the fold, Cal should be able to maintain or even push the offense ahead another step this season. They also some interesting talent coming in, like freshman back Ashton Stredick, who ran wild as a Texas high school star back.
With a team philosophy more focused on defense, Cal might find more challenges in that area. One piece of good news is that Cameron Bynum, who looked like he was going to prepare for the draft, has reversed his decision and will be on the sideline. But Tevin Paul has opted out, and losing his horsepower at linebacker is a big loss, particularly as difference-maker Evan Weaver has moved on, a player who was a monster in recent games with the Huskies. And while departures are an expected part of the process, the Golden Bears lost a lot—their two best DBs in Jaylinn Hawkins and Ashtyn Davis, along with a good DE in Luc Bequette, who transferred.
Wilcox will be faced with the task of replacing a lot of key guys on that defense. And maybe having some high-profile veteran coaches to help out will pay off. Coordinating the offense will be newly-hired Bill Musgrave, a guy who has spent most of the last two decades coordinating NFL offenses. Co-coordinating the defense will be Tim DeRuyter, along with Peter Sirmon, as both have been critical in elevating the Cal defense over the last few years.
Take the Home Team
Again, with limited information, we are a little bit in the dark here. Both teams have enough moving pieces to make this a dicey proposition on either side of the coin. For a team that stresses defense, Cal has a lot of gaps to fill. But an overhaul at QB and in the coaching ranks leaves many questions about the Washington offense heading into 2020. At home and with enough of the offensive talent that has succeeded against Washington before, I see Cal as being more likely to fire in week one. I'm taking the Golden Bears.
Loot's Pick to Cover the Point Spread: I'm betting on the California Golden Bears minus 1 point. College Kid Bonus: Deposit $25 and get a free $50 bet at Intertops Sportsbook! Must use bonus code ROOKIE200 to get the bonus credited!