Week 12 Picks: Western Michigan Broncos at Ohio Bobcats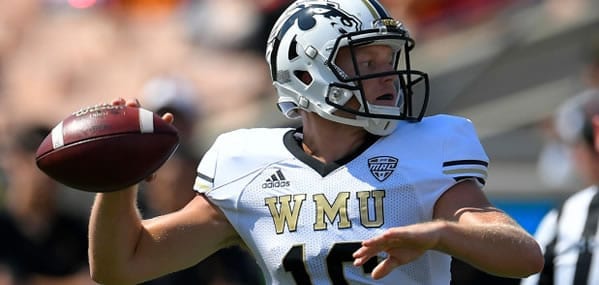 Western Michigan Broncos (6-4 SU, 4-5-1 ATS) at Ohio Bobcats (4-5, 2-7 ATS)
When: Tuesday, November 12, 6:30 p.m EST
Where: Peden Stadium, Athens, Ohio
TV: ESPN2
Point Spread: WMU -1/OHIO +1 (Intertops)
Total: O/U Off
Outlook For Week 12
With its critical game won last week, Western Michigan now has to be careful not to get caught looking ahead to the MAC championship game. The Broncos bested Ball State in a tight battle that gave Western Michigan the tiebreaker over everyone except Toledo, meaning that one more win would be enough to seal the Western Division title and earn a spot in Detroit against the Eastern Division champion. But that opponent isn't likely to be the Bobcats, who had their chance to nail down their division against Miami-Ohio and couldn't do it, losing at home to the Redhawks and likely tossing aside any hope of winning the division.
Unless Miami-Ohio was to drop a game to Akron or Bowling Green, both of which are ridiculously unlikely, the Bobcats are likely on the outside looking in at the conference title game. Instead, Ohio is playing for bowl eligibility. The Bobcats are expected to win their other two regular-season games against the opponents as mentioned above of Akron and Bowling Green, but 6-6 puts Ohio in a precarious position when it comes to making the postseason. At 7-5, the Bobcats would be all but guaranteed a bowl berth, as all 7-5 teams must go to bowls before any 6-6 teams can fill unused conference slots. That makes this a critical game for both sides.
More Picks: Oklahoma at Baylor Pick ATS 11/16/19
How the Public is Betting the Western Michigan/Ohio Game
This game hasn't been out long enough for the public to make much of an impact on it one way or the other. The line has hung tight at favoring Western Michigan by a point.
Injury Concerns
Western Michigan:
Tight end Brett Borske remains out after missing the past four games with an unspecified injury.
Ohio:
Tight end Adam Luehrman exited last week's game with a leg injury and is questionable for Western Michigan.
When Western Michigan Has the Ball
Levante Bellamy should have plenty of room to run against this defense. Ohio has been pretty porous against the run, and Bellamy ran wild against Ball State, rushing for 157 yards and scoring three touchdowns as the Broncos outlasted the Cardinals. Bellamy has been a workhorse all season for Western Michigan, and the Broncos prefer to go to him whenever possible. Jon Wassink has provided steady, unspectacular play at quarterback and can get the job done when needed, but the Broncos clearly view him as their Plan B to keep defenses honest. In Western Michigan's past four games, Wassink hasn't exceeded 200 passing yards in any of them, and in the Ball State win, not only did Bellamy rush for more yards than Wassink threw for but so did Wassink himself, gaining 131 yards on the ground compared to 124 passing yards.
In short, this is an offense that will move the ball, it will keep the clock moving, and it will chew up yards in bunches. Ohio is ranked in the bottom 30 in the nation against the run, making for a rather juicy matchup for Bellamy and Wassink to make plays with their legs all night. Given that Ball State, which plays better against the run than Ohio, nearly gave up 300 rushing yards to the pair, expect more of the same in Athens.
When Ohio Has the Ball
Like Western Michigan, Ohio relies on its ground game first and foremost to get the job done. Unlike Western Michigan, there's not a Bellamy-type back in this offense. Instead, quarterback Nathan Rourke is Plan A, leading the Bobcats with 625 rushing yards on the season. Like Wassink, Rourke barely tried to make plays with his arm when Ohio played Ball State, a game that resulted in a 34-21 win on the road over the Cardinals. However, Rourke needed to try to make plays with his arm against Miami-Ohio last week and couldn't do it, tossing for just 133 yards in a three-point loss.
To get Western off-balance, Rourke needs to get help from running backs O'Shaan Allison and De'Montre Tuggle. Allison is more of the yardage back, while Tuggle has seven of Ohio's 22 rushing touchdowns this season. Getting at least one of them going early would go a long way in Ohio's efforts to pull off the win here.
Betting Trends
While Western Michigan has been a yo-yo this season, Ohio has just been a team to fade. The Bobcats have now failed to cover in five straight contests this season. It doesn't seem to matter who they come up against, as the public remembers that they were solid last year and has overvalued them as a result. This makes for some excellent opportunities for betting against the Bobcats and taking advantage of the general public's limited understanding of the MAC.
For Western, the win over Ball State marked the first time that they'd managed to win the game straight up without winning the game ATS. If the pattern holds, that would point to a Western Michigan cover, as the Broncos haven't done the same thing against the spread in consecutive games all season. Given that these teams are run-oriented offenses that have shown a propensity for scoring against other opponents, there could be real opportunity in taking the under. It's likely that because of the defensive struggles both teams have against the run, Vegas might set the total too high and forget how much time a run-oriented team takes off the clock.
Weather Report
Tuesday will be a cold night in Athens, with temperatures dipping down to around 30 degrees by the time the teams kick-off.
Dan's Pick to Cover the Spread
I gambled on Ohio last week and got burned against Miami. I'm not going to make the same mistake twice with this Bobcats team, especially against an opponent that has a higher quality of offense in Western Michigan. The Broncos know how to run the clock down when needed, and I think that will get them the win and the cover in this situation. Give me Western Michigan.
100% Free Play up to $1,000