[et_pb_dcsbcm_divi_breadcrumbs_module hide_homebreadcrumb="off" homebreadcrumbtext="Home" separator="sep-raquo" hide_currentbreadcrumb="off" homebreadcrumborientation="left" _builder_version="3.8″ fontsbreadcrumbs_font="Lato||||||||" fontsbreadcrumbs_text_color="#000000″ fontsbreadcrumbs_font_size="15px" fontsbreadcrumbs_line_height="16px" fontsseperator_font="||||||||" fontsbreadcrumblinks_font="||||||||" fontsbreadcrumblinks_text_color="#2567cf" custom_margin="25px|||" custom_margin_phone="30px|||" custom_margin_last_edited="off|desktop" custom_css_main_element="font-family: Helvetica Regular;" global_module="3641″ saved_tabs="all"][/et_pb_dcsbcm_divi_breadcrumbs_module]
Western Kentucky Hilltoppers vs. Wisconsin Badgers Pick 8/31/18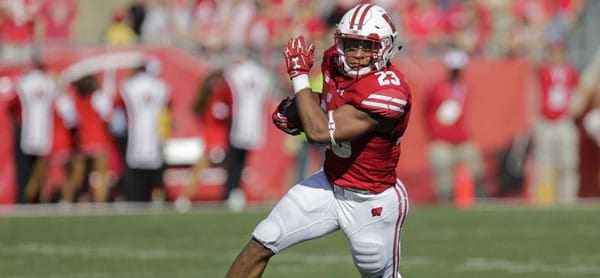 Updated Odds 1:05pm EST 8/31/2018:
With only 8 hours until kick-off the Wisconsin Badgers are now -36.5 and at some sportsbooks favored by 37 points. Analysts have been predicting Wisconsin can put up as much as 63 points while suggesting WK will be fortunate to get two touch downs. That, and ESPN headlines like "Badgers Offense Ready To Roll" is likely driving bettors and the line up on game day. It is not uncommon for the public team to become a bigger favorite as go-time nears.
Western Kentucky Hilltoppers (0-0 SU, 0-0 ATS) vs. Wisconsin Badgers (0-0 SU, 0-0 ATS)
College Football Week 1
Date and Time: Friday, August 31 at 8pm ET
Where: Camp Randall
TV: ESPN
Point Spread: WKU + 34.5/UW -34.5
Over/Under Total: 51
I am not sure how you all mark the passing of the seasons, but for me, the sports calendar is more important than anything else. In my opinion, Spring starts at The Masters and Fall starts with the first week of College Football. So, welcome to Fall. For the record, Summer begins when you turn on the A/C, and Winter starts when the furnace kicks in. There are only a few other acceptable theories on this matter.
The non-conference season is sprinkled with a few marquee matchups, but most of the contests are lopsided affairs. The Hilltoppers of Western Kentucky are getting a nice payday to head to Madison this week to tangle with the #4 Wisconsin Badgers. To make it all the better, WKU gets to take in the night game atmosphere at Camp Randall. Badgers fans are lathered up for 11a games so you can imagine what another nine hours of partying can lead to. Add up all, and you get Wisconsin as a 34.5 point favorite.
There are whispers and even some shouts from the talking heads that this is the Wisconsin team that can legitimately compete with Alabama's of the world. Those talking heads are the Lee Corso kind, not the 80's new-wave band kind. I'm showing my age with that reference, kiddos. Anyway, despite the unusual distractions that have come with the suspensions of Badger wideouts Quintez Cephus and Danny Davis, it seems that it will be business as usual for Wisconsin this week. Paul Chryst is business first and business second, so the only hope for the Hilltoppers this week may be the level of mercy UW is willing to show.
The Best Badgers Yet?
Wisconsin, a team expected to exceed 10 wins, has been within a few critical plays of the College Football Playoff in each of the last two seasons and all of the standard Badger strengths are present for 2018. Alex Hornibrook comes off a four-touchdown performance in the Orange Bowl, and he spent the summer impressing Peyton at the Manning passing camp. Jonathan Taylor averaged 6.6 yards per carry and rushed for nearly 2,000 yards as a freshman. He is a Heisman hopeful behind what is regarded as the best offensive line in the country. Kendric Pryor and A.J. Taylor will lead a wide-receiver corps through the first two weeks until Danny Davis returns, but Wisconsin has more legitimate pass catchers on the roster than perhaps ever. Defensive Coordinator Jim Leonhard passed on offers from the SEC and NFL to lead a defense he had inside the top-10 in both rushing and passing yards allowed. All signs point to Wisconsin as a championship hopeful, and all they need to do is hold their #4 preseason rank to snag that previously elusive playoff berth.
Sure every sportsbook has a bonus, but have you read the find print? We have for you – Check it out!
An Uphill Battle
Western Kentucky fell to a 6-6 regular season after winning Conference USA the previous two years and lost the Cure Bowl to Georgia State. Mike Sanford Jr. was not able to keep the momentum the program gained in 2015-16 and this year could bring more struggles with only eleven seniors on the roster. The Hilltoppers are predicted to finish fifth in their division, and there are major question marks at the quarterback position. Junior Drew Eckels will take over for Mike White, and WKU ranked 7th in pass offense behind White last year. Eckels has just 24 career pass attempts and his progression will need to be immediate as the WKU run game finished dead last in the NCAA in 2017. The offensive line struggled to put it kindly as the Hilltoppers averaged just 2.0 yards per rush and never had a run go longer than 19 yards. Sanford's 4-2-5 defense was a top-40 unit against the pass, but WKU only managed ten sacks on the season. This team is very young, unproven and potentially shallow in terms of playmakers. They may have better days ahead, but Friday is going to be tough.
Strength v. Weakness
Styles make fights, and Western Kentucky does not have the right style, unfortunately. Theoretically, they could play keep-away from Wisconsin and win the time of possession battle to keep things close, but Wisconsin led the NCAA in T.O.P last season, so that isn't likely. A strong run-defense can always put Wisconsin off their A-game, but WKU allowed 172 rush yards per game and 25 ground scores last year against teams that were not bringing the Badger's commitment to the run. Even if WKU can get Wisconsin pass-happy, the Badgers averaged 13.10 yards per completion, nearly two more yards than what the Hilltoppers averaged with a quarterback who is now in the NFL. There just doesn't seem to be even one bare thread to pull in favor of Western Kentucky this week.
I will stop piling on the Hilltoppers now and just tell you to take Wisconsin. I think Taylor running behind that All-American offensive line is enough, but Hornibrook is going to be the reason Wisconsin is dangerous this year if he can duplicate the improvements he made last season. This is a 49-10 drubbing so take the over as well.
Ted's Pick: Wisconsin -34.5
<aside><!-- [et_pb_line_break_holder] --><div class="widget105"><!-- [et_pb_line_break_holder] --><h4 class="cash">Biggest Sportsbook Bonuses</h4><!-- [et_pb_line_break_holder] --><div class="widgetlist"><!-- [et_pb_line_break_holder] --><div class="col1"><!-- [et_pb_line_break_holder] --> <a href="https://www.predictem.com/out/Bovada"><img src="https://www.predictem.com/wp-content/uploads/2018/04/bovada.png" width="150" alt="Bovada" /></a><!-- [et_pb_line_break_holder] --></div><!-- [et_pb_line_break_holder] --><div class="col2"><!-- [et_pb_line_break_holder] --><span class="list"><b>50% Cash</b></span><br><!-- [et_pb_line_break_holder] --><span class="list">5x Rollover</span><!-- [et_pb_line_break_holder] --> </div><!-- [et_pb_line_break_holder] --> <div class="col3"><!-- [et_pb_line_break_holder] --><a href="https://www.predictem.com/betting-sites/bovada/"><button class="btn-widget">Review</button></a><!-- [et_pb_line_break_holder] --></div><!-- [et_pb_line_break_holder] --></div><!-- [et_pb_line_break_holder] --><div class="widgetlist"><!-- [et_pb_line_break_holder] --><div class="col1"><!-- [et_pb_line_break_holder] --> <a href="https://www.predictem.com/out/Intertops"><img src="https://www.predictem.com/wp-content/uploads/2018/04/intertops.png" width="150" alt="Intertops" /></a><!-- [et_pb_line_break_holder] --></div><!-- [et_pb_line_break_holder] --><div class="col2"><!-- [et_pb_line_break_holder] --><span class="list"><b>50% Cash</b></span><br><!-- [et_pb_line_break_holder] --><span class="list">4x Rollover</span><!-- [et_pb_line_break_holder] --> </div><!-- [et_pb_line_break_holder] --><div class="col3"><!-- [et_pb_line_break_holder] --><a href="https://www.predictem.com/betting-sites/intertops/"><button class="btn-widget">Review</button></a><!-- [et_pb_line_break_holder] --></div><!-- [et_pb_line_break_holder] --></div><!-- [et_pb_line_break_holder] --><div class="widgetlist"><!-- [et_pb_line_break_holder] --><div class="col1"><!-- [et_pb_line_break_holder] --> <a href="https://www.predictem.com/out/Gtbets"><img src="https://www.predictem.com/wp-content/uploads/2018/05/gt-bets.png" width="150" alt="GtBets" /></a><!-- [et_pb_line_break_holder] --></div><!-- [et_pb_line_break_holder] --><div class="col2"><!-- [et_pb_line_break_holder] --><span class="list"><b>150% Cash</b></span><br><!-- [et_pb_line_break_holder] --><span class="list">4x Rollover</span><!-- [et_pb_line_break_holder] --> </div><!-- [et_pb_line_break_holder] --> <div class="col3"><!-- [et_pb_line_break_holder] --> <a href="https://www.predictem.com/betting-sites/gtbets/"><button class="btn-widget">Review</button></a><!-- [et_pb_line_break_holder] --></div><!-- [et_pb_line_break_holder] --></div><!-- [et_pb_line_break_holder] --><div class="widget-footer"><a href="https://www.predictem.com/best-sportsbooks/bonuses/">See all sportsbook bonuses</a></div><!-- [et_pb_line_break_holder] --> </div></aside>