Wyoming Cowboys vs. Colorado State Rams Pick ATS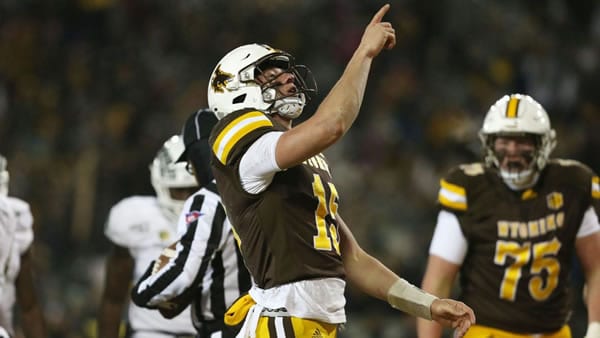 Wyoming Cowboys (1-1 SU, 1-1 ATS) vs. Colorado State Rams (0-1 SU, 0-1 ATS)
College Football Week 10
Date and Time: Thursday, November 5, 2020 at 9PM EDT
Where: Canvas Stadium, Fort Collins, Colorado
TV: CBS Sports Network
Point Spread: WYO -3.5/CSU +3.5 (STOP laying -110 odds! YOU-ARE-WASTING-YOUR-HARD-EARNED-MONEY! Save big bucks by laying only -105 at BAS!)
Over/Under Total: 50.5
The Wyoming Cowboys make the trip to Fort Collins for a Mountain West faceoff with the Colorado State Rams on Thursday. Each team was able to finally get their seasons underway in the last few weeks. Colorado State, already in their second Thursday game, was pretty flat in a 38-17 road-drubbing at the hands of Fresno State last week. Playing as 2.5-point favorites, their debut was a resounding dud, with the offense not really turning over, while the defense was exploited by the Bulldogs. They hope for better at home this week against a Wyoming team that got their first win of the season in a Friday home-spot against Hawaii, 31-7. It was a nice sign for a Cowboys team that came up short in their opener in an overtime loss to Nevada. Who can get the cover this week?
First Impressions
Unfortunately for the Rams, they weren't very good. Temple transfer Todd Centeio struggled at quarterback, while incumbent Patrick O'Brien was more effective. Centeio is a dual-threat type and ran the ball well at times, but O'Brien seemed more effective overall, and we'll see which direction the Rams go with the QB situation. They have some experience at running back with Marcus McElroy, Jr. Budding tight end prospect Trey McBride was big with 130 yards and a TD. Some returning receivers who have been productive showed their fangs a little, but the offense fell well short of expectations, and if Wyoming's showing last week is any sign, the Rams are going to need a big upgrade this week to hang in there.
How good the Fresno offense ends up being is anyone's guess at this point, but when a four-win team from last year runs your defense ragged, it's a concern. Colorado State looked dicey, particularly in the back. Scott Patchan and Brandon Hickerson-Rooks were really getting after the quarterback, with linebacker Mohamed Kamara pitching in with a sack. They let Fresno run the ball some, but the secondary looked a bit disorganized and ragged to the naked eye.
Maybe it's good news for the Rams that the Cowboys are a team that depends heavily on the run. And on Friday, they really turned it loose on the Rainbow Warriors. They were forced to take to the air more in their first game against Nevada, falling into a big hole and then taking it to overtime. But against Hawaii, they were more able to stick to their strengths, with Xazavian Valladay going for 163 yards and two scores, along with Trey Smith scoring twice on the ground, as well, along with 89 yards. QB Levi Williams wasn't electric aerially, but he didn't need to be and even added some nice runs.
Bad news for a Colorado State offense that was unable to hit the ground running is a Wyoming defense that really quelled Hawaii on Friday. Through the air, they kept Hawaii completely flummoxed, with negligible production. The run game couldn't take hold playing from behind, and they really looked hopeless. With how well they played against Nevada as they mounted the comeback, combined with Friday night, this defense looks to have found a little groove. They got a pick with a nice return from Charles Hicks, as the "D" was stout and made a lot of nice plays on the night.
Not Enough Info
If one had used week one's loss to low-rate Wyoming, they would have missed the boat with their smashing win over Hawaii on Friday. In other words, it might be hard to get behind Colorado State after watching them impotently flailing around a Fresno field on Thursday. But they're not the first time to not really show up on that field, and things could look a lot different at home. In this crazy world of college ball, where you have teams just getting their seasons rolling in week ten, there's no telling what different trajectories these teams will take in this foreign context.
Clues From Last Season
It's unclear how much to take last season into consideration. For some reason, it seems to matter less in this climate. Still, we see a lot of familiar faces from last year's 17-7 win for the Cowboys in Laramie. Colorado State couldn't run the ball a lick, and O'Brien was only moderately-effective. Meanwhile, Wyoming got big runs from Levi Wallace and especially Valladay, who galloped for a whopping 154 yards, the determining impact in an otherwise-uneventful game. Colorado State couldn't get on the board for all the second half, and while TE Trey McBride had a pretty big game, they couldn't convert much into points. Taking last year's results into consideration, along with the limited action we've seen this season, it might be fair to say that Wyoming remains a little higher on the Mountain West pecking order. Fort Collins, however, isn't always the easiest place to play.
Take the Road Favorite
Wyoming has more recent evidence of being a successful football product, with the Rams ending last season badly and stinking it up in their first game. And even their home advantage didn't resonate last year much, with UNLV the only FBS team they beat on their own field last season. I think they have some different possibilities that could pan out on offense, and their improving front-seven on defense could match up well with the run-heavy Cowboys' offensive philosophy. I just see Wyoming as being more likely to pounce in this spot. I'll take the Cowboys.
Loot's Pick to Cover the Point Spread: I'm betting on the Wyoming Cowboys minus 3.5 points. Where do you bet? We hear people all the time telling us where they play and we can't hardly believe their answers. There are TONS of crappy offshores that are poorly run. Why play with third or fourth tier books? Play with the best! Credit cards work for depositing, you get a 50% real cash bonus, the best live betting platform on the planet AND no-hassle FAST payouts at Bovada Sportsbook!