Houston Open Analysis & Picks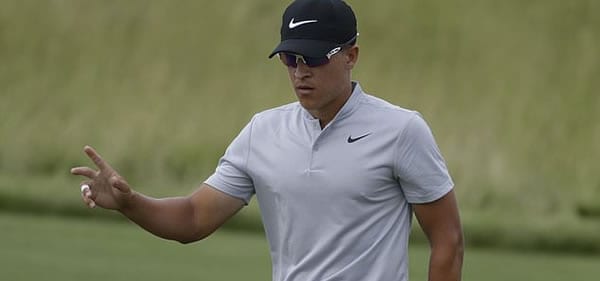 Event: The Houston Open
When: October 10-13, 2019
Where: GC of Houston - Humble, TX
TV: The Golf Channel
Every event on Tour gains its own personality over time. Some are high scoring shootouts, some are fertile ground for first-time winners and of course, the Majors are just that, major. The Houston Open served as the lead-in for the Masters for many years and part of its personality was to offer one last chance to get into Augusta. Ian Poulter punched his Masters ticket by winning here in 2018 but that carrot is no longer directly on the stick with The Houston Open moving to the fall portion of the schedule. While this event was played in April of 2018, that result was part of the 2017-18 schedule so the tournament will be making a return after what was technically a year off. The Houston Astos Golf Foundation is taking ownership of the Houston Open and 2019 will mark the last time the GC of Houston will host the event with a move to Memorial Park planned for next season.
This event has been a highly respected stop for decades with Vijay Singh, Phil Mickelson, Adam Scott and Paul Casey among past champions. The tournament has a history of producing close finishes as no other non-major has seen more playoffs than the Houston Open. The GC of Houston drew strong fields by mimicking Augusta National conditions as closely as any course could. The 7,441 yard, par-72 course featured lightning fast greens and tightly mowed chipping areas like players were going to see at the Masters and many pros found Houston a viable way to prep for the Major test. It remains to be seen what kind of challenge the tournament organizers will present without Augusta looming but a scoring pace of 15-to-20 under par should remain. Making a course play hard and fast can take a toll on the turf, especially the greens, so I would expect slightly softer conditions this year and that could make scoring a bit easier in terms of field average. The field strength is rather average with Henrik Stenson the most notable name in terms of pure recognition. There are plenty of accomplished players here, just not a ton of susperstars at the very top of their games. There are plenty of veterans like Jason Dufner and Nick Watney here and a good crop of youngsters are also teeing it up, led by Scottie Scheffler and Maverick McNealy. This is an absoultely wide-open event so it really is just about anyone's championship for the taking and the winner still gets the Masters exemption to go along with all the other prize perks.
Each week, we take a look at the online betting sites and highlight the best values on the board. We make a short, middle and long odds pick to win and breakdown a couple of head-to-head matches that you can find at just about every golf betting outlet. Odds to win and pairings come courtesy of the board at Bovada. Here are our picks to win the 2019 Houston Open.
Cameron Champ (22 to 1 odds to win)
Champ is just a couple weeks clear of an impressive win at the Safeway and his missed cut last week wasn't exactly a trainwreck as he finished at even par after two days. He is the reigning longest driver on Tour and has averaged nearly 340 yards off the tee in limited 2019-2020 action. He uses that prodigious length to set up short iron approaches and the birdies come along with that. He finished last season inside the top-25 in both GIR and birdie rate and was the 6th best player off-the-tee in terms of strokes gained. Houston has been kind to the power players in the past and I expect that trend to continue with potentially even more advantage falling to the bombers as the course may play longer without the pressure to approximate Augusta affecting the setup. Champ will need to improve on his putting average if he wants to win regularly on Tour but at just 24 years old, he is gaining experience each time out and has to be riding high after the recent win.
Pat Perez (33 to 1)
Perez has been around forever and always seems to pop up and threaten a win, just like he did last week with a T3. He fired a third round 62 to push himself up the leaderboard and that kind of elite scoring effort has been part of his overall game. Perez isn't long by Tour standards but is a top-15 putter and he could be one of the biggest beneficiaries if the tournament organizers keep the greens historically fast. Pat is solid around the greens in terms of saving par and remains above average in fairways hit and total strokes gained. He has seen it all on Tour and is a threat to win in what would be considered a modestly strong field.
Luke List (50 to 1)
If you agree that the longball hitters are due for a good week then List should be on your radar as the 3rd longest driver on Tour. He is 16th in total strokes gained off the tee as a result of that power and he has used it well at Houston with a T24 in 2018 and a T3 in 2017. Long hitters are often wild and List is no exeption so he will need a consistent week to take full advantage of his play from the tee but I think his record at this course suggests he has a feel for how and when to attack this layout. There are few others in the field that will be in better shape with driver in hand and Luke just needs a decent week on the greens to be a factor.
Bet on golfers to win the Houston or finish in the top 5, 10, or 20
Bovada Sportsbook
Head-to-Head Matches
Picks to win based on predicted score after all four rounds. Check with your favorite online betting site for single round matches and a variety of prop bets.
Daniel Berger (-115) v. Brian Harman (-115) (pick to win: Berger)
Both players are off to solid starts and actually tied at the Shriners with identical T18 finishes. Harman has two top-15s this fall but I think Berger is a better fit for Houston as the longer driver without sacrificing much in the fairways hit department. Harman is a slightly better putter but Berger still nets more birdies and also sees an advantage in scoring. Neither is elite in tee-to-green metrics so I would call that a wash in this match with Berger owning another small advantage in overall scrambling. This one is predicted to be close and I'm sticking with Berger as he has a bit more gas in the tank and has a slightly better scroing profile at a course that should be scoring fast.
Matt Jones (-115) v. Keegan Bradley (-115) (pick to win: Jones)
Jones isn't terribly well known by most casual golf fans but he's a grinder that is tough to get rid of in head-to-heads. Bradley knows that all to well after losing to Jones by rather large margins at the Greenbrier and the Shriners this fall. Keegan remains a very strong ballstriker by Tour standards and has that advantage in this match but Matt is the better putter, ranking 67th in strokes gained with Keegan back at 178th. That is the biggest statistical disparity between these players and I would always ride the hot putter provided there wasn't something neutralizing that advantage. Jones is also the better scrambler between the two and that will absolutley be a factor if the chipping areas remain historically difficult here. I can actually see Bradley missing the cut here rather easily so this one could be handed to Jones.
Good luck and good golf!