Boston Red Sox vs Oakland As Pick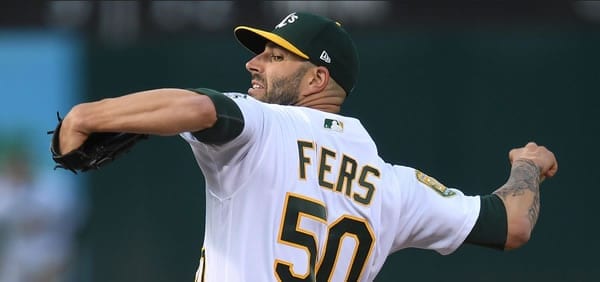 The defending World Series champion Boston Red Sox are off to a slow start to this season, losing four of their first five games, including the opener of a four-game series in Oakland Monday night. And yet Boston is a heavy favorite for Game 2 of this series with the A's Tuesday night (9:07 pm ET, NESN, NBCS California). Who do we like for our free MLB pick for Tuesday?
The Line
Tuesday, MLB betting sites opened Boston and Chris Sale at around -170 over Oakland and Mike Fiers, with an over/under of seven runs. Early betting action then bumped that line about a nickel, to -175, and added a half-run to that total.
The Sox could also be found "getting" around -105 giving the run and a half on the MLB run line.
Sox-A's Betting Preview
Oakland grabbed the opener of this series Monday night 7-0, cashing in as a +120 dog on the MLB betting line. The A's got a quality outing from starting pitcher Aaron Brooks, an early defensive gem from CF Ramon Laureano and four homers on their way to victory.
Monday's game also played under a total of nine runs.
Oakland pitching has now held opponents to nine runs total over its last five games.
Boston bats had scored 24 runs through their first four games of this season, but came up empty Monday night.
The A's now own a three-game winning streak, while the Sox own a three-game losing streak.
Last year Oakland took the season series from Boston four games to two.
Tuesday's Pitching Match-Up
Righty Fiers (1-1, 5.00) is one-for-two on quality starts this season. Two weeks ago in Japan he got touched for five runs in four innings in a 9-7 loss to the Seattle Mariners. But last week against the Angels he tossed six innings of one-hit, shut-out ball in a 4-0 Oakland victory.
More Picks: Kevin West's Free Premium MLB Picks
Last year, by our tough standards, Fiers finished 12/30 on quality starts, splitting time between Detroit and Oakland. The Tigers went 13-8 with Fiers, the A's 8-1. So those two teams combined to go 21-9 with Fiers last year, with the unders going 15-13.
In his only start last year against Boston, when he was still with Detroit, Fiers tossed 6 1/3 innings of seven-hit, shut-out ball in a 5-0 Tigers victory.
Lefty Sale (0-1, 21.00) is coming off a rough outing in his season debut last week in Seattle, when he gave up seven runs and three home runs through just three innings of a 12-4 loss to the Mariners.
Last year Sale finished 16/27 on quality starts. The Red Sox went 18-9 with Sale last year, with the overs going 13-12.
In two starts last season against the A's Sale allowed five runs and eight hits through 12 innings, with 19 strikeouts. The Sox split those two games, as did the totals.
Tuesday's Batting Splits
Boston hit .275/.344/.473 against right-handed pitching last season, which ranked as the best split in that department in the Majors. But Sox bats looked feeble Monday night.
Oakland hit .245/.322/.423 against left-handed pitching last season. Also, the A's have scored more than four runs just twice in seven games this season.
The Bullpens
The Boston bullpen has allowed seven earned runs on 18 hits and eight walks through 20 innings of work this season.
The Oakland bullpen has allowed 13 ER on 22 hits and 14 walks through 28 innings this season.
Totals Report
The over are 4-1 in Red Sox games this season.
The unders are 6-1 in A's games this season.
The totals split 3-3 in Sox-A's games last season.
The unders finished 43-35-3 in games played at the Oakland Coliseum last season, which averaged 8.4 runs per.
Free MLB Pick
While we don't always abide by it this game sets up for a double-play on the MLB streak betting method; Oakland has won three games in a row, while Boston has lost three straight. Plus, the A's are getting a nice, fat home-dog price. We're taking Oakland for our free MLB pick for Tuesday.
Who else wants $60 of FREE member picks & predictions?