Game 5 Pick: Houston Astros vs. Washington Nationals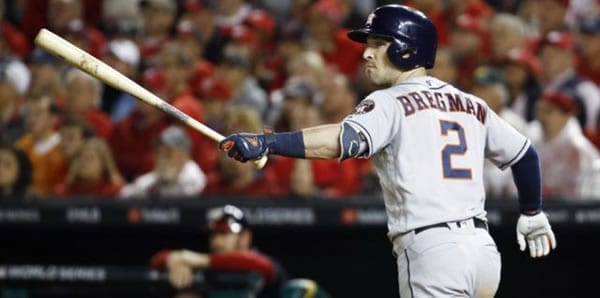 Houston Astros (116-61) vs. Washington Nationals (102-73)
When: 8:08 p.m., Sunday, October 27
Where: Nationals Park, Washington
TV: FOX
Moneyline: HOU -149/WSH +139 (5Dimes) Runline: Astros -1.5/Nationals +1.5 Total: 7
Starting Pitchers: Gerrit Cole (20-5, 2.50 ERA, 0.89 WHIP regular season; 3-1, 1.82 ERA, 0.91 WHIP postseason) vs. Max Scherzer (11-7, 2.92 ERA, 1.03 WHIP regular season; 3-0, 2.16 ERA, 1.00 WHIP postseason)
Opposite Directions
The pendulum continues to swing in this series, as the Astros have gone from dead and buried to now only needing to get their two aces to give them a victory to win another title. No matter what happens, the Astros know they're going to be going back to Houston with a chance to win the World Series in front of their fans, which is all they wanted from the beginning of the series.
The Nationals, meanwhile, have to be wondering what needs to change in order for them to get back on track. Washington started this series off in great shape after dominating the two road games, but now the Nationals have to come up with some kind of way to get back on track and avoid going to Houston. Then again, maybe a trip back to Texas wouldn't be the worst thing in the world for the Nats — the road team has won all four games in this World Series.
More Picks: Monday Night Football Picks
Wasted Chances — Again
How do you follow up going 0-for-10 with runners in scoring position? If you're the Nationals, apparently the answer is to go 1-for-9 with runners in scoring position, which is what they did on Saturday against the Hou-ston bullpen. If you're looking for a reason why the Nationals have allowed the Astros to tie this series, there it is. In the first two games, the Nats were deadly when they got runners to second base, going 7-for-21 with runners in scoring position. In Washington, they're 1-for-19, and they've only got two runs in the two games in the nation's capital.
That's the kind of baseball that loses games and loses championships, and in a brief sample size like the World Series, even one of those performances can be devastating.
No More Bullets
Now we've entered the last three games of the season, which means the dynamic completely changes for the starting pitching. Gerrit Cole and Max Scherzer could theoretically pitch an inning or two in relief in Game 7 if they're needed, but if that doesn't happen, Sunday marks the last time that either of them will throw a Major League pitch in 2019, with a five-month vacation until spring training up next.
Because there are no more games to start and no more series to worry about after this one is done, expect Cole and Scherzer to focus simply on getting outs in what could be the final time that either picks up a base-ball or does anything of note until February…when the teams see each other at their shared spring complex in West Palm Beach, Fla. That's another reason to expect both sides to provide their best games: the loser of this game will likely have to think about it until then.
Betting Trends
The Astros are 22-5 in their past 27 Sunday games.
The Astros are 4-1 in Cole's past five interleague starts.
The Nationals are 8-2 in their last ten playoff games.
The Nationals have won five of Scherzer's past six home starts.
The over is 7-1 in the Nationals' past eight interleague games.
The over is 4-1 in the Astros' last five Sunday games.
The under is 5-1 in Cole's past six road starts.
Weather Report
Game 5 will be a bit warmer than Games 3 and 4, but not by much, as the first pitch temperature is projected to be 62 degrees.
Dan's pick
After a performance like that, it seems that momentum has turned back in the Astros' favor. Not much seems to be going according to plan in this series, but Washington appears to finally be realizing the gravity of their situation and is starting to let it affect their play. Houston is the more experienced team and knows how to handle all of this, which is likely to pay significant dividends for the Astros, as it did in Games 3 and 4.
The Nationals have the pitcher they want on the mound just like the Astros do, but their offense seems to have disappeared with the shift of the series to Washington. Give me the Astros here.
ake the Astros -149
STOP LOSING TODAY! START WINNING WITH DOC'S TEAM OF PROFESSIONALS! GET A FREE NO STRINGS ATTACHED $60 FOR THIS WEEKEND'S GAMES!