Houston Astros vs. New York Yankees Pick 10/16/19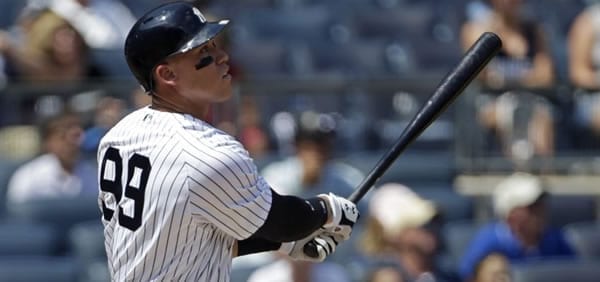 Houston Astros (112-58) vs. New York Yankees (107-61)
When: 8:07 p.m., Wednesday, October 16
Where: Yankee Stadium, New York
TV: FS1
Moneyline: HOU Off/NYY Off
Runline: Astros Off/Yankees Off
Total: Off
Starting Pitchers: TBD vs. TBD
Two Sets of Plans
This game might be the hardest to predict in the series because nobody knows if there's going to be a game at all. Massive storms remain in the forecast for New York on Wednesday, and the rain isn't supposed to let up until around 2 a.m. on Thursday morning. There's no chance that MLB is going to play the only game on the schedule at a time when only its Japanese fan base will be awake to watch it, so if the weather forecasters are correct, everything changes completely.
Why? Because both teams are going with a three-man rotation in this series and counting on their bullpens to get them through the fourth game. Both teams are expected to go with an opener. So, that's why neither side is likely to reveal a starter until the last possible moment Wednesday and go from there. The problem for the Yankees is that they already used their designated opener, Chad Green, to get themselves out of the fifth inning in Game 5, and that would have worked beautifully had Didi Gregorius' fly ball in the bottom of the fifth gone five feet further instead of dying in the glove of Josh Reddick. However, Green only threw eight pitches, so he could still come back for at least one inning if Aaron Boone so desires.
Truthfully, both managers would probably welcome being able to go to a Plan B. If this game gets rained out and pushed to Thursday, that would allow Masahiro Tanaka and Zack Greinke to return on normal rest for Game 4. However, that would seem to benefit the Astros far more than it does the Yankees. A rainout means that the Astros could then bring back Justin Verlander in Game 5 on normal rest, where he's been almost un-hittable.
In that scenario, the teams would lose their scheduled travel day and play Games 6 and 7 in Houston as scheduled. That means that the Yankees would have a massive edge if they survive and get back to Houston, as Greinke, Verlander, and Gerrit Cole would all be out of the way and unable to pitch Game 6. But they've got to get to Game 6 first, and the chances of doing that would be significantly helped with a bullpen game in Game 4.
More Picks: Chiefs at Broncos Prediction ATS
Left On the Pond
This speaks to the superb pitching of both of these squads in this series: the Astros and the Yankees both failed to get the job done with runners in scoring position in Game 3, as Houston was 0-for-8 with men in scoring position and left 10 runners on base, while New York was 0-for-6 and stranded nine. Gregorius was particularly wasteful, leaving the bases loaded in one at-bat and leaving two men on base in that fateful fifth. The pitching has been excellent in this series, but someone has got to cash in when they get a chance soon. The team that does, especially in a bullpen game, will have a considerable edge moving forward.
Chess Match
With no travel day in case of a rainout, both Boone and A.J. Hinch will have to be smart in how they use their bullpens from here on out. Both teams are excellent in the pen, but there's only so much that can be done when tired arms become a factor. Look for both managers to limit the number of pitches their bullpen guys throw to protect their arms in what's likely to become a condensed series.
Betting Trends
The Yankees are 54-18 in their past 72 home games.
The Yankees are 9-3 in their past 12 playoff home games.
The Astros are 4-9 in their past 13 LCS road games.
The Astros are 9-3 in their past 12 road games.
The under is 4-0-1 in the Astros' past four games.
The under is 5-1 in the Yankees' past five ALCS games.
Weather Report
Temperatures are likely to be 66 degrees at first pitch, assuming that there is a first pitch at all.
Dan's pick
This is tough to make a pick for a game we're not even sure is going to be played, but I have to lean toward New York in this one. The Yankees have been here before regularly this season, and they know how to han-dle a bullpen game. The Astros aren't as experienced with it, and the Yankees' lineup is going to be ready to hit with no Verlander or Cole on the mound to oppose them.
Plus, there's the fact that if this game isn't rained out, the Yankees are going to have a fully rested Verlander waiting for them in Game 5, which is about the last thing that they want to see, especially if their season is on the line. They're going to go all out to even this series and set themselves up for what should be a three-game war for the AL pennant.
Give me the Yankees here.
STOP LOSING TODAY! START WINNING WITH DOC'S TEAM OF PROFESSIONALS! GET A FREE NO STRINGS ATTACHED $60 FOR THIS WEEKEND'S GAMES!