Los Angeles Dodgers vs Milwaukee Brewers Pick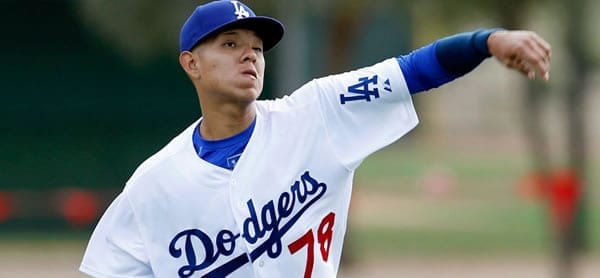 Los Angeles Dodgers (12-8 SU, 8-12 RL) at Milwaukee Brewers (12-7 SU, 9-10 RL)
Date: Thursday, April 18, 2019
Time: 8:10 pm ET
Where: Miller Park, Milwaukee
Listed Pitchers: Los Angeles: Julio Urias (0-1, 5.27 ERA, 1.32 WHIP) vs. Milwaukee: Zach Davies (2-0, 1.53 ERA, 1.30 WHIP)
TV: ESPN
Moneyline: Dodgers -120/Brewers +110
Over/Under: 9
One week after meeting in Los Angeles, the Brewers now get to host the Dodgers as the teams meet up again, this time with both of them holding first place in their respective divisions. Can the Dodgers prove their momentum isn't a mirage, or will Milwaukee pick up where it left off at Dodger Stadium and continue its success in the early going?
MLB Betting Odds
The line opened at -105 for Milwaukee, but the money has come in on Los Angeles and shifted the line in their direction, as the Dodgers are now going off at -120. The over/under has held at 9.
Dodgers vs. Brewers Set-Up
Yasmani Grandal was expected to play a major role when the teams met in Los Angeles, and that's exactly what happened, as he went 6-for-11 in his return to Dodger Stadium with a home run and three RBIs. What really has to concern Los Angeles is the fact that the Brewers won the series in California without getting much of anything from Christian Yelich. Yelich went just 2-for-12 in the series at Dodger Stadium, but Milwaukee still took two of three and scored 13 runs in the series. If he gets going, things are going to get very dicey for the Dodgers. For the Dodgers to keep their momentum going, they're going to have to do it with the long ball. Los Angeles has hit 38 home runs in 20 games to lead the majors, and the Dodgers have hit at least one ball out of the park in all but two games this season.
Monday's Starting Arms
Zach Davies has done an excellent job at scattering hits when he gets on the mound, as he's given up 17 hits in 17.2 innings but has only allowed five runs while earning two wins and putting his team in position to get a third. He'll need to keep the ball in the ballpark to be successful against the Dodgers, and he did that well in his previous start in Los Angeles, only giving up a solo home run to Cody Bellinger. He's opposed by Julio Urias, who struggled badly against the Brewers, giving up six runs and letting the five runs his team gave him go to waste. Urias has shown the ability to toss a strong start, as he did against the Giants in his first start this year, but the past two starts don't exactly inspire confidence that he can get past the fifth inning.
Monday's Batting Splits
The Dodgers' home run prowess is well-documented at this point, as 12 different Dodgers have gone deep this season. The Brewers don't get as much attention, but they've also been pretty effective at launching the long ball, getting home runs from 11 different players in this young campaign. Both teams know what they're doing at the plate, and it will take a top performance from the pitching staff to silence the bats on either side of the equation.
The Bullpens
The bullpens were seen as a major liability the last time these teams met, and while they're still not great, they've gotten a little better since that series. Both teams have brought their bullpen's ERA under 5, and neither has blown an opportunity for a save since the start of the teams' L.A. Series. These bullpens aren't going to win anyone a game, but they have improved enough to not lose it.
NBA Pick: Sixers vs Nets Game 3
Totals Report
The over is 8-2 in the Brewers' past 10 Thursday games.
The under is 14-2-1 in Davies' past 17 starts against a team with a winning record.
The under is 5-0 in the Dodgers' past five games.
The over is 4-1 in Urias' past five starts.
Free MLB Pick
I'm not really sure what I'm missing here. Milwaukee has been strong at home, Los Angeles isn't a great road team, Davies just held the majors' best long-ball hitting team to one run in seven innings and Urias got roughed up by the Brewers less than a week ago…and the Dodgers are the ones who are favored in Milwaukee? Something's not adding up here, because this line seems like a mistake.
But I'm not going to complain about it. If Vegas is willing to give me a bonus for taking a team that should probably be favored, I'll happily take Milwaukee to again frustrate the Dodgers and show that Los Angeles' win streak was more related to playing Cincinnati than it was the Dodgers turning the corner. Give me the Brewers.