[et_pb_dcsbcm_divi_breadcrumbs_module hide_homebreadcrumb="off" homebreadcrumbtext="Home" separator="sep-raquo" hide_currentbreadcrumb="off" homebreadcrumborientation="left" _builder_version="3.8″ fontsbreadcrumbs_font="Lato||||||||" fontsbreadcrumbs_text_color="#000000″ fontsbreadcrumbs_font_size="15px" fontsbreadcrumbs_line_height="16px" fontsseperator_font="||||||||" fontsbreadcrumblinks_font="||||||||" fontsbreadcrumblinks_text_color="#2567cf" custom_margin="25px|||" custom_margin_phone="30px|||" custom_margin_last_edited="off|desktop" custom_css_main_element="font-family: Helvetica Regular;" global_module="3641″ saved_tabs="all"][/et_pb_dcsbcm_divi_breadcrumbs_module]
Milwaukee Brewers at St. Louis Cardinals 8/17/18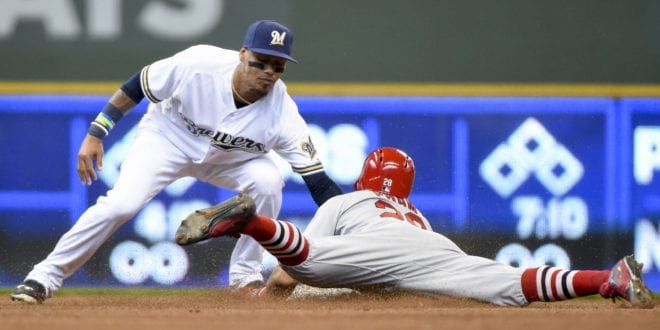 Milwaukee Brewers at St. Louis Cardinals 8/17/18
Time: 8:15 PM ET
Where: Busch Stadium. St. Louis, Missouri.
Listed Pitchers: Peralta (MIL) & Flaherty (STL)
TV: FS – Midwest & FS – Wisconsin
Moneyline: MIL (+115) & STL (-135) Dime Line Sportsbooks will offer lower prices
Over/Under: 8.5
Game one of an important three-game set in the National League Central gets under way Friday night at Busch Stadium between the Brewers and red-hot Cardinals. It's the 14th meeting of 19 slated for the season between these two divisional foes. Milwaukee leads the season series 7-6 thru 13 games, despite St. Louis outscoring them 55-49. A pair of 22-year-olds go toe-to-toe in game one: Freddy Peralta (MIL) and Jack Flaherty (STL).
Brewers have much needed day off
Milwaukee most recently split a two-game set at Wrigley Field against division-rival Chicago, then had a travel day Thursday. The Brew Crew has been struggling, going 5-8 in their last 13 games. Consequently, Milwaukee's 68-55 (.553) and in second-place in the National League Central Division Standings. However, the Brewers are tied with Philadelphia for the top spot in the NL Wild Card race right now. On the road, the Brewers have accrued a 32-31 (.508) thus far.
Red-hot Cardinals 8-game winning streak snapped
St. Louis's eight-game winning streak came to a halt Thursday night with a 5-4 loss at the hands of the Washington Nationals. The Cards didn't go quietly though, and it looked as though Washington reliever Koda Glover was trying to blow another save in the bottom of the ninth. He allowed a single and a walk to put men on first and second with two outs, but Yadier Molina (.284 AVG, 15 HR, 54 RBI & .331 OBP) flew out to center-field to end the scare. Luke Weaver (6-11, 4.67 ERA & 1.42 WHIP) allowed two earned runs on seven hits in just 3 2/3 innings of work to garner the loss. Tanner Roark continued his streak of stellar play for the Nationals, earning his fifth consecutive win and Koda Glover was credited with his first save of the season.
Overall, the red birds are 66-56 (.541) on the year which puts them in third place in the NL Central. Currently, they're five games behind the first-place Cubs and 1.5 games back of Milwaukee and Philadelphia for the Wild Card spots in the NL. The Cardinals have been swinging some hot bats lately, and none is hotter than that of Harrison Bader (.285 AVG, 9 HR, 23 RBI & .354 OBP). In his past seven games, Bader's gone 10 for 22 (.455) with three home runs and seven RBI. As a team, St. Louis ranks sixth in the NL in: runs scored (556), runs allowed (507) and run differential (+49). At Busch Stadium, the Cardinals have posted a 32-27 (.542) record thus far.
Youth vs. Youth
Freddy Peralta (5-3, 4.47 ERA & 1.19 WHIP) gets the nod for the Brewers in game one. It'll be the Rookie right-hander's first career start against the Cardinals. Peralta was lit up in his last start at Atlanta on August 10th. He lasted only three innings, allowing seven earned runs on seven hits over 81 pitches. Peralta also gave up a whopping five walks across those three frames. In his last five starts, Peralta is 1-2 with an 8.11 ERA and 1.67 WHIP. On the road this year, Peralta's 2-2 in six starts with a 5.21 ERA and 1.51 WHIP. His last road victory came on June 19th.
St. Louis will send Jack Flaherty (6-6, 3.22 ERA & 1.08 WHIP) to the hill Friday night. The young right-hander has shown flashed of brilliance in his sophomore campaign in MLB. In his last two starts, Flaherty's gone 2-0 with a 1.38 ERA and 0.77 WHIP. At Busch Stadium, Flaherty's 2-3 in seven starts with a 3.55 ERA and 1.11 WHIP. Flaherty's faced Milwaukee three time in his career, posting an 0-1 mark with a 3.18 ERA and 1.00 WHIP. This season, Flaherty's faced Milwaukee twice. Both games resulted in no-decisions for Flaherty, despite posting a 1.50 ERA and 0.83 ERA over those two starts.
Where's the value?
I really like the Cardinals in this NL Central showdown. They're in the best form they've displayed all season, while Milwaukee's in a bit of a slump right now. Peralta has been poor lately, and his road numbers are subpar. On the other hand, Flaherty's been great lately and solid at home all year. Not to mention, he's limited Milwaukee to two runs across twelve innings pitched against them this season. The red birds are on fire too, barely losing last night to snap an eight-game winning streak. Look out for the Cardinals, who've been rapidly ascending in the NL Standings and are getting hot at the right time of year. The early line pegs St. Louis (-135) as the marginal favorite in this one. This means they'd need to win this game 57.4% of the time to make betting on them profitable. According to my calculations, the Cards will take this one two-thirds of the time. Consequently, we have a 9.3% edge against the number on the money line. This is the best selection on the MLB card Friday, and I highly recommend a wager on the St. Louis Cardinals on the money line.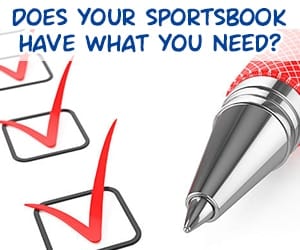 <div class="widget105"><!-- [et_pb_line_break_holder] --><h4 class="baseball">Baseball Sportsbooks</h4><!-- [et_pb_line_break_holder] --><table id="dimeline"><!-- [et_pb_line_break_holder] --> <tr><!-- [et_pb_line_break_holder] --> <th></th><!-- [et_pb_line_break_holder] --> <th width="110px">10¢ to:</th><!-- [et_pb_line_break_holder] --> <th width="110px">20¢ to:</th><!-- [et_pb_line_break_holder] --> </tr><!-- [et_pb_line_break_holder] --> <tr><!-- [et_pb_line_break_holder] --> <td><div class="col1"><a href="https://record.commission.bz/_BhTQDVOVie23_O3IiMN7EWNd7ZgqdRLk/1/"><!-- [et_pb_line_break_holder] --> <img src="https://www.predictem.com/wp-content/uploads/2018/06/SportsBettingDark.png" width="150" alt="SportsBetting" /></a><!-- [et_pb_line_break_holder] --> </div></td><!-- [et_pb_line_break_holder] --> <td>-200</td><!-- [et_pb_line_break_holder] --> <td>-279</td><!-- [et_pb_line_break_holder] --> </tr><!-- [et_pb_line_break_holder] --> <tr><!-- [et_pb_line_break_holder] --> <td><div class="col1"><a href="https://www.predictem.com/betting-sites/betonline-ag/"><img src="https://www.predictem.com/wp-content/uploads/2018/06/betonline-xs.png" width="150" alt="Heritage" /></a></div></td><!-- [et_pb_line_break_holder] --> <td>-200</td><!-- [et_pb_line_break_holder] --> <td>-270</td><!-- [et_pb_line_break_holder] --> </tr><!-- [et_pb_line_break_holder] --> <tr><!-- [et_pb_line_break_holder] --> <td><div class="col1"><a href="https://affiliates.5dimes.eu/tracking/Affiliate.aspx?idBook=1&mediaTypeID=220&AffUrlID=80&LandingPageID=2"><img src="https://www.predictem.com/wp-content/uploads/2018/06/5Dimes_sm.png" width="150" alt="5Dimes" /></a></div></td><!-- [et_pb_line_break_holder] --> <td>-195</td><!-- [et_pb_line_break_holder] --> <td>-266</td><!-- [et_pb_line_break_holder] --> </tr><!-- [et_pb_line_break_holder] --></table> <!-- [et_pb_line_break_holder] --><div class="widget-footer"><a href="https://www.predictem.com/best-sportsbooks/mlb-dimeline/">See all Dimeline Sportsbooks</a></div><!-- [et_pb_line_break_holder] --></div><!-- [et_pb_line_break_holder] --><!-- [et_pb_line_break_holder] --><style><!-- [et_pb_line_break_holder] --> #dimeline {border: 0px;}<!-- [et_pb_line_break_holder] --> #dimeline th{color:#000;}<!-- [et_pb_line_break_holder] --> #dimeline td{padding: 2px; text-align: center;}<!-- [et_pb_line_break_holder] --> #dimeline td, #dimeline th{padding: 8px 2px; text-align: center;border-bottom: 1px solid #bbb;}<!-- [et_pb_line_break_holder] --> .img-hover {border: 1px solid #fff; padding:5px}<!-- [et_pb_line_break_holder] --> .img-hover:hover {background: #edeef0; border: 1px solid #008156; margin-top:1px; padding:5px}<!-- [et_pb_line_break_holder] --></style>