[et_pb_dcsbcm_divi_breadcrumbs_module hide_homebreadcrumb="off" homebreadcrumbtext="Home" separator="sep-raquo" hide_currentbreadcrumb="off" homebreadcrumborientation="left" _builder_version="3.8″ fontsbreadcrumbs_font="Lato||||||||" fontsbreadcrumbs_text_color="#000000″ fontsbreadcrumbs_font_size="15px" fontsbreadcrumbs_line_height="16px" fontsseperator_font="||||||||" fontsbreadcrumblinks_font="||||||||" fontsbreadcrumblinks_text_color="#2567cf" custom_margin="25px|||" custom_margin_phone="30px|||" custom_margin_last_edited="off|desktop" custom_css_main_element="font-family: Helvetica Regular;" global_module="3641″ saved_tabs="all"][/et_pb_dcsbcm_divi_breadcrumbs_module]
MLB Pick: Phillies at Mets in Game 2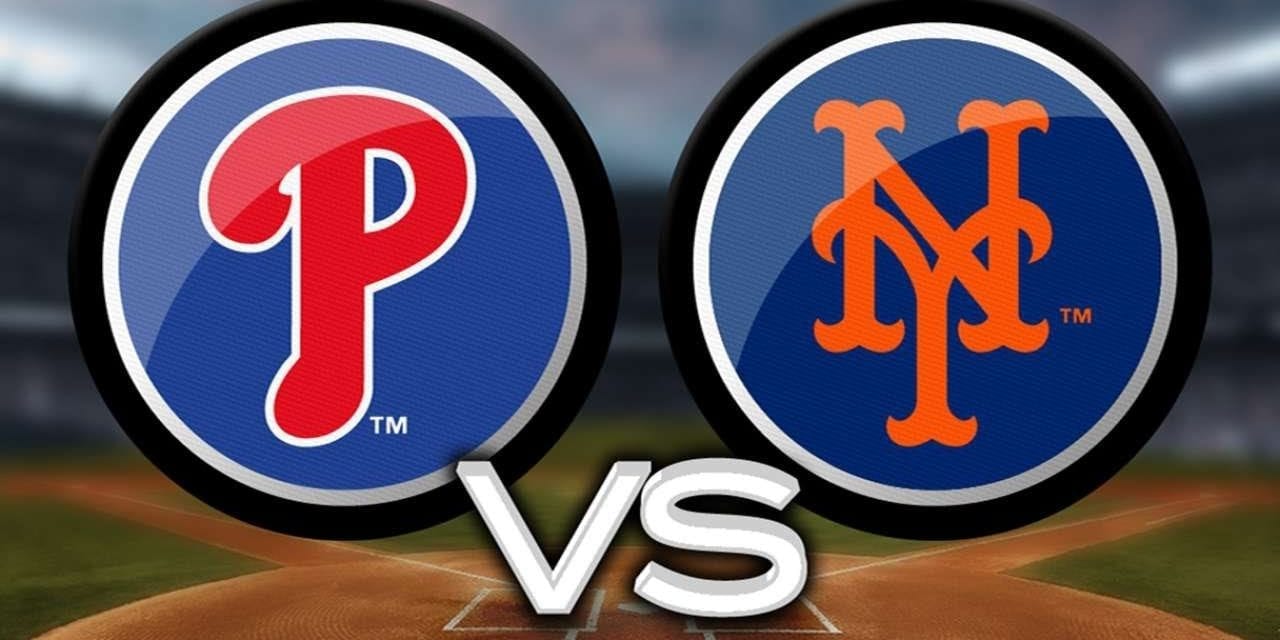 Time: 7:10 PM ET
Venue: Citi Field
Location: New York, New York
TV: SNY
Moneyline: Philadelphia (-165 @ 5dimes) / New York (+160 @ Intertops)
Over/Under: 7.5
Looks like a case of the Mondays for two National League East foes: Philadephia and New York. At least 18 frames are due to be played tomorrow evening at Citi Field with game one commencing at 4:10 PM ET and game two at 7:10 PM ET. In game one it'll be the battle of the Zachs. Zach Eflin (7-2, 2.97 ERA & 1.08 WHIP) is the scheduled starter for the Phillies and Zach Wheeler (2-6, 4.36 ERA & 1.31 WHIP) for the Mets. We're not really digging that matchup in game number one, but game number two is a different story. Aaron Nola (11-2, 2.41 ERA & 1.03 WHIP) will get the ball for the surging Phillies in game two, while Rookie Corey Oswalt (0-1, 7.94 ERA & 1.41 WHIP) will toe the rubber for the slumping Mets. The Phillies look to keep the momentum rolling heading into the All-Star Break and take over sole possession of first place in the National League East Standings. On the flip side, the hometown Mets look to stop the bleeding and get another win over their NL East foe: Philadelphia. New York leads the season series 3-1.
New York Mets: Are you too good for your home?
To say it's been a disappointing first half for the Mets would be an understatement. The team that's second-fiddle to the Yanks in the Big Apple is sixteen games below .500 (35-51) and sits in fourth place in the NL East 13.5 games behind Philadelphia and Atlanta. An abysmal offense which has produced the fewest runs (336) of any National League club has been the cause for much loss and concern thus far. However, second baseman Asdrubal Cabrera (.280 AVG, 15 HR, 49 RBI & .328 OBP) has been a lone bright spot of late. Cabrera's been the most proficient hitter for the Mets all year and is 6 for 19 (.316) with two homers and five RBI in his last six contests. With a run differential that's minus-65, New York owns the third worst plus-minus in the NL. With the first half of the season nearly in the books, the Mets finish with an 11-game homestand at Citi Field.
The homestand began over the weekend versus Tampa Bay, and the Mets lost two of three in the series. This includes back-to-back losses to close the weekend (3-0 and 9-0). Monday's the double-header with Philadelphia, and then they'll play the Phillies twice more (Tuesday and Wednesday). July 12th-15th New York will play the Nationals to close out the homestand and first half of the season. The Mets have been pitiful at Citi Field this year, compiling a 15-28 (.349) home record which is third worst in Major League Baseball. New York's 3-19 (.136) in their last 22 games at Citi Field, getting outscored by an 80-42 margin.
Surging Phillies tied atop NL East Standings
Philadelphia has won eight of their last ten games, outscoring opponents 49-39. Consequently, the Phillies have launched themselves into a tie for first place in the NL East race with the Atlanta Braves. To close out the first half, the Phillies play an 11-game road slate which they've won two of three on so far. After the series with New York, the Phillies play at Baltimore on the 12th and three at Miami July 13th-15th before the All-Star Break.
The road hasn't been all that stellar for Philadelphia this year as they've earned a 19-22 (.463) mark thru early July. Much to Philadelphia's chagrin, their six-game winning streak was snapped in Sunday's 4-1 loss at Pittsburgh. However, the Phillies are hot right now and have won three straight series. Their 49-30 (.563) overall record is third best in the National League. Recently, the Philllies have been the beneficiaries of some hot bats.
Odubel Herrera (.281 AVG, 15 HR, 51 RBI & .335 OBP) went 5 for 13 (.385) with a homer and four RBI in the weekend series at Pittsburgh, while Rhys Hoskins (.256 AVG, 14 HR, 55 RBI & .371 OBP) went 5 for 12 (.417) with two RBI. However, nobody's been more consistent lately than third baseman Maikel Franco (.269 AVG, 10 HR, 40 RBI & .315 OBP). In his last five games, Franco's gone 7 for 15 (.467) with two RBI.
Game #1
Bovada has the Phillies -130 and the Mets +110 in the first game of the double-header. A lot of people will probably jump on the Phillies with the "too good to be true" line here, but don't do it. Zach Eflin (7-2, 2.97 ERA & 1.08 WHIP) has been sensational recently, winning six straight starts with a 1.94 ERA and 0.94 WHIP. However, Eflin hasn't been able to solve the riddle that is the New York Mets in his short career. In three career starts versus the Mets, Eflin's 0-2 with a 4.47 ERA and 1.24 WHIP.
Zach Wheeler (2-6, 4.36 ERA & 1.31 WHIP) hasn't won a game since April 29th! In his last 12 starts, he's 0-5 with a 4.44 ERA and 1.30 WHIP. His awful record is largely due to receiving minimal run support on a regular basis rather than his level of pitching. Regardless, Wheeler is quite familiar with Philadelphia and has had success against them throughout his career. In eight career starts versus the Phillies, Wheeler is 3-1 with a 2.85 ERA and 1.11 WHIP.
Don't forget that New York has won three out of four against the Phillies this year. Even though Philadelphia is a much better team and hotter right now, I'd be more than slightly concerned about the histories of the starters in game number one. Definitely take a pass on game one because everything points to it being a complete and utter crapshoot. Luckily, game number two is a tremendous opportunity for us to get our dough in with some serious value which is what we're looking for always.

Game #2 – Show me the money!
We've got a mismatch of epic proportions on tap for game two in this double-header. All-star pitcher Aaron Nola (11-2, 2.41 ERA & 1.03 WHIP) is the golden goose of the Phillies rotation and the lone All-star on the team. The fourth year starter out of LSU has come into his own this season, and is definitively the ace of the Phillies staff. Nola leads the National League in wins (11) and winning percentage (.846). In his last three outings, Nola is 3-0 with a 1.78 ERA and 1.14 WHIP. Nola is responsible for the Phillies only win this year against the Mets on May 13th when he tossed six innings of one-run ball in a 4-2 triumph. His adversary Monday night doesn't have an iota of experience juxtaposed to Nola, and the experience Corey Oswalt (0-1, 7.94 ERA & 1.41 WHIP) does have is all poor.
Oswalt was drafted in the seventh round out of James Madison High School in San Diego, California in 2012. The 6' 5" 250 lbs. right-hander has spent most of his early career in the Minors with the Las Vegas 51s, whom are the AAA-Pacific Coast League affiliate of the New York Mets. In 90 career Minor League starts, Oswalt is 41-22 with a 3.55 ERA and 1.27 WHIP. However, in ten Minor League starts this year he's 4-4 with a 5.32 ERA and 1.42 WHIP. The call up to the Big Show hasn't been so dandy for the big fella. In two career MLB starts, Oswalt's gone 0-1 with an 11.61 ERA and 2.26 WHIP.
Bet where there's value
Philadelphia -165 in game two of Monday's double-header is the best value play of the day in MLB. Nola is one of the best and most consistent pitchers in the game, and the Mets are throwing a scrub to the wolves against a surging Phillies club. With the line at -180, books are giving us odds where we'd need to win this bet 64.3% of the time to be profitable. In my opinion, the Phillies win the Nola vs. Oswalt matchup 90% of the time. So, we have a hefty 25.7% edge against the number in this one and that's worthy of a wager.
<h4 class="widgettitle">More NFL Picks</h4><!-- [et_pb_line_break_holder] -->
<!-- [et_pb_line_break_holder] --><div class="widget-footer"><a href="https://www.predictem.com/nfl/">See all the NFL picks.</a></div><!-- [et_pb_line_break_holder] --><hr><!-- [et_pb_line_break_holder] --><style><!-- [et_pb_line_break_holder] -->ul.postsbycategory {list-style-type: none; margin:0; padding: 0; margin-left: -3px}<!-- [et_pb_line_break_holder] -->.postsbycategory li {padding: 5px 0px; display:block; clear: both; border-bottom: 1px solid #ccc;line-height:16px!important; min-height: 50px;}<!-- [et_pb_line_break_holder] -->.postsbycategory li a{color: #000; font-size: 14px!important;}<!-- [et_pb_line_break_holder] -->.postsbycategory img {width: 85px!important; height: 40px;<!-- [et_pb_line_break_holder] -->float:left; <!-- [et_pb_line_break_holder] -->padding:0px;<!-- [et_pb_line_break_holder] -->margin: 0px; margin-right: 8px;<!-- [et_pb_line_break_holder] -->border: 1px solid #EEE;<!-- [et_pb_line_break_holder] -->}<!-- [et_pb_line_break_holder] --> .widget-footer a {color: #666;}<!-- [et_pb_line_break_holder] --> .widget-footer a:hover {padding-top: 2px;}<!-- [et_pb_line_break_holder] --></style>
<div class="widget105"><!-- [et_pb_line_break_holder] --><h4 class="teaser">Best Teasers</h4><!-- [et_pb_line_break_holder] --><!-- [et_pb_line_break_holder] --><table id="teasers"><!-- [et_pb_line_break_holder] --> <tr><!-- [et_pb_line_break_holder] --> <th><span class="team">3 Team:</span></th><!-- [et_pb_line_break_holder] --> <th>6 pt Teasers</th><!-- [et_pb_line_break_holder] --> <th>6.5 pt Teasers</th><!-- [et_pb_line_break_holder] --> <th> 7 pt Teasers</th><!-- [et_pb_line_break_holder] --> </tr><!-- [et_pb_line_break_holder] --> <tr><!-- [et_pb_line_break_holder] --> <td><a href="https://affiliates.islandcasino.com/tracking/Affiliate.aspx?idBook=3&mediaTypeID=220&AffUrlID=80&LandingPageID=36" rel="nofollow"><img src="https://www.predictem.com/wp-content/uploads/2018/06/island_casino.png"></a></td><!-- [et_pb_line_break_holder] --> <td>1.8 to 1</td><!-- [et_pb_line_break_holder] --> <td>1.65 to 1</td><!-- [et_pb_line_break_holder] --> <td>1.5 to 1</td><!-- [et_pb_line_break_holder] --> </tr><!-- [et_pb_line_break_holder] --> <tr><!-- [et_pb_line_break_holder] --> <td><a href="https://affiliates.5dimes.eu/tracking/Affiliate.aspx?idBook=1&mediaTypeID=220&AffUrlID=80&LandingPageID=2" rel="nofollow"><img src="https://www.predictem.com/wp-content/uploads/2018/06/5Dimes_sm.png"></a></td><!-- [et_pb_line_break_holder] --> <td>1.65 to 1</td><!-- [et_pb_line_break_holder] --> <td>1.5 to 1</td><!-- [et_pb_line_break_holder] --> <td>1.35 to 1</td><!-- [et_pb_line_break_holder] --> </tr><!-- [et_pb_line_break_holder] --> <tr><!-- [et_pb_line_break_holder] --> <td><a href="https://record.commission.bz/_BhTQDVOVie23_O3IiMN7EWNd7ZgqdRLk/1/" rel="nofollow"><img src="https://www.predictem.com/wp-content/uploads/2018/06/sports-betting-sm.png"></a></td><!-- [et_pb_line_break_holder] --> <td>1.6 to 1</td><!-- [et_pb_line_break_holder] --> <td>1.5 to 1</td><!-- [et_pb_line_break_holder] --> <td>1.35 to 1</td><!-- [et_pb_line_break_holder] --> </tr><!-- [et_pb_line_break_holder] --></table><!-- [et_pb_line_break_holder] --><div class="widget-footer"><a href="https://www.predictem.com/best-sportsbooks/teasers-odds/">See all Sportsbooks Teasers</a></div><!-- [et_pb_line_break_holder] --></div><!-- [et_pb_line_break_holder] --><!-- [et_pb_line_break_holder] --><!-- [et_pb_line_break_holder] --><style><!-- [et_pb_line_break_holder] --> #teasers {border-collapse: collapse;<!-- [et_pb_line_break_holder] --> width: 100%; border: 0px;<!-- [et_pb_line_break_holder] --> font-size: 14px!important;}<!-- [et_pb_line_break_holder] --> #teasers td, #teasers th {<!-- [et_pb_line_break_holder] --> border: 0px;<!-- [et_pb_line_break_holder] --> padding: 8px;<!-- [et_pb_line_break_holder] --> text-align: left;}<!-- [et_pb_line_break_holder] --> #teasers th {<!-- [et_pb_line_break_holder] --> padding-top: 5px;<!-- [et_pb_line_break_holder] --> padding-bottom: 5px;<!-- [et_pb_line_break_holder] --> font-weight: bold;<!-- [et_pb_line_break_holder] --> line-height: 14px;<!-- [et_pb_line_break_holder] --> text-align: center;<!-- [et_pb_line_break_holder] --> color: #000;}<!-- [et_pb_line_break_holder] --> #teasers tr {border-bottom: 1px solid #edeef0;}<!-- [et_pb_line_break_holder] --> .team {font-size: 16px;}<!-- [et_pb_line_break_holder] --></style>
<div style="width:340px; margin: 0 auto;"><!-- [et_pb_line_break_holder] --> <a class="twitter-timeline" data-width="340" data-height="500" data-link-color="#008156" href="https://twitter.com/PredictemPicks?ref_src=twsrc%5Etfw">Tweets by PredictemPicks</a> <script async src="https://platform.twitter.com/widgets.js" charset="utf-8"></script><!-- [et_pb_line_break_holder] --></div>