San Francisco Giants vs. Los Angeles Dodgers Pick 7/19/21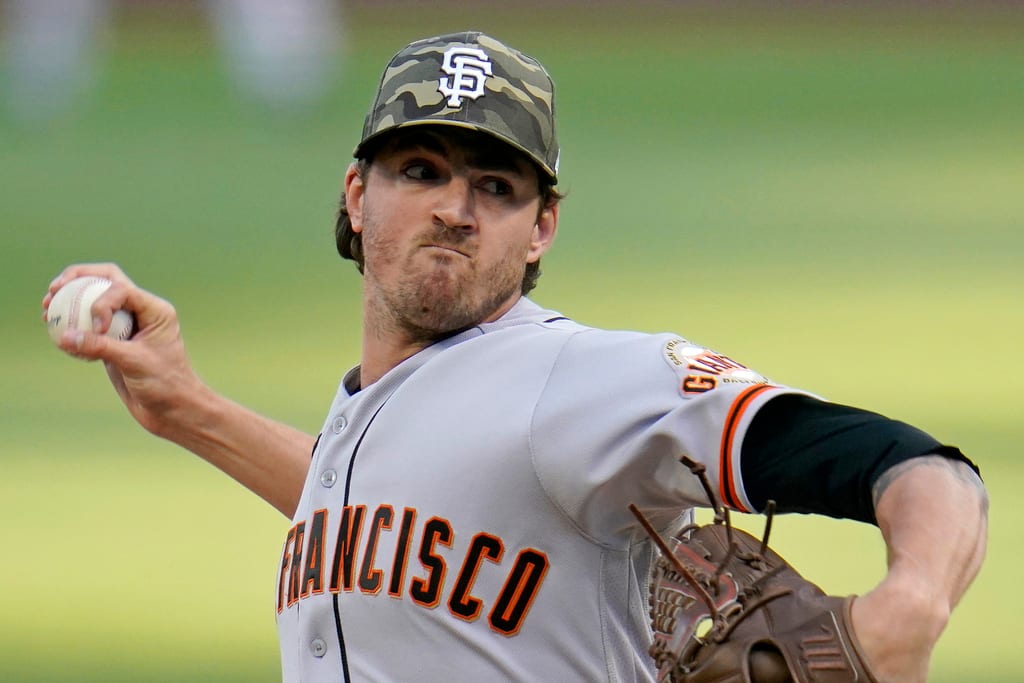 San Francisco Giants (58-34) vs. Los Angeles Dodgers (58-36)
When: 10:10 p.m., Monday, July 19
Where: Dodger Stadium, Los Angeles
Moneyline: SF +110/LAD -120 (Find the best sportsbooks >>> 100% Bonuses! Bet on games at -105 instead of -110 and more!)
Runline: Giants +1.5/Dodgers -1.5
Total: 8
Starting Pitchers: Kevin Gausman (9-3, 1.73 ERA, 0.82 WHIP) vs. Tony Gonsolin (1-0, 2.13 ERA, 1.30 WHIP)
Last Battle in L.A.
The schedule makers likely never anticipated this would matter, but the Giants and Dodgers are about to face off for the final time in 2021, as the teams are already on their third series in southern California this season. By the end of this series, the teams will have met 13 times, and ten straight matchups will have taken place in Los Angeles.
On paper, that's a huge advantage for Los Angeles, but in practice, it actually hasn't been a problem for the Giants. San Francisco is 3-6 against the Dodgers this season, but that's because the Giants lost all three meetings that took place in northern California. When the teams have met at Dodger Stadium, the Giants have been very competitive, winning three games and losing the other three by a combined four runs. With four games here, the Giants need to make sure they get at least two of them in order to keep themselves in a prime position in the NL West.
Working Their Way On
The Dodgers are facing Gausman for the third time, and in the second matchup between pitcher and team, the Dodgers figured out that the best way to get to Gausman was to make him beat himself. The Giants' pitcher is easily having the best season of his career, as his ERA is normally up around three or four runs per game. In large part, it's been a combination of strikeouts and finally getting to play in a home park that's friendly toward pitchers, as opposed to small parks in Baltimore and Cincinnati for most of his career.
But when a team is willing to wait him out, as the Dodgers were last time they faced him, he's less effective. Against the Dodgers last time, he gave up five walks and allowed three runs, not a bad start by any means but not quite good enough against an opponent as strong as the Dodgers. Los Angeles' pitching held San Francisco to just one run in that contest, marking Gausman's third loss of the season.
In two of his three defeats, he's only managed to set four hitters down on strikes, and even though he's only given up five runs in those games, the Giants only managed to score once, making for easy under cashes. If you plan to bet the Dodgers here, it might be wise to pair them with the under.
Lasting Long Enough
Tony Gonsolin's situation is a perfect example of the new way of thinking in baseball with how to handle starting pitchers. Gonsolin has only thrown enough innings as a starter to get the win in one of his appearances this season, and he lost that game 2-1 to the Marlins after tossing 5 1/3 innings. Most times, Gonsolin comes out after three or four innings of work and handing the game over to the next pitcher.
Gonsolin doesn't work for long, but when he does, he's effective. For the year, he's given up just six runs in 25 1/3 innings pitched, and he's yet to give up more than one run per appearance. Plus, that one defeat against the Marlins was the only time Los Angeles has failed to win a game in which he's taken the hill. This is a great example of a team that knows what it needs to do to win and doesn't ask players to do too much. Gonsolin does just enough to put the Dodgers in a position to win, making them a solid bet on days when he takes the mound.
Betting Trends
The Giants are 5-2 in their past seven games.
The Giants are 19-9 in their past 28 road games.
The Dodgers are 55-21 in their past 76 home games.
The Dodgers are 40-17 in their past 57 games as a favorite.
The under is 7-1 in the Giants' past eight games as an underdog.
The under is 12-4 in the Giants' past 16 road games.
The under is 9-2-2 in the Dodgers' past 13 home games.
The under is 13-6-2 in the Dodgers' past 21 games as a favorite.
The Giants are 3-8 in the past 11 meetings.
Weather Report
It's going to be typically warm Southern California weather, with temperatures hitting 86 degrees and winds blowing at seven miles per hour toward right-center.
Dan's Pick
The big question will be how the Giants fare against Gonsolin because he hasn't pitched against them at all this season. Usually, a pitcher in that situation has the advantage, and that looks even more likely in this case because the Dodgers have seen Gausman twice already this year and know what to expect from him.
This should be a low-scoring battle between two good pitchers, and I'll take Los Angeles to come out on top. Bet your baseball picks FREE this week by taking advantage of a 100% REAL CASH bonus on your first deposit of $100 to $300 at MyBookie Sportsbook! (Must use bonus code PREDICT100).