Washington Nationals vs. Houston Astros Game 6 Pick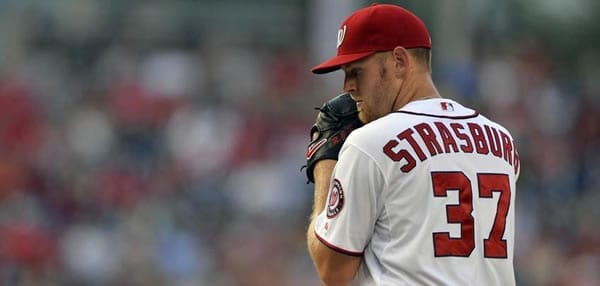 Washington Nationals (102-74) vs. Houston Astros (117-61)
When: 8:08 p.m., Tuesday, October 29
Where: Minute Maid Park, Houston
TV: FOX
Moneyline: WSH +160/HOU -170 (5Dimes)
Runline: Nationals +1.5/Astros -1.5
Total: 7
Starting Pitchers: Stephen Strasburg (18-6, 3.32 ERA, 1.04 WHIP regular season; 4-0, 1.93 ERA, 0.96 WHIP) vs. Justin Verlander (21-6, 2.58 ERA, 0.80 WHIP regular season; 1-3, 4.15 ERA, 1.19 WHIP postseason)

Role Reversal
If you had told the Nationals before the series that after five games, they'd be down three games to two to the Astros, but they'd have Stephen Strasburg and Max Scherzer ready to pitch Game 6 and Game 7, plus Gerrit Cole out of the way, they would have taken it in a heartbeat. And yet, this situation feels like the last place the Nationals want to be, as they had a chance for an early kill against the Astros and frittered it away by failing to earn even a single win in Washington. Now they've got to return to the formula that worked in Houston, counting on their two aces to shut down the Astros and take advantage of their chances at the plate. That's something they didn't do well at all in D.C., as the Nationals scored a combined three runs in three games in Washington after scoring 17 in two games at Minute Maid Park.
Reloading the Weapon
What does Justin Verlander have left? I'll use a bit of a personal perspective to explain what the veteran pitcher's facing right now. Hockey always has been and always will be my No. 1 sport, and this past spring, the Pittsburgh Penguins entered the playoffs against the New York Islanders, looking to make it three Stanley Cups in four years. By contrast, the Islanders hadn't made the playoffs in either of the past two seasons.
What happened? The Isles swept the Penguins, in large part because over the past three seasons, the Pen-guins had played an extra 61 games of playoff hockey, almost the equivalent of another full NHL season. They were a tired team, and it showed.
How does that relate to Verlander? Over the past four years, Verlander has exceeded 225 innings in all of them, even in 2016, when he was with the Tigers and missed the playoffs. He's already thrown 253 innings this season alone, his third-highest total in his career and the most he's thrown since 2012. Over the past four seasons, he's thrown 955 innings, and he's going to be 37 in February. He's a tired pitcher, and he hasn't been the same since trying to go on short rest against Tampa Bay in the ALDS. Does he have enough left for one final start before the offseason, or is he totally out of gas?
Aggression
The Nationals have no margin for error left, so expect Dave Martinez to go all-out with his bullpen, especially with the game back in the American League park. The Nationals no longer have to worry about pinch-hitting for either Strasburg or Scherzer. If the Nats find themselves with a rally going, they'll be able to toss which-ever pitchers they want at whatever time they want. Every pitcher except Scherzer is available in a normal situation, and if it turns into an emergency, even Scherzer is in play. The Astros, on the other hand, can afford to be a tad more conservative because they can still win Game 7 if they lose Game 6. While Verlander won't have a long leash, Houston is more likely to let him try to work through any trouble than Washington is to give Strasburg the same opportunity. The reality is that Verlander at 80 percent of his best is still better than any-one the Astros have not named Gerrit Cole, and Cole is out of commission until Game 7, so A.J. Hinch likely has no choice but to ride with JV, for better or worse.
More Picks: Experts Picks available daily.
Betting Trends
The Astros are 1-4 in their past five interleague home games against a team above .500.
The Astros are 4-1 in Verlanders' past five home starts.
The Nationals have won their past six Tuesday games.
The Nationals have won Strasburg's past five starts against the AL West.
The over is 7-1-1 in the Nationals' past nine interleague games.
The over is 5-1 in Strasburg's past six interleague starts.
The Nationals are 10-1 in the past 11 meetings in Houston.
Weather Report
The forecast calls for a temperature of 78 degrees, but with storms in the forecast, this game's going to be played indoors.
Dan's pick
The Astros have the momentum here, but as crazy as it sounds, I just don't trust this version of Justin Ver-lander in this situation. A full-strength Verlander would be a different story, but I'm going to go with my Pen-guins theory here and take the more rested pitcher in this situation. Strasburg's 237 innings this year is a ca-reer-high, but he hasn't exceeded 200 innings in a season since 2014, and that's the only time in his career that he's ever touched that number.
His arm doesn't have the strain on it that Verlander's been carrying for the past four years, and I think that's going to play a major factor in this game. Give me the Nationals to force a seventh game.
Take the Nationals +160
50% Cash up to $250

STOP LOSING TODAY! START WINNING WITH DOC'S TEAM OF PROFESSIONALS! GET A FREE NO STRINGS ATTACHED $60 FOR THIS WEEKEND'S GAMES!