2020 Geico 500 Race Analysis & Predictions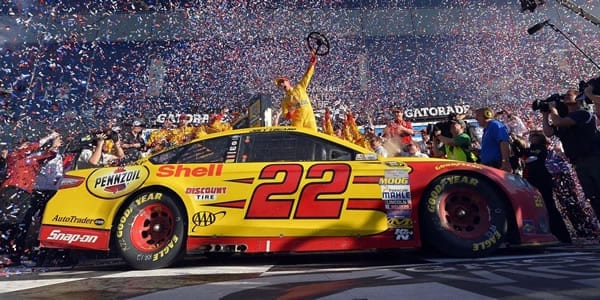 Race: Geico 500
Date: Sunday, June 21, 2020
Track: Talladega Superspeedway
Time: 3 pm ET
Channel: FOX
What Did We Learn From Last Weekend?
Denny Hamlin managed to take the win at Homestead after a rain/lightening-delayed start on Sunday. It was a battle with Chase Elliott for much of the night, but Hamlin prevailed, earning his 40th career victory and 3rd win at the track. He joins Tony Stewart and Greg Biffle as the other three-time winners at Homestead. It was also his third win of the season after a win at Daytona and Darlington. Hamlin led an impressive 137 of 267 laps and finished ahead of Elliott by 0.895 seconds. For Elliott, it was a matter of not being able to get through lap traffic as well as Hamlin. Ryan Blaney came in 3rd with Tyler Reddick and Aric Almirola rounding out the top 5 spots. Reddick had a heck of a charge, starting from the 24th position and driving to a top 5 finish. Almirola was in the same boat, with a P21 starting spot. Both drivers stayed consistent and confident throughout the night to bring home very respectable finishes. Kyle Busch, Austin Dillon, Christopher Bell, William Byron, and Brad Keselowski rounded out the top ten.
There were some interesting points during this race. As I mentioned before, the race was delayed by rain/lightening resulting in red-flag conditions that lasted more than two and a half hours. Ryan Blaney elaborated on the frustrations that weather cause for the drivers. Not only is it a pain to continuously get in and out of the car mentally and physically, but the delay caused track conditions to change. Ironically, I discussed in the preview that track conditions likely wouldn't be much different than when this race was usually run in November. But as we know, it's 2020, so of course, I was bound to be wrong, and something would change. With the nearly 3 hour delay, the drivers were racing into the night. Night racing changes the track no matter where we go. That only created a more exciting race, with the drivers having to adjust setups on their cars for conditions that weren't expected. Another more exciting event was the birth of Austin Dillon's son, Ace, on Sunday morning. While it was difficult for him to leave, he managed one of his best finishes of the season so far, coming home in 7th place. Good job, and congratulations to Austin!
Where Are We Headed This Weekend?
This week, the drivers are heading to Talladega. Time to SHAKE AND BAKE! Sorry. I couldn't resist. Talk about SPEED! This track is always an exciting venue to visit. It's the longest track on the schedule. Talladega is a 2.66-mile asphalt tri-oval. The turns are all between 32 and 33 degrees of banking, with 16.5 degrees of banking in the tri-oval. The backstretch has minimal banking at just 3 degrees. With this being only the second restrictor-plate race of the season, it's sure to get squirrely. The benefit of this weekend is that the drivers will have one practice session. It's been several months since a practice session has occurred, so I'm sure the teams welcome this. As a fan, well, I enjoyed the no-practice races. It was more of a crap-shoot, and it seemed like the field was evened out a bit in terms of driver skill. I'll be curious to see if having practices affects what we've seen with the rookie driver finishes. They've been doing very well. Maybe practices are giving an advantage to the bigger teams in setting up their cars to a T before the race. Maybe not. Let's see how the tide turns this weekend.
Odds and Value Picks
Coming into Sunday's race, there are a lot of variables to take into consideration. Tires, track position, drafting skill, friends on the track, you name it! Essentially, the driver that wins will likely have all of his ducks in a row. There will be some drivers that might be excellent on this track, but a lack of buddies at the end will surely end your birth at a win very quickly. Having
drafting partners is critical here. Drivers can't fall out of the line or lose their one or two drafting partners without pretty significant consequences. If we cannot maintain some longer green flag runs, we will see that tires will play a role in drivers being able to make some moves and passes on the track. In the shorter runs, those with fresher tires will get to the front. Historically, there have been many races lost due to tires in the last few laps of a race here, especially when it comes down to a restart with only a few laps to go. That said, let's take a look at your potential winners heading into Talladega on Sunday:
Favorite: Joey Logano (+1000). Bet your Geico 500 picks for FREE by scoring a deposit $100 and get $100 added to your account bonus at MyBookie!
Middle of the Road: Aric Almirola (+2200)
Dark Horse: Tyler Reddick (+2200)
Reddick is on fire. A top 5 finish at Homestead is nothing to sneeze at. This kid is showing RCR that he's in it for the long haul. He's becoming more and more confident in his driving as the weeks go on. What I like about him is that he is confident but not pompous. He races his own race and learns from the tracks and his competitors. I really think that Reddick has a heck of a shot at Talladega. He's never had a start in the Cup series here, but he got a win back in April of 2019 in the Xfinity series. He has some stiff competition, but he will likely be upfront if he can hang with some teammates for additional help in the draft. Aric Almirola is also another one to watch. He's one of the only drivers to have a top 10 finish here in all of the last four races. This guy is also showing a lot of promise. While he's been in the series for a number of years now, he's showing that his patience with the process and his craft is starting to pay off. Almirola is also coming off a top 5 finish at Homestead, and he will carry that momentum into this weekend's race. Logano is going to be one to watch. Although he's had a bit of a struggle recently, Talladega will likely be a saving grace for him. He's had a win and three top 5 finishes in the last four races at Talladega. If nothing, his teammate, Keselowski, will be his biggest help and competition all in one. The Penske drivers are a force to be reckoned with on the superspeedways, which will be no different this weekend. Throw Ryan Blaney into the mix, and well, that's going to be a heck of a show. Talladega is sure to throw a wrench in the points if these guys put on too big of a show, so let's see how they're looking heading into this Sunday's big race:
NASCAR Standings:
Kevin Harvick (+1100)
Chase Elliott (+1000)
Joey Logano (+1000)
Brad Keselowski (+1000)
Ryan Blaney (+1100)
Martin Truex Jr. (+1400)
Denny Hamlin (+1000)
Alex Bowman (+2000)
Kyle Busch (+1100)
Kurt Busch (+1800)
Jimmie Johnson (+2200)
Clint Bowyer (+2200)
Aric Almirola (+2200)
Matt DiBenedetto (+4000)
William Byron (+2800)
Austin Dillon (+4000)
Interestingly enough, there wasn't much change in the points after Homestead. Erik Jones fell out of the top 16, with Austin Dillon taking his spot. There were a few flips, but ultimately not too many drivers gained or lost a lot. This weekend, I guarantee that it will not be the case. Someone will lose due to a major wreck or two. That's just the way that Talladega plays out. This track really doesn't favor anyone when it comes to the consideration of wrecks. The lack of spread in the odds makes that pretty clear. There's really no favorite. We see a kind of cluster of drivers that are favored due to history, but no clear cut winner can be made out of those odds. That's why I'd put a big chunk down on Reddick. If he can stay clean and out of the big wrecks, this kid will have a heck of a shot. It's really anyone's race to win on Sunday. Stay tuned for a great afternoon of racing as we get back to the superspeedways at Talladega! For the largest array of NASCAR betting options, check out 5Dimes. See our 5Dimes Review. So many benefits to making your wagers there than elsewhere! (Discounted odds, bigger selection, faster payouts, top notch customer service).