Autotrader EchoPark Automotive 500 Picks & Analysis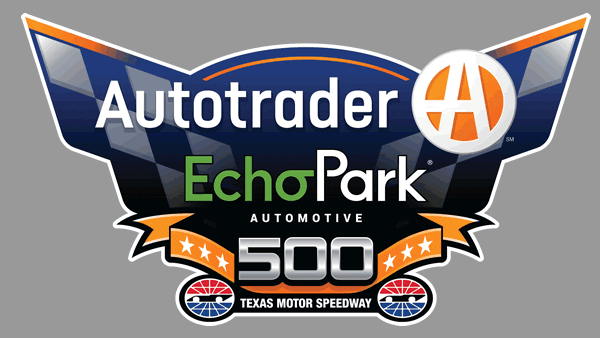 Race:
Autotrader EchoPark Automotive 500
Date: Sunday, October 12, 2021
Track: Texas Motor Speedway
Time: 2 pm ET
Channel: NBC
What Did We Learn From Last Weekend?
A merry off-season and happy Christmas to you all! That has to be one of the best lines to come out of a NASCAR race since the invocation where the pastor thanked God for his "smokin' hot wife". Well, Kevin Harvick may not see the humor in it, but Elliott definitely appreciated the world working in his favor late in the race after Harvick very intentionally wrecked Elliott in one of the turns, sending Chase hard into the wall. His team worked some magic and did everything literally there was to do to ensure that his rear deck lid stayed affixed to his car. After that hit he took, I wasn't so sure his car was going to stay together long enough to stay legal for track racing. Lo and behold, not only did he and his team keep the car together, they actually came home with a 12th place finish. Quite frankly, I would've been surprised to see him crack the top 25 with the shape his car was in, but it's a testament to the experience of his team and also his driving abilities. Nevertheless, it wasn't the finish he wanted nor expected, but he made the cutoff and is moving on to the next round.
Kevin Harvick, on the other hand, must lie in the bed he made. What a cheap shot that was that he took, supposedly in response to their tiff at Bristol. The difference between the two is that Elliott never touched Harvick at Bristol. He held his line, drove his line, and didn't give in. Harvick can't stand that. He's one of those drivers, much like Kyle Busch and Denny Hamlin, who think that the entire field should yield to their greatness at every whim. I like seeing guys like Elliott hold their own. Get over it, Harvick! Elliott actually looked like he was about to pounce when Harvick looked in his mirror, missed the turn completely, and slammed into the outside wall ending his day.
Harvick thought he was being clever during the interview talking about learning life lessons. Hey, buddy! Elliott's in championship contention still. YOU'RE NOT! I really dislike the smugness of Harvick, to be honest. He can never be accountable for his own race and definitely can't take ownership for his mistakes. At this point, like Elliott said, merry off-season, Kevin! I guess we could talk about the winner for a minute. Kyle Larson won, y'all…again. He's the first driver since Jimmie Johnson to snag seven wins in one season. I dare say he isn't done yet, either. Larson was able to hold off the charge of Tyler Reddick, Chris Buescher, Kyle Busch, and Denny Hamlin to put himself into a spot sitting pretty as the drivers move into the next to the final round of the championship.
Where Are We Headed This Weekend?
This weekend, the drivers and teams are heading back to Texas Motor Speedway, ironically a track where Kevin Harvick usually does pretty well. In fact, he's got three wins at this place. With literally nothing to lose this weekend, he's guaranteed to turn on the heat for the rest of the field. Texas is a track where track position is literally everything. These drivers are going to be hard on the gas and light on the brakes. It's a 1.5-mile asphalt oval with 20 degrees of banking in turns 1 and 2 and 24 degrees of banking through turns 3 and 4. Overall, the biggest issues are going to come from pit road penalties. There's something about being so late in the season that just brings out the jitters in the drivers and causes them to make silly mistakes *cough, cough, Kyle Busch*. I'm not saying it's a guarantee, but mark my words that someone (if not more) will be caught speeding, tires will escape pit boxes, and jacks will be dropped. When it matters most, someone is going to slip up. That's the unfortunate reality. Let's hope for the remaining eight drivers still in contention that it happens to Kevin Harvick and none of them. I mean, just kidding, but not really.
Odds and Value Picks
When it comes to picking a winner at Texas, well, how in the world do you go against the hottest guy in NASCAR who does nothing more than dominate the intermediate tracks? Kyle Larson is going to be the one to beat. He is going to be taking home his 8th win of the season and punching his ticket straight to the championship race. Larson will most certainly have his work cut out for him. There are a lot of other very strong drivers at this track and ones that are racing for the championship right alongside of him. Kyle Busch is probably going to be his biggest competition. Busch won the last Fall race here and actually won 3 races out of his previous ten starts at Texas. The biggest issue that I have with Busch, though, are his pit road penalties. I think that he is going to get bit again on pit road. If he can avoid that, he might overcome that dominance of Kyle Larson, but that's a big if. Let's take a look at all of your potential winners heading into Texas:
Winner: Kyle Larson +320. Bet your NASCAR picks for FREE for the rest of the season by taking advantage of a 100% REAL CASH bonus on your first deposit of $100 to $300 at MyBookie Sportsbook! Simply use bonus code PREDICT100 when you sign up and the special bonus will be activated after your first deposit!
Mid-Range Pick: Alex Bowman +2200
Dark Horse: Chris Buescher +20000
Hear me out with Chris Buescher. The man has had a rough go of it at most of his previous starts here. In fact, 15th is the best he's done. That being said, this is by far the best season that he's put together. He actually has been in the top 5 this year on many occasions on tracks he's never had a top 20 in previously. That team is putting the pieces together, and if they can come with the speed, he might have a shot. Alex Bowman has a couple of top 5 finishes at Texas and has been trying to find his groove back into the Hendrick spotlight. With a track like Texas, if he can manage to stay out of trouble on the track and pit road, he's bound to have a solid finish. He's got nothing to lose this weekend and can really use this track as a learning opportunity moving forward. They will all be chasing one of the best we've seen, though. Kyle Larson is going to be tough to catch and tricky to get around. With his All-Star win earlier this year at this track, you can bet your bottom dollar that they're coming to Texas with a Texas-sized confidence to get themselves 100% locked into the final round. Let's take a look at your top 8 contenders as the season winds down.
NASCAR Standings
Kyle Larson
Denny Hamlin
Martin Truex Jr.
Ryan Blaney
Kyle Busch
Chase Elliott
Joey Logano
Brad Keselowski
I found it mildly ironic that the driver who didn't lift was eliminated from competition this weekend while the driver who doesn't lift managed to just barely squeak into contention. Keselowski is pretty much in a must-win situation at this point. Joey Logano is also in the same boat. Those Penske drivers haven't had the best seasons, but Ryan Blaney is in the top 4 for Penske. He's barely above the cut line and Kyle Busch. The points are pretty tight right now. Kyle Larson is essentially guaranteed in on points right now. Honestly, I'm fairly certain he could miss a race and still be okay. Let's not test that theory, but it's still plausible. Stay tuned for the first race of the round of 8 and see how everything goes down at Texas Motor Speedway!
More Free Bets! Deposit $100 to $500 and get a 100% REAL CASH bonus at GTBets Sportsbook!