Go Bowling 235 Analysis & Picks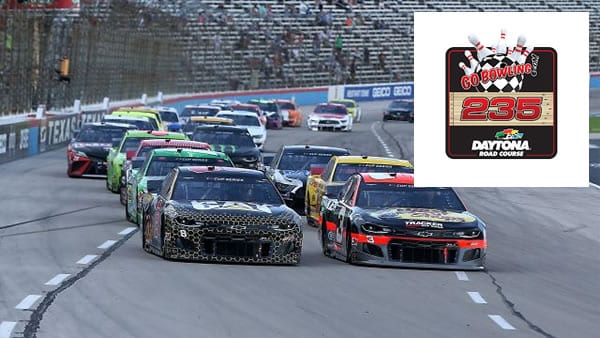 Race: GoBowling 235
Date: Sunday, August 16, 2020
Track: Daytona International Speedway (Road Course)
Time: 3 pm ET
Channel: NBC
What Did We Learn From Last Weekend?
Michigan gave us some seriously good restarts. Both Saturday and Sunday's races had some excellent racing, albeit the restarts were probably the best part. Track position was critical, as evidenced throughout the race and with the leader or first two cars very often distancing themselves from the field. Left front tire wear also played a significant role in how the race played out. There were a lot of tire casualties, but overall, nothing too catastrophic. The first race of the weekend saw Kevin Harvick dominate the race, winning over another Ford of Brad Keselowski. They were followed by Martin Truex Jr., Ryan Blaney, and Kyle Busch to round out the top 5. Denny Hamlin, Chase Elliott, Joey Logano, Bubba Wallace, and Kurt Busch rounded out the top 10 spots. The second race that happened on Sunday saw Kevin Harvick sweep the weekend. It was the first time since the 70s a driver has done that. I thought it was funny that was even mentioned because, with the exception of this season, there really hasn't been a double-header weekend in NASCAR's recent history. COVID is causing all kinds of weird stuff to happen. Regardless, Harvick had a battle with Denny Hamlin in the closing laps, but he was able to hold him off to take the checkers. While Hamlin was 2nd, he was followed by Martin Truex Jr., Kyle Busch, and Joey Logano. Aric Almirola, Matt DiBenedetto, Austin Dillon, Chase Elliott, and Kurt Busch finished out of the top 10 for Sunday's race.
Two things made me laugh really hard during and after Sunday's race. The first was the incident between teammates Ryan Blaney and Brad Keselowski. Now, if Blaney's interview after this incident didn't make you a fan, there's no helping you. Keselowski managed a run on the bottom of the track and got squirrely, taking a little wiggle up the track and Blaney along with him. Subsequently, both of their days ended. Brad was obviously remorseful for taking out two really good cars. They were two really good cars racing for the lead, as a matter of fact. If that's not a low blow, then I don't know what is. The best part of the whole thing was the fact that Blaney got out of his car, took his interview like a champ, and smiled and said they'll get 'em next time. He knew it was a racing incident. He wasn't volatile like *ahem* some other driver we know just because he got wrecked. Racing incidents happen, and Blaney was 100% a class act. Now, the other thing that made me laugh was Denny Hamlin's post-race interview. He quickly threw in there that they had a better car than Harvick. Wait. What? I mean, you were making a run for him, but, um, Harvick was the class of the field the entire weekend. And, quite frankly, Denny, if you were better, you wouldn't be sitting in second place. Sometimes that truth hurts.
Where Are We Headed This Weekend?
This weekend is going to be entertaining beyond interviews if you ask me. While I can appreciate the jokes that Hamlin has and the class of Blaney, the action is going to be on the track. The teams and drivers are headed to the road course at Daytona. This is a track that the series has never raced at. With no practice, this is going to be a heck of a ride. This 3.57-mile asphalt track has a total of 14 turns with some pretty gnarly banking through the track. The tri-oval has 18 degrees of banking, while the oval turns have a whopping 31 degrees of banking. With a lot of heavy braking and dropping into first gear, this will be a test for the builders and engineers just as much as the drivers themselves. Tires are going to play a huge role as we see on the other road courses. Taking care of equipment, tires, and not making mistakes on pit road are going to be crucial to staying in contention for a win here. Track position is also vitally important, but that will come with solid pit stops and a good starting position. This weekend, NASCAR is implementing a new qualifying structure based on the competition this year so far. It will utilize finishing position from the previous race (50% weighted), team owner points standings (35% weighted), and the fastest lap from the prior race (15%) as the model. I'm not so sure about fastest lap being rated, but I guess that's all the minds could come up with to complete that last 15%. Regardless, guess who's on the pole this weekend?
Odds and Value Picks
Kevin Harvick will lead the field to the green flag, followed by Denny Hamlin, Martin Truex Jr., Kyle Busch, and Joey Logano. It's going to be a wild ride, that's for sure. I think that we are going to see an enormous amount of caution laps, and determining who can avoid the carnage is a bit tricky. If we consider successful road course drivers as our preemptive strategy, we need to take a look at Chase Elliott, Martin Truex Jr., and Kyle Busch, most notably. These guys make up a huge portion of the most recent wins on road courses. Elliott and Truex Jr. both have a total of 3 wins in their last eight road course races. That's impressive. Kyle Busch has four road course wins in his career. The thing going for Busch is his ability to be a wheel man and drive a car to the front that isn't necessarily the best. That's a hard thing to manage on a road course, but Kyle has that skill. As for Elliott and Truex, well, they're going to have some solid notes on good setups when it matters most: no practice. Let's take a look at our potential winners heading into Daytona this weekend:
Favorite: Brad Keselowski (+900) Bet your GoBowling 235 picks for FREE by taking advantage of a 100% real cash bonus on your first deposit of $100 to $300 at MyBookie!
Midrange Odds: Ryan Blaney (+800)
Dark Horse: Aric Almirola (+3300)
Aric Almirola. Yep. Again, not given the credit or spotlight that he deserves. He's having a heck of a year, so if he ever reads this article by some shot in the dark, GO ARIC! He's a top 15er for sure when it comes to road courses. His best finish was 8th at Sonoma back in 2018. This guy is going to show us a strong run this weekend. I'm certain of that. With the way that he's been running on top of his strong record at these types of tracks, look for Almirola to be in the mix at the end. His payout won't be too shabby either if he manages a Hail Mary. Ryan Blaney is going to have another good run this weekend. With a win at the Roval and five additional top 5 finishes in just ten road course starts in his entire NASCAR career, he's only getting better. Interestingly enough, his average finish is better at road courses than any other type of track. With how consistent he's running this year, I wouldn't be surprised in the least to see him in victory lane on Sunday. He will be chasing, and hopefully not be wrecked by, his teammate, though. I'm throwing y'all for a loop here. While everyone I mentioned before is definitely going to be in the running, Keselowski has grit and wants a win on a road course bad. Brad has had some strong cars lately, too. He needs to not wreck them. That said, he's never won a road course. I know that is risky, but he's got a total of 3 runner up finishes, and two third-place finishes at the ones he has run on. He's good. This year, he's continuing to do very well, and he could very well pick up his first road course win. He's trailing Harvick by 137 points in the standings right now, so another win wouldn't hurt his feelings. Let's see where everyone is sitting after Michigan:
NASCAR Standings
Kevin Harvick (+600)
Brad Keselowski (+900)
Denny Hamlin (+600)
Ryan Blaney (+800)
Chase Elliott (+400)
Joey Logano (+1400)
Martin Truex Jr. (+550)
Aric Almirola (+3300)
Kyle Busch (+650)
Kurt Busch (+1600)
Alex Bowman (+2000)
Clint Bowyer (+1600)
Matt DiBenedetto (+2500)
William Byron (+3300)
Erik Jones (+1600)
Jimmie Johnson (+3300)
As you can see, the tail end of those standings moved a little bit. Austin Dillon and Tyler Reddick fell out of contention yet again, with Erik Jones and Jimmie Johnson filling in the gaps. Jones really needs to work on some solid finishes as his ride with up with JGR is up at the end of this season. The kid is talented. He's got something bigger and better coming his way. I'm hoping Hendrick will put him in the #48, but we'll have to wait and see. A lot will hinge on his finish this weekend at Daytona and also the rest of this season. Stay tuned to see how Jones and the rest of the drivers navigate a brand new track to the Cup Series this weekend at Daytona International Speedway! For the most NASCAR betting options, check out 5Dimes Sportsbook!