Celtics vs Bucks Game 4 Pick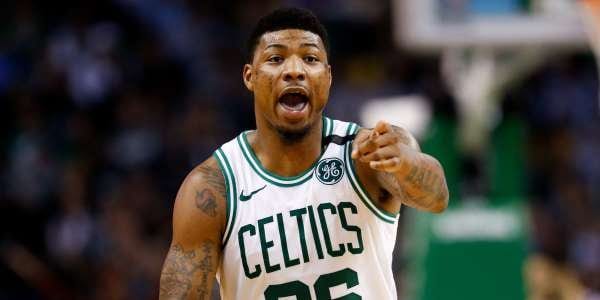 For the 2nd game in a row the Celtics lost to the Bucks after the margin was established in the third quarter. In game 3 the Bucks first took the lead with 5:37 remaining in the third quarter, were up 11 with a minute and a half left, and held that same margin with 1:50 left in the 4th. However, the C's have done a relatively good job against Antetokounmpo. He is coming in at or below his averages in the main categories. It's been the supporting cast that is doing the damage. In game 2 it was point guard Eric Bledsoe that sparked the Bucks with 21 points and 5 assists. In game 3 in was point guard George Hill, also with 21 points and adding 3 assists. The Milwaukee guards have been a problem in this series, and for our wallet. If only the Celtics had an answer at the guard spot! Enter Marcus Smart.
The Smart Play
Way way back when this series was tied after game two it looked like it would be decided by whichever team got their star guard back first. Since, the Bucks have ran over the Celtics in game three in Boston and the talking heads say it is just the prospective MVP and Milwaukee's year to move on. It's fair to say that with another Celtics loss at home, Boston's season will indeed be all but over… and considered Brad Stevens first real NBA failure.
Warriors vs Rockets Game 4 Pick
Milwaukee's Malcolm Brogdon has been ruled out for game 4 but Marcus practiced yesterday. He has been upgraded to questionable for game 4 and said he hopes to play tonight. To summarize, if he wakes up this morning and can crawl to the kitchen to get his coffee, the C's medical staff will be there to put drugs in it. Marcus "The Savior" Smart will be wheeled onto the court come game 4 tip.
Smart Value?
But what does Marcus mean for Boston? Most bettors will look at the stats when handicapping this game and say this does not change my bet. This is a guy who doesn't average double digits in points, is not a high percentage shooter from anywhere on the floor, and is a point guard who isn't what you would call a play-maker. If you have to look at statistics for to rep what you get with Marcus, the most telling is the steals. Smart is 1st in the league in steals per 36 minutes and per 100 possessions. Yes, he is a ball hawk on defense but that number is more indicative of his be-everywhere mentality. The NBA doesn't have a good statistic for winning 50/50 balls, closeouts, or help defense coverage, but these are the types of intangibles that he brings to the team. When someone is willing to get your back and keep you from getting smoked on national television, that goes a long way to boost the entire club's morale. Sure, if we look hard enough we can find Smart's impact in the stats. For example, he is second in the league in deflections per minute among players who have played at least 2000 minutes. I know, who makes a bet using an obscure stat like that? No one who isn't on their way to being broke… but it's indicative of how a team player can move the needle without the vanity numbers.
Last year in this same matchup where the C's upset the Bucks, Marcus also came back from injury, then it was game 5. Boston won game 5 by limiting Milwaukee to 36.8 shooting using a defense anchored by Smart. They routed the Bucks in game 7 taking the lead in the first quarter and never relinquishing it. Marcus's game 7 stat line? 5 points, 6 assists, 4 boards in 32 minutes of work. Add in 5 personal fouls and 3 turnovers. Those are hardly the kind of numbers that earns $13 million per year. But, this is the same player the veteran Al Horford credited for getting the team past Milwaukee in '18.
"He's kind of like the soul of our team. Everything that he brings, his toughness, his unselfishness, he's a hard-nosed player and we fed off his energy."
After last year's game 5 versus the Bucks, Coach Stevens was quoted as saying, "It's his energy, it's his emotion, it's little plays that turn out to be game-changing plays like diving on the floor and flipping it to Al. The blocks, you know coming over when Shabazz Muhammad was really rolling and going up vertically and challenging his shot, making him miss. Those are huge plays, and we have other guys that are making them when he hasn't been here. But he makes them every night. He makes them every night that he plays."
The Smart Pick
The Bucks may ultimately be a bad matchup for the Celtics in this series. Brogdon will likely make a return of his own before it's over, possibly on his home floor. Celtics losses in the series may be around the corner but in the words of Arya Start, "Not today!", certainly not with Smart, again in Boston, and with a -1.5 point spread, and after two horrible shooting performances. Look for Boston's defense to level up and be anchored by Smart. We are taking the Celtics -1.5.
Who else wants $60 of FREE NBA picks & predictions?