Houston Rockets vs. Golden State Warriors Pick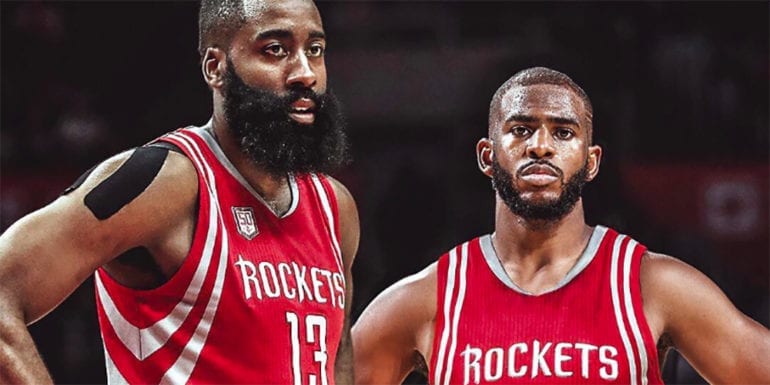 Houston Rockets (21-15, 18-17-1 ATS) vs. Golden State Warriors (25-13, 16-22 ATS)
When: Thursday, January 3rd, 2018 – 10:30 pm ET
Where: ORACLE Arena – Oakland, CA
TV: TNT
By: Kyle Cash, NBA Basketball Handicapper, Predictem.com
Point Spread: HOU +8/GSW -8
Total: 225.5
Last Night in the NBA
I'm not loving the direction of this OKC-Lakers game, so it's time to call it a night. I'll just go ahead and assume that Paul George comes back from his egregious 3 first quarter fouls to drop 30 points, Russell Westbrook notches a ridiculous triple-double, the baby Lakers fold like a cheap suit and the final score ends up exactly as I predicted. Another W for Kyle Cash! Keep it rolling! (I reserve the right to amend this on Friday).
Elsewhere in the NBA, AD and Joel went supernova on their respective box scores, the Mavericks temporarily burst into flames to down the Hornets early, and Gordon Hayward's corpse was reanimated by the terrible Timberwolves as he dropped a season-high 35 points. Welcome back, Gordo. Go back to ruining the Celtics, please.
More 10:30 pm tip-offs make Kyle a dull boy, particularly when he's sleepwalking through work the next morning after hitting the snooze button four times. But the content machine soldiers on, so let's take a peek at the match-up between the Houston Rockets and the reigning NBA Champion Golden State Warriors. Houston is down to its Lone Survivor in James Harden, and they currently sit as 8-point underdogs to the finally-healthy Dubs. With the total set to 225.5 points, we can expect – well, why don't you just read on to find out?
Rocket Man (Burning Out His Fuse Up Here Alone)
The list of Rocket-related subtitles knows no end. And neither does the current tear that sudden MVP-contender James Harden is on. Over his last 10 games, Harden has averaged 41 points, 9 assists and 7 rebounds per game in route to a 9-1 record. Harden's full season statistics are nearly stride for stride with a certain 2015-16 unanimous MVP, albeit on a much, much less accomplished team. His constant foul-hunting and iso-heavy style aren't exactly aesthetically pleasing, but there's no denying his uncanny ability to score the basketball. Now in his age 29 season, appreciate this savant for as long as you can; as soon as that first step slips a notch, it ain't gonna be pretty.
To take down the champs, the Rockets are going to again ask the impossible of James Harden – score half of our points and set up our guys for the other half. Without his partner-in-flopping-crime Chris Paul, that's going to be easier said than done. Klay Thompson sneakily remains one of the elite guard defenders in the NBA, and he's been something of a Harden-stopper over the course of his career. The Bearded One isn't known for his efficiency, but he's failed to shoot 50% or better from the field in 23 of his last 27 match-ups with Klay. We can quibble about role players knocking down open shots all we want, but the reality is that this game begins and ends with Harden's ability to do that thing he does where he ruins peoples' lives. Anything short of that won't be enough.
Golden State Killers
The T-1000 has roared back to life, and we may be staring into the abyss of a 2019 Eff You Tour by Steph and the boys. The ship is far from decided, but until I have a June in my adult life without the Golden State Warriors in it, I'll project that we stick to the status quo. They may get there again this year, but the more interesting subplot is what happens to them between now and July. Can another championship persuade Kevin Durant to give it another go? Will the soon-to-be-added DeMarcus Cousins upset an already-fragile ecosystem? What will be the starting five of the 2019-2020 Golden State Warriors? Stay tuned to find out.
In order to get to those questions, the Warriors will have to continue to fine tune their craft, and they can start by dispatching a beat-up Rockets team. What can I even say about this team that isn't obvious? Draymond is trending in the wrong direction and Klay hasn't been himself, but Kevin Durant and Stephen Curry can, on any given night, be the best player on the planet. This team can feature one of them on the court for all 48 minutes, and it's more of a matter of their effort level than it is of their talent level.
Golden State is a tricky team to read because so much of their success now relies on factors invisible to the naked eye. Things like Durant's body language, Draymond's temper, Klay's confidence and Steph's health. If I had to guess, I would say that the Warriors are looking to put the league on notice, and burying Harden on TNT to the soundtrack of Reggie Miller's outbursts and Chuck and Shaq's commentary seems like a good place to start.
Best Bet
When writing these articles, I usually take a second to mentally guess the line before I actually find it. It gives me a solid baseline prediction for what my thoughts are concerning the game. I anticipated this one to be somewhere in the 4 to 5 range, and to see it be all the way up to 8 is awfully fishy to me. Houston has been an elite unit for almost a month now, and they've won games versus Portland, the Lakers, the surging Spurs, OKC, New Orleans and Boston during their run. Everything about this line is begging you to take the points, but I've seen too many TNT blow-outs this year to fall into that trap. If something seems too good to be true, it probably is, and this one is no exception. Suckers take Houston +8; winners, like the loyal readers of Predictem.com, lay the points and go home happy.
Final Score Prediction: Golden State Warriors 116 – Houston Rockets 101