Houston Rockets vs. Portland Trail Blazers Pick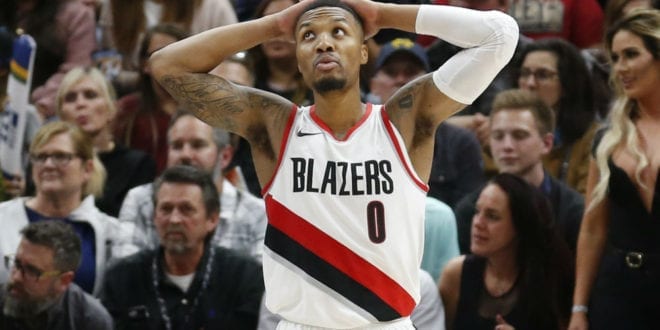 Houston Rockets (22-15, 19-17-1 ATS) vs. Portland Trail Blazers (22-16, 19-19 ATS)
When: Saturday, January 5th, 2019 – 10:00 pm ET
Where: Moda Center – Portland, OR
TV: Local TV Provider Only
By: Kyle Cash, NBA Basketball Handicapper, Predictem.com
@Philsphan330
Point Spread: HOU -1/POR +1 (half point better at some reduced books)
Total: 216.5
Last Night in the NBA
Over the past couple of days, I've learned a few things: 1) it's 2019, so I should probably stop putting 2018 in every single one of my game previews, 2) James Harden is an unstoppable, point-scoring, triple-double generating machine, and 3) don't bet on a team when their sole mission is to get their franchise icon some stupid NBA record. With 2 points last night, Dirk Nowitzki would've became the NBA leader in points scored against the Celtics by a Western Conference opponent (currently held by Kobe Bryant). The big German finished 0-10 from the field and 0-8 from 3-point land in 16 minutes and a -23 effort. If the 2011 NBA Finals weren't the highlight of my adolescent life, I would be much more mad at Dirk right now.
It was an off night for me as I fell flat in my pick, my fantasy team, my poker night with friends and with my bad advice regarding the Knicks getting 7.5 points to my one and only fan. While the Lakers laid an egg versus the Knicks, the Bucks manhandled the Hawks, Indiana rallied back versus the Bulls, and the Thunder picked up their first win in Portland since 2014. What a quiet, forgettable night in the NBA.
Tonight, the NBA takes the back seat to the NFL wild card games, but you can rest easy knowing that I'll be happily streaming the Golden State-Sacramento game as the Cowboys get worked by the Seahawks. Instead of focusing on football, let's turn our attention to a sneakily exciting match-up between the soaring Houston Rockets and the Portland Trail Blazers. After Houston's big TNT win over GSW and Portland's L to the Thunder, the line is currently favoring the Rockets by 1 point with the total set to a modest 216.5 points. Come with me if you want to profit.
I Just Lit a Rocket – Rockets Explode!
That extremely iconic (to me) and GIF-able moment from Toy Story is the only way to properly capture just what the Rockets have done over the last month. I'm not even going to go through the whole spiel about James Harden and his statistics again. Honestly, it's upsetting to look at. Looking at Harden's box scores and seeing him have 35 points on 4 made field goals or something silly like that makes me want to throw up. I'm also still mad at him for ruining my winning streak, so don't expect any MVP chatter from me. My MVP is and forever will be my large adult son Joel Embiid, and unless Jimmy Butler napalms the locker room and kills my entire team, that's how it's going to stay.
To take down the Blazers – do I really need to go through this whole thing again? Harden is a sorcerer. He's a bearded assassin. He's a ruiner of dreams and lives. What do you want from me? Statistics? Okay – the last time Harden scored less than 26 points against the Blazers, the following things were true: the Atlanta Hawks were in 1st place in the Eastern Conference, Kevin Durant was on OKC, Andrew Wiggins was the Rookie of the Year favorite, Tim Duncan was still putting up 20 and 10s every night and the Knicks…well, the Knicks still sucked. The last time Harden scored less than 30 points in a game was December 11th, and since then we've had two major holidays, a Nick Foles revival, a government shutdown and a partridge in a pear tree. Here's Houston in a nutshell: in the four minutes it took on Thursday night to evaluate Harden for a concussion, the Houston Rockets scored 0 points. You tell me what the strategy is for Houston to beat Portland. Take a wild guess.
Lazer, Tazer, Blazer – All Kinds of Azers
For a while, roster continuity was the key to Portland's success. They came into the season with a set rotation, scheme and identity, and that type of consistency is the key to getting off to a good start. Unfortunately, lacking the top-end talent as well as the depth has knocked them down the pedestal, and suddenly, they're left scratching and clawing for their playoff lives. Portland is still a solid team – 14th in offense, 15th in defense – but they're nothing to write home about. In a league dominated by star power, the Trail Blazers may just be forever on the outside looking in. And when that happens, it's time to blow it up and start over.
In order to slow down the red-hot Rockets, Portland is going to need to find somebody to slow down James Harden. Lillard and McCollum aren't particularly interested in that task, but Moe Harkless and Al-Farouq Aminu are capable defenders, and Jusuf Nurkic is scary enough to dissuade opponents from driving into the lane. Unfortunately, Portland hasn't been able to gain solid footing in a month, and they're currently another one of those Western Conference zig-zag teams. Outside of rebounding and defending without fouling, there isn't much to point at that would lead you to find a statistical edge for the Blazers. Other than a couple of trends that lean slightly towards Portland's favor, I'm not sure that you want to lay your hard-earned money against James Harden on a team on a back-to-back.
Best Bet
OKC one night and Houston the next is a truly cruel bit of schedule luck. Shame on Adam Silver for allowing that to happen to a team as noble and pure as the Portland Soccer Moms. I used to enjoy watching Portland play, but outside of Lillard and McCollum's offensive prowess and Jusuf Nurkic's overpowering presence, there isn't a lot to get excited about. There's always the possibility of a rare Sauce Castillo outbreak, but those games are few and far between, and I wouldn't hold my breath. I already went against Harden once this week, and as they say: fool me once, shame on you – fool me twice, stop betting against a guy averaging 40 points per game. Burn me if you would like, Mr. Harden. Tonight, we ride together.
Final Score Prediction: Houston Rockets 116 – Portland Trail Blazers 110