LA Clippers vs. Golden State Warriors Pick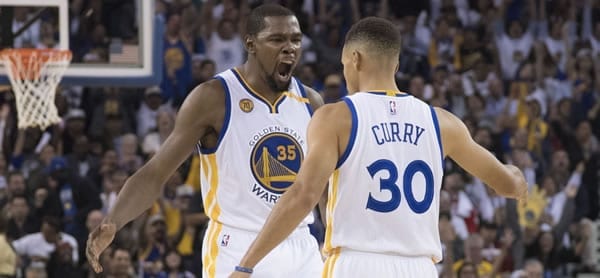 LA Clippers (48-34, 45-36-1 ATS regular season – 1-3, 2-2 ATS playoffs) vs. Golden State Warriors (57-25, 35-46-1 ATS regular season – 3-1, 2-2 ATS playoffs)
When: Wednesday, April 24th, 2019 – 10:30 pm ET
Where: Oracle Arena – Oakland, CA
TV: TNT
By: Kyle Cash, NBA Basketball Handicapper, Predictem.com
Point Spread: LAC +13.5/GSW -13.5
Total: 230.5
Situations: NBA Western Conference Playoffs – Round 1, Game 5 – Warriors Lead 3-1
At the time of writing this on Tuesday evening, we're at a big fat TBD on this Portland-OKC game, but if Bill Donovan's plan is "let Damian Lillard score 100 points," then job well done! Meanwhile, the Eastern Conference semi-final is set, and you can bet your bottom dollar that my blood pressure is about to climb through the roof. My little heart can only handle so much. Come on, Sixers!
While the East is all set, there's still some clean-up duty for the Rockets and Warriors tonight. Let's focus in on the Dubs who will be looking to dispatch the Clippers at home before Joel Embiid can make any more 3-1 jokes. With victory on the horizon, sportsbooks like Intertops have made Golden State a two-touchdown favorite at home with the total set to a whopping 235 points. Get ready for a beatdown of Biblical proportions – I think?
There's Always Next Year
This time next year, I'm sure that I will be singing the praises of the Kawhi Leonard-led Los Angeles Clippers as they defeat the Lakers in the first round in 5 games. I'll have plenty of pro-Kawhi and anti-LeBron takes in the bag, and I'll spend as much of the year applauding the Clippers for staying relevant in a city with one of the most important franchises in professional sports. But now is not that time. Now, I'm looking at a team with Landry Shamet and Ivica Zubac playing important crunch time minutes, and it doesn't really fit my fancy. I'm here for the Lou Will-Montresz Harrell pick-and-roll action all day – that's no secret. The rest of it? I can take it or leave it.
And the Clippers are going to need to take it if they have any chance of sending this thing back to LA for Game 6. Outside of a prolonged mental error by the Dubs in Game 2, it's been all Warriors all day, and even when LA was able to keep it close in Game 4, I was never expecting them to win. In a close game, Lou Will is really the only monkey wrench that can be thrown into the fracas; I'm betting on a Durant-Steph-Klay trio to pull out close games 100% of the time.
They've tried to outscore them, but I think the Clippers have a better chance of beating the crap out of GSW. Steph may be an actual sorcerer, but he's a man of slight-ish build, and fouling him non-stop has always been the key to slowing him down – just ask Chris Paul, who fouls him approximately 124 times per game. They can't call all of them! Beverley would benefit from some of the same, and then LA just has to figure out how to stop a 6'11" George Gervin-clone with 3-point range and one of the most unconscious shooters the world has ever seen. Easy-peasy!
All Over but for the Fat Lady
Does Draymond technically count? Can we exploit his thicker physique and get him to sing us an aria to end this thing already? I feel the same way about this series that I did with the Nets and the Sixers. It was cute in the beginning, but by Game 5, the better team has made the necessary adjustments and will surgically and methodically exploit them. For Philadelphia, it was simply to have J.J. Redick guard Joe Harris, a decision that anyone with eyes who has played pick-up basketball before could've figured out in two seconds; just guard someone that looks like you and is the same height. Problem solved.
For Golden State, the key came more in the way that they used Kevin Durant. One of the most unstoppable isolation shot-makers in basketball history shouldn't have needed three games to get going against Patrick Beverley, and yet that's exactly the situation that GSW found themselves in. If not for a classic Klay heat-check, this series could be knotted up at two a piece right now.
Even still, the Warriors are going to want to put a stamp of approval on this series and head into Round 2 with momentum, so don't be surprised to see them sick the dogs on the Clippers tonight. Steph, Klay, and KD have all had their respective moments in this series, and now it's time for the team to come together and put the final nail in the coffin of this series. The Warriors' death lineup has always been at its most deadly when it's clicking on the defensive end and getting Iggy some burn would benefit them greatly heading into a potential blood feud against the Houston Rockets. The higher the lead can climb, the more GSW can afford to experiment and get some game reps in for their most important five-man unit. Run it up, Herman! Leave no doubt!
Best Bet
There's nothing left to say about this series. The Clippers gave the Warriors their best shot, but they're heading into the lion's den like a sheep to the slaughter. After Houston polishes off the Jazz earlier in the evening, Golden State is going to want to follow suit, and hopefully do so in a big way. Brooklyn didn't get off of the team bus in Philly for Game 5, and ORACLE Arena is one of the few NBA stadiums that can rise to the level of vitriol that the Philly faithful can get to. With Gallinari running on fumes and the Warriors starting to click on all cylinders, we can assume that this one will be over sometime prior to midnight EST. Out of the 36 games played in the post-season so far, 18 of them (50%) have been decided by 14 points or more. Flip a coin for this one, and hope that it lands on heads. See you soon, Houston.
Final Score Prediction: Golden State 131 – LA Clippers 109
Who else wants $60 of FREE member picks & predictions?
(NO commitments. NO Credit Card. NO Salesman.)