[et_pb_dcsbcm_divi_breadcrumbs_module hide_homebreadcrumb="off" homebreadcrumbtext="Home" separator="sep-raquo" hide_currentbreadcrumb="off" homebreadcrumborientation="left" _builder_version="3.8″ fontsbreadcrumbs_font="Lato||||||||" fontsbreadcrumbs_text_color="#000000″ fontsbreadcrumbs_font_size="15px" fontsbreadcrumbs_line_height="16px" fontsseperator_font="||||||||" fontsbreadcrumblinks_font="||||||||" fontsbreadcrumblinks_text_color="#2567cf" custom_margin="25px|||" custom_margin_phone="30px|||" custom_margin_last_edited="off|desktop" custom_css_main_element="font-family: Helvetica Regular;" disabled="on" global_module="3641″ saved_tabs="all"][/et_pb_dcsbcm_divi_breadcrumbs_module]
NBA Pick: LA Clippers vs. LA Lakers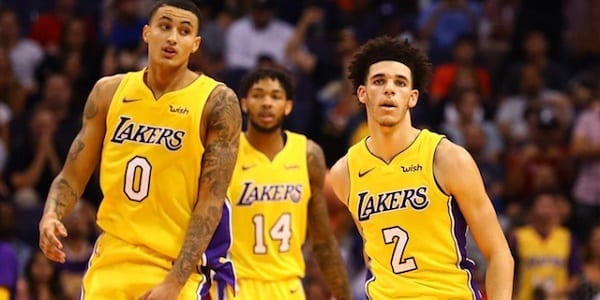 LA Clippers vs. LA Lakers
When: Friday, December 28th, 2018 – 10:30 pm ET
Where: STAPLES Center – Los Angeles, CA
TV: NBATV
By: Kyle Cash, NBA Basketball Handicapper, Predictem.com
Last Night in the NBA
I regret nothing. I was torn in my decision: either the Sixers moneyline or the Jazz spread. I liked what I saw out of Philly on Christmas day, and the Simmons/Embiid > Donovan/Gobert narrative was enticing, but the Sixers' road record scared me off. Shame on me for falling victim to a trend. Am I sad that my win streak ended at 6? Yes. Am I going to lose sleep over a Sixers win? Not a chance.
Let's hop right back on the gravy train as we head to LA for the NBA's civil war. The Lakers just devastatingly blew a W to a Bogdan Bogdanovic step-back three-pointer after leading the Kings for the entire game. The Clippers, on the other hand, dispatched that same Sacramento team two nights before in a 127-118 easy W. Tonight, we're without a line for the "visiting" Clippers against the LeBron-less Lakers, so let's keep this short and sweet and to the point. My sleep schedule thanks you in advance.
The New Best Team in Town
There were brief moments over the last couple of years that the unthinkable almost happened: Los Angeles nearly became a Clipper town. But now The King has landed, and Tobias Harris and his lovable band of misfits are stuck out in the cold like the little matchstick girl yet again. Go ahead and have your Lonzo and your Kuzma and your LeBron – Montrezl Harrell is the most entertaining athlete in Los Angeles right now, and maybe even the best basketball player. Philsphan330 on twitter – feel free to @ me, Lakers nerds. I have hot takes for days.
Beating big brother in the driveway is never easy, but without LeBron (most likely), the Lakers are as vulnerable as they'll ever be. Amazingly, the Clip show has moved all the way up to third in the NBA in offensive efficiency, and they're doing it through a total team effort. Against the Lakers, they just have to do what they do: crash the boards with Harrell, play consistent on both ends with Tobias and Gallo, be disruptive and creative with SGA and Beverley, use the old-man pick-up game for countless buckets with Lou Will, and – in "break glass" scenarios – unleash the Boban. Top to bottom, the Clippers are a problem, and without LeBron steering the Lakers ship, I'm already dubious of their chances against Doc's squad.
No LeBron: 0-1
So close – and yet so far. I've spoken before about NBA hierarchies and how it's important to understand your role on a team. And that's exactly what happened to the Lakers last night. After building a nice lead and putting the Kings away, they all started looking at each other to figure out who was going to put the star on top of the tree. Kuzma and Lonzo seemed to have a tug-of-war going at first, but eventually, their inexperience bit them in the ass and they fell over in a heap. It was adorable and laughable and enjoyable – at least for me.
On the second night of a back-to-back, the Lakers' youthful legs should come in handy, and they no doubt have a sour taste in their mouths from last night. For 3.5 quarters, you could see what Lakers' faithful fans keep banging on about – Lonzo is a stat-stuffing guard, Kuz can score on all three levels on anyone, and Ingram was filling in the gaps between the two. It's a potential recipe for moderate success in LeBron's absence, and they would be smart to replicate their role distribution tonight. The Clips get buckets, but they're ranked 25th in the NBA in defensive efficiency, and they have struggled to contain opposing guards. With SGA's inexperience, Avery and Beverley's lackluster year, and Lou Will's general disdain for defense, it's setting up for a "show us what you got, Lonzo" type of game, and I'm excited to watch this train wreck. Lonzo is okay at basketball – that's about as big of an endorsement as you'll get out of me.
Best Bet
Without a line, I'm just going to take it upon myself to choose a winner. In a sans-LeBron world, I would have to imagine that the Clippers will be favored by a field goal or so, and I'm perfectly fine laying those points all over the place. The Clippers are the fourth-best team ATS in the NBA this season, and against a team facing a back-to-back, I like their chances of putting the pedal to the metal. The Clippers have scored 125 points or more in five consecutive games, so let's go ahead and pencil them in for 125 more tonight. Clippers roll in a high-scoring affair, and we get this thing back on course in time for the New Year.
Final Score Prediction: LA Clippers 128 – LA Lakers 118