LA Lakers vs. Utah Jazz Pick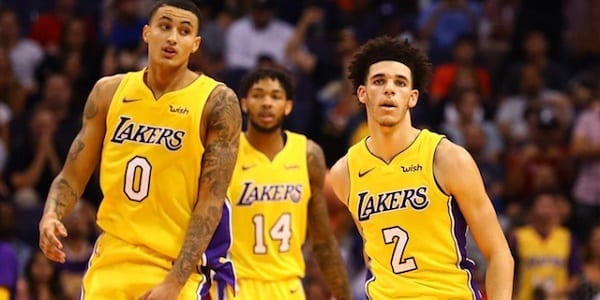 LA Lakers (23-19, 19-23 ATS) vs. Utah Jazz (21-21, 21-20-1 ATS)
When: Friday, January 11th, 2019 – 10:00 pm ET
Where: Vivint Smart Home Arena – Salt Lake City, UT
TV: ESPN
By: Kyle Cash, NBA Basketball Handicapper, Predictem.com
Point Spread: LAL +8.5/UTA -8.5 (Bovada)
Total: 217
Last Night in the NBA
Just a tiny bit off on the score (way off), but that's why we don't bet totals here at Predictem.com. My job is to provide you with sound gambling advice and give you a laugh or two before sending your ass to the betting window. Sure, I hint here and there as to what I think will happen regarding the total score. I may even put my score prediction down at the bottom. But read the fine print: actual scores may vary. I'm sorry – didn't I pick the winner? What's with the third degree?!
Elsewhere in the Association, the Kings continued to hold steady in their quest for a playoff spot, the Nuggets buried the Clippers under a Nikola Jokic triple-double induced avalanche, and the Celtics imploded both in the court and in the locker room. BOSTON MASSACRE IN CELTICS' HUDDLE: IS BRAD STEVENS THE RIGHT COACH FOR THIS TEAM? – my column.
Let's turn our attention to the Friday night NBA slate and see if we can pad our bankroll before losing it all on the Eagles moneyline this weekend. The Los Angeles Lakers are still without their fearful leader, and they now have to face a tougher-by-the-day Utah Jazz team on their own turf. Utah can crawl to within one game of the 8th seed with a victory tonight, and as such, they are currently favored by 8.5 points with the total set to a cool 217 points. This is their own private domicile, and they will not be harassed – bitch!
Kool as a Kuz-cumber
When you're hot, you're hot. Kuzma might not be the most consistent basketball player in the world, but in a way, I kind of like it. We know that Steph and LeBron and AD and a dozen other guys are going to be awesome every single night, but the volatility of starpower is what makes the NBA so great. It's the edge of your seat factor, or the NBA App notification factor. If I get a text from a friend that says, "Klay Thompson is 5-5 from 3-point land and it's halfway through the 1st quarter," I am immediately running to my television. Kuzma is one of those guys, and I appreciate him for it. If only the rest of his team had any good players on it.
The King will be making his regal return soon enough, but until that time, the rest of his gang is going to need to try to stay afloat in the Western Conference playoff race. To keep the Jazz at bay, the Lakers JV team is going to need to bring it on both ends.
Unfortunately, the Jazz do everything the same as the Lakers – only slightly better. LA defends well and keeps the pressure on by constantly staying in attack mode. With an army of below-average shooters at their guard position, the Lake show forces teams to defend the paint and stop them in transition. But with Rudy Gobert clogging up the lane, it's going to be difficult for Lonzo or Rondo to penetrate deep enough to force him to commit, and it'll be interesting to see what kind of respect those two get from the Jazz as shooters. Knocking down outside shots is the one thing that can sink Utah. LA likes to take them – now they need to make them.
Like Miles Davis
We're back on the seesaw with the most up-and-down team in the NBA. Seriously, go look up the Jazz' schedule. They have not won or lost more than two games in a row since November 23rd. November 23rd! That's 23 straight games of one step forward, one step backward. I've never seen this level of mediocrity from a team before. They're 5th in defense but 21st in offense for a +2.2 net rating, but it's incredible that they're not a 0.0. I haven't seen this level of commitment to being average since a good friend of mine got a B in every single college class of his career for an average of a 3.0 GPA. Right down the middle – that's where the Jazz live.
Read Today's College Hoops Play: Purdue vs Wisconsin
To cover the number, Utah is just going to need to do what they do best: lock all windows and doors and hope for the best. Donovan Mitchell has shown signs of life on offense, although his lack of efficiency still leaves something to be desired. Luckily, the Stifle Tower has been as consistent on both ends as his team has been in the record books, and he plugs up a lot of holes that his teammates create. The key for the Jazz in this one is to control the pace. In a home environment, they should be able to dictate the flow of the game, and if they can slow it down to a crawl, it'll force the non-shooting Lakers into a half-court game, and that's the last place that they want to be. But it's a Catch-22: less possessions means less points, ergo less chance at a 9 point cover. So now what do we do?
Best Bet
I haven't been the biggest fan of either of these teams this season, and it's a tricky spot on the gambling side. Utah has been harder to trust than James Harden on a back-to-back in Miami, but I think that this game is going to be different. Five out of the Jazz' last six victories have been by double digits, so at least when they win, they win big. In a season-defining game at home on national television versus a conference and playoff rival, I have to assume that the Jazz are going to lay it all on the line. Usually, January games don't have as much juice, but in the Western Conference, the margin for error is razor thin, and Utah has got to be tired of walking that tightrope. No LeBron, no problem. Kyle Cash out.
Final Score Prediction: Utah Jazz 108 – LA Lakers 92